On the Box - TV Review
Updated: 20 February 2013 12:28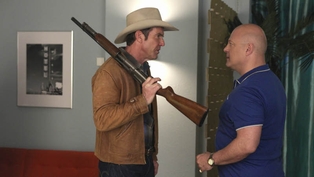 In this week's TV review John Byrne casts an eye over the latest period drama to cross the Atlantic, dips into Pat O'Mahony's documentary about Irish Eurovision winners, and salutes a frothy Sunday evening offering from the BBC.
In this week's TV review John Byrne casts an eye over the latest period drama to cross the Atlantic, dips into Pat O'Mahony's documentary about Irish Eurovision winners, and salutes a frothy Sunday evening offering from the BBC.
Reviewed: Vegas (Thursday, Sky Atlantic); Reality Bites: A Eurovision Affair (Monday, RTÉ Two); Blandings (Sunday, BBC One)
You just never know with a brand new show, but Vegas looks like it could be great fun. Last Thursday saw the latest arrival from the US hit our screens and I haven't enjoyed a pilot this much since, oh, Nashville a week earlier.

Set in Las Vegas in 1960, just as the infamous strip was taking off, it mixes Mad Men style with cookie procedural as Dennis Quaid stars as a hot-headed, ranch-running cowboy who's enlisted by the cops to solve a murder (a la Castle, The Mentalist, etc), given his previous as a military cop who solved a murder mystery during the tail-end of WWII in Naples.

Quaid - who starred in one of my favourite movies, 1979's Breaking Away - is a great presence in the role of Ralph Lamb, a no-nonsense cowboy who has a John Wayne way about him of dispensing law and order. Amongst his supporting, ten gallon-hat-wearing and Winchester rifle-bearing buddies is Dubliner Jason O'Mara - fresh from his exploits playing the lead on the doomed sci-fi drama Terra Nova - who features as Lamb's more understated and circumspect brother. On the other side is Michael Chiklis (The Shield) playing Vincent Savino, a no-nonsense enforcer-type mobster new to Nevada and brought in to bring the gambling and entertainment town to the next level. All three actors are excellent.

Vegas looks good, too, with some impressively new-looking vintage motors on show, giving the drama a realistic feel; it almost resembles one of those hugely popular Quinn Martin productions from the 1960s. Pilots can be deceptive, though, as sometimes the original idea that got the project off the ground isn't enough to keep it engaging for an entire season and beyond.

Taking into consideration the undeniable quality of the cast and the rollicking pace of the pilot, the future looks promising look good for this latest period drama. But it will take more than a weekly corpse-solving situation to prevent it from becoming just another quirky murder-mystery drama that passes an hour.

Here's hoping things can develop - especially between Lamb and Savino - because those guys are more than capable of bringing this show to a high level of sophistication.

Given its one-off documentary brief, Reality Bites (Monday, RTÉ Two) will always be a bit hit and miss in terms of hooking viewers. I enjoyed Merlot and Me, Maia Dunphy's look at alcohol consumption in Ireland, and tuned in again this week to see A Eurovision Affair.

Voiced over, directed and produced by an energetically anti-Eurovision Pat O'Mahony, it followed the tour of six of Ireland's former winners as they toured across the land.
In fairness to Pat, he could've - very easily - put on his cynic's hat and ripped into Dana, Johnny Logan, Linda Martin, Niamh Kavanagh, Paul Harrington and Charlie McGettigan; instead, he went for a fly-on-the-wall approach and, by the end, appeared to have been won over by the toe-tapping appeal of the Eurovision winners' show and its distinct lack of cynicism.

The documentary followed the gang as they toured around Ireland, with each leg offering a little insight into each of the acts, all of whom are intensely proud of their achievements. As Niamh Kavanagh pointed out, she sang successfully in front of 350 million people. That's 350 million more than most of us will ever manage.

What made this documentary refreshing was that it showed what life on the road is really like (nothing near as glamorous as you might think), and how these veterans (sorry folks, but you're hardly novices) of the music scene enjoyed working together and bringing back memories for a public that lapped up their musical stroll down memory lane. It was revealing to see how genuinely surprised Johnny Logan was by the reception he received during what was his first Irish tour in over 25 years.

Still won't get me watching Eurosong on Friday, though. But I am tempted to put a song together for next year . . .

Finally, Blandings took its leave of 1929 after a delightfully fluffy first season (Sunday, BBC One). Very much an acquired taste, as it's like something from a long-gone age and is about as far removed from gritty realism as you can get, this utterly undemanding comedy was inspired by the writing of PG Wodehouse, one of the 20th Century's most-loved, prolific, and very English writer.

Sure, not many could relate to the lives led by the population of Blandings Castle - which seem to revolve around doing nothing more demanding than looking at a pig or drinking gin all day long - but it was a jolly hoot while it lasted.

In last Sunday's finale, the arrival of the widow Daphne and her spoiled brat Huxley caused Connie to get Clarence to look presentable as a marriage looked quite a possibilty. That all changed when Daphne took a little too avid an interest in Clarence's prized pig, causing Beach and Connie to get suspicious about Daphne's motives. It all ended with Daphne despatched and normal service resuming around the castle.

Often described as bland by critics, I thought Blandings was quite a charming show that was so untaxing and whimsical it almost bordered on the therapeutic; it's the televisual equivalent of a bubble bath with a bottle of champers on the side. But there probably isn't a hope in hell of it getting a second season, and more's the pity. Sunday evenings were made for shows such as this. Pip! Pip!