RTÉ TEN's top TV picks of the day
Updated: 14 February 2013 18:40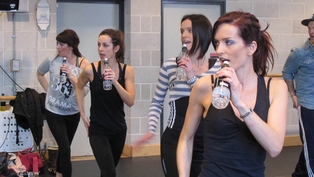 An Irish group reunite after 10 years apart, a brand new crime drama and a wedding - an eclectic mix of TV highlights ahead this Valentine's Day.
Don't Tell the Bride
9.30pm, RTÉ Two
Valentine's night TV wouldn't be complete without a wedding, even if it is a nail-biting journey from engagement to the ceremony. Tonight petrol head/mummy's boy Graham has to put his foot to the floor (sorry) to provide Rebecca with the boutique-style wedding that she's always dreamed of. She's thinking classy and original, but fears that Graham's dream wedding will take place in Mondello Park. Oh and Sookie their dog has an important role to play on the big day too!
At least Rebecca is still smiling on her hen night
The Big Reunion
9pm, ITV2

Tonight B*Witched will reunite in this special series which sees six groups get together for one night only, years after they ruled the charts. Fifteen years have passed since the group formed in 1998 and The Big Reunion is filming their every step as they prepare to take to the stage once again. Twins Edele and Keavy Lynch (sisters of Boyzone's Shane) and friends Sinead O'Carroll and Lindsay Armaou were known for their 'double denim' uniform and hits such as C'est La Vie and Rollercoaster. On tonight's show the record-breaking group give candid interviews on why they broke up, how they've changed and a peek at their rehearsals ahead of their one-off performance.
B*Witched at the height of their popularity
Vegas
10pm, Sky Atlantic
Dennis Quaid, The Shield's Michael Chiklis and our own Jason O'Mara - just three good reasons to check out this new crime drama. Whether you want a break from all the V-Day romance or you want to snuggle up and head back in time to 1960s Vegas, there's plenty of drama in store. Chicago gangster Vincent Savino (Chiklis) has opened the latest casino on The Strip. He may be welcomed by the local top brass but rancher and former policeman Ralph Lamb (Quaid) is none too impressed. When a dead body turns up in the area he, along with his brother (O'Mara), is roped in to help solve the crime. Saddle up folks, this looks like a good 'un.
This looks like a good 'un