RTÉ Ten's Top TV Picks of the Day
Updated: 22 January 2013 12:41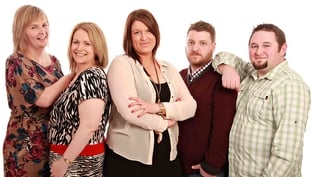 Check out RTÉ TEN's top TV picks of the day.
Check out RTÉ TEN's top TV picks of the day.
Operation Transformation, 8.30pm, RTÉ One
This week, the leaders are two weeks into the plan and cracks are already beginning to show. Training has begun for the 5K Fun Run and registration opens officially for the runs taking place in both Dublin and Cork. Operation Transformation is on tour this week with Karl Henry working out with Deirdre and all her followers in Cork at the first in our series of roadshows in association with Safefood and Kathryn Thomas surprises the first of our hero teachers.
Grey's Anatomy, 9.00pm, RTÉ Two
The doctors are rescued from the plane crash and start the long road to recovery. In this flashback episode, fans are brought back to the site of the plane crash and watch as each doctor tries to cope with the heartache and injuries caused by the crash. Meanwhile, in Seattle Grace, everyone struggles to find a bit of normalcy amidst the chaos. Er, plane crash TV, if you will.
Great Houses with Julian Fellowes, 9.00pm, UTV
In this new series, Downton Abbey creator Julian Fellowes tells the true stories of those who lived and worked in many of Britain's great houses. The servants were the lifeblood of any great house, and often had the best tales to tell. Descendants of previous inhabitants of the house and those living and working there today hear the stories Julian discovers about their predecessors. The first episode sees Julian visit Burghley House in Lincolnshire, which has been the home of the descendants of William Cecil, the first Lord Burghley, for 500 years. Lord Burghley was the iron fist behind the throne of Queen Elizabeth I.
Paddy Kehoe