Maura tells Ryan about her secret obsession
Updated: 11 January 2013 13:11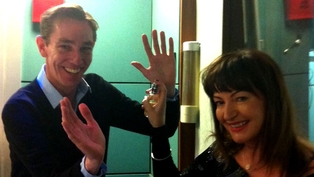 Presenter of RTÉ's Today show, Maura Derrane, spoke to 2fm's Ryan Tubridy this morning about her secret obsession.
Presenter of RTÉ's Today show, Maura Derrane, spoke to 2fm's Ryan Tubridy this morning about her secret obsession.

The Galway-born presenter revealed on the show that she has a love of perfume and everything to do with it.

Speaking to RTÉ TEN after the show, she said: "I did a little piece for the Sunday Independent magazine recently of the loves of my life and in that they asked me what hobbies and interests I had.

"I just put down scent and in that I put down that my favourite book is Perfume, which is the story of a murderer but is actually really a story of perfume and how this man became so obsessed with scent that he actually killed women to create the scent of a woman, which became a film [Perfume: The Story of a Murderer]."
RTÉ 2fm's Ryan Tubridy and Today presenter Maura Derrane in studio this morning

She added: "My love of scent and perfume goes back to my childhood, I was always very aware of all types of scents. Of all my five senses my olfactory is the most heightened and always has been.

"I got a bottle of L'Interdit by Givenchy, which is now discontinued. I got it from my aunt when I was 14 or 15 years old, a tiny little bottle.

"It was actually the perfume created for Audrey Hepburn by Hubert Givenchy back in the 30s and that scent is still in my nostrils to this day. It's been discontinued but I still managed to track it down.

"It began a love affair, which still continues to this day, with perfume. I am not just interested in commercial perfumes but I've become interested in the background of perfume from the history to the creators of perfume, the perfumers, who spend up to ten years training to be the noses, as they're fondly called.
"I'm also into the chemistry of perfume, synthetic molecules created in a lab versus in a field in Florence and all of that. That is what I read in my down time that is my obsession.

Asked if she would like to create her own perfume, she said: "I think you need to go through life and you need to know so much about the different elements of a perfume before you would ever do that.

"What I'd love to do is go on a scent journey around the world. I'm finishing up on the Today Show in April and I'm going to Graz, which is the perfume capital of the world, in May and I want to be there for the harvesting of the Jasmine."
Maura tells Ryan all about her obsession with all things perfume

Will this be something we can see on the small screen?: "I'd love to do something like that. I've been a journalist for years, I came from current affairs/ news background to light entertainment, which I'm very happy with but everyone has a passion and it's nice to have a passion outside this.
"If there's something I'd ever want to do it would be to make a documentary that would follow my journey into the world of scent, that would be my dream programme."
See Maura Derrane on Today, with Dáithí O Sé on RTÉ One Monday to Thursday and on Fridays with Bláthnaid Ní Chofaigh and Nora Casey from 4.30pm.