Voting starts for Annual Irish Festival Awards
Updated: 11 December 2012 18:10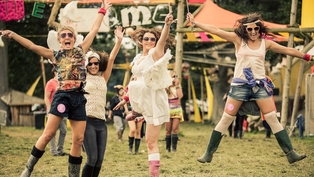 Oxegen may have taken a breather this year but Summer 2012 was another bumper year for Irish festivals with countless new events joining the ranks of well-established weekenders
Oxegen may have taken a breather this year but Summer 2012 was another bumper year for Irish festivals with countless new events joining the ranks of well-established weekenders.

That all may seem a long time ago as the frost settles and the year comes to a cold close but memories of the best festivals of the year are about to be revived with the start of voting for the Annual Irish Festival Awards.

The Awards, now in their sixth year, give festival fans across the country a chance to vote for the Irish festivals that made Summer 2012 one to remember. You can cast your vote online from 9am tomorrow at www.festivalawards.ie.

With a total of 20 category awards up for grabs - ranging from the Best Large Festival and Best Service to Greenest Festival and Family Festival Award - the public's favourites will be unveiled after voting closes on January 31st.
Electric Picnic 2012
In order to create a level playing field for every festival voting in five categories is now weighted based on capacity.

"The Irish Festival Awards were set up in 2007 to honour the people behind the scenes that make every Irish Summer such an eclectic celebration of music, art and performance," said Awards Director, Cillian Stewart.

"Every fan can vote for the festival or music act that made their social calendar sparkle. Voting on the shortlist takes place every December and January and for their trouble, fans are in with a chance to win tickets to every winning festival so don't delay, get online and vote."

The Irish Festival Awards are organised by Cherrycool Promotions, the group behind Castlepalooza. In the interest of fairness, Cherrycool exclude themselves from the awards.