As It Happened: FA Cup Third Round
English F.A. Cup •
3 years, 7 months ago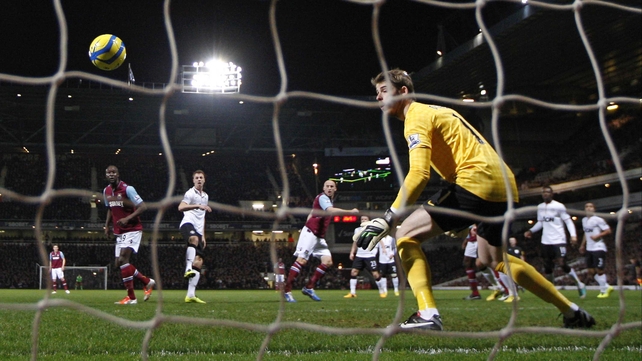 19:08

Valencia drives a wild shot wide, should have stuck it in the mix where there were a dozen players waiting. Full-time West Ham 2-2 Man United

19:04

Giggs misses the target from six yards out, failing to keep down his header from da Silva's cross, Ferguson throws his arms up in frustration. But it doesn't matter as van Persie takes down Giggs' pass before coolly slotting under Jaaskelainen. 90+1 mins West Ham 2-2 Man United

19:01

Noble steals the ball off van Persie and West Ham relieve the pressure, Cole nearly puts the game to bed but pokes the ball wide from a couple of yards.

18:55

Nine minutes left for the visitors to salvage something here, at the moment they don't look like they have the cutting edge, but their comeback record this season is very impressive. Vidic kicks the ball into the crowd after fouling Jarvis, gets booked for his trouble.

18:51

Giggs comes on for Chris Smalling. Joe Cole goes off to a standing ovation from the West Ham faithful, he is replaced by Matthew Taylor.

18:48

[tweet https://twitter.com/OsmanZtheGooner/status/287628072327450625 align='center']

Someone thinks this is funny.

18:45

United pressing more now, Mark Noble is come on for Diarra for the Hammers, Buttner dinks one up for Welbeck but he can't get it on target from four yards. 17 mins left.

18:38

The Dutchman is warming up as Ferguson chews hard on his gum, Joe Cole is bleeding from the mouth after a knock, Valencia and van Persie are about to come on for Scholes and Hernandez.

18:33

De Gea goes full length to deny C Cole after J Cole had battled hard to get in a cross. Kagawa sees his shot blocked, West Ham force a corner, and it ends with a carbon copy of the first goal. Collins heads in Joe Cole's cross. 59 mins Half-time: West Ham 2-1 Man United

18:29

Jack Collison goes down after colliding with da Silva, game has dropped slightly in tempo. Will Ferguson introduce the red hot Robin van Persie? One would think that a replay is not a desired option for the United boss.

18:24

Goal-scorer Cleverley shoots over from 18 yards, should really have hit the target as he had lots of time to pick a spot, game is end-to-end still.

18:19

Game has restarted, Joe Cole blasts a loose ball way over just 15 seconds into the half.

18:02

Late chance for West Ham as C Cole out-muscles Vidic, his pull-back fails to find a team-mate. Very entertaining first-half, with debutant Joe Cole looking lively. Half-time: West Ham 1-1 Man United

17:59

The long ball continues to cause United trouble at the back, this time Vaz Te fires over from a knock down. Two minutes until half-time.

17:52

United counter quickly but Welbeck takes on the shot himself when an early ball to Hernandez would have been better. Yellow for Collison for a late tackle in midfield.

17:47

The Hammers shout for a penalty as Nolan goes down with Vidic in close attendance, play on says the ref. Home side in the ascendancy.

17:43

United's lead lasts barely five minutes, James Collins heads Joe Cole's teasing cross brilliantly past De Gea. West Ham 1-1 Man United

17:38

Tom Cleverley is on the end of a five-man move to side-foot past Jaaskelainen from 14 yards, the goal was coming. 23 mins West Ham 0-1 Man United

17:37

Potts clears a Vidic header off the line as the chances keep coming at Upton Park, Joe Cole has a shot blocked from about 40 yards, Nolan is then offside as he tries to convert a Carlton Cole through-ball.

17:31

Sloppy play again by United at the back, Nolan gets in behind Vidic and Evans but can't connect properly from about four yards out. Down the other end Welbeck has the ball in the back of the net but the provider, Hernandez, was offside.

17:27

United have the early pressure but down the other end West Ham nearly take the lead from a corner, both Scholes and Vidic clear Carlton Cole's header off the line.

17:22

West Ham: Jaaskelainen, Demel, Collins, Tomkins, Potts,
Joe Cole, Collison, Nolan, Vaz Te, Carlton Cole, Diarra.
Subs: Spiegel, Reid, Jarvis, Taylor, Noble, Spence, Lee.

Man Utd: De Gea, Smalling, Evans, Vidic, Buttner, Da Silva,
Scholes, Cleverley, Kagawa, Hernandez, Welbeck.
Subs: Lindegaard, Ferdinand, Valencia, Giggs, Young, van Persie,
Macheda.
Referee: Martin Atkinson

17:19

16:57

The final game of the day is the all-Premier League clash between West Ham and Manchester United. The match is due to start at 5.15.

16:55

All the 3pm kick-offs involving Premier League sides are over. Bolton and Sunderland must meet again, Crystal Palace held Stoke, Fulham came from behind to force a replay against Blackpool, as did QPR against West Brom, and Wigan against Bournemouth.

There were wins for Villa, Reading, Man City, Norwich, Spurs and Chelsea.

16:52

Macclesfield, of the Conference, have come from behind to beat Championship leaders Cardiff 2-1. #giantkilling

16:50

QPR have scored against West Brom, Dyer equalising in final seconds of the game.

16:44

Man City have been comfortable for some time and they have sealed a solid performance against Watford, scoring a third goal in the dying moments of the game. Lopes with the goal.

Man City 3-0 Watford

16:41

Southampton 1-5 Chelsea

Where were all these goals midweek? Frank Lampard, on as a substitute, scores a penalty after a hand ball in the box earned the spot kick.

16:40

Aston Villa are no in front against Ipswich. Agbonlahor crosses into the middle, where Weimann meets the ball with a glancing header which finds the net.

Aston Villa 2-1 Ipswich

16:38

Shane Long has given West Brom have taken the lead against QPR. Certainly, the FA Cup is not top of the list of Harry Redknapp's priorities this season but the victory over Chelsea would have buoyed the R's. They trail by a goal with just minutes to go.

16:34

Fulham have equalised against Blackpool. With 10 minutes to go, off a corner that wasn't cleared, Karagounis' looping shot from the edge of the box hits the back of the net.

16:31

Sunderland are level with Bolton. Craig Gardner with a cracking strike from 20 yards.

Bolton 2-2 Sunderland

16:29

Norwich in no doubt now. Snodgrass, on 70 minutes, with a third unanswered goal.

Peterborough 0-3 Norwich

16:27

Now they're level. Penalty for Wigan after Figueroa was fouled in the box. Jordi Gomez' penalty was saved but it fell back to the Spaniard, who struck home.

Wigan 1-1 Bournemouth

16:22

Maynor Figueroa hit a rasping shot off the bar but his Wigan side still trail Bournemouth by the game's only goal, thus far.

16:18

Chelsea running riot against Southampton now. It's 4-1 to Rafa Benitez's side, who were a goal behind at one now dim-and-distant stage.

If Demba Ba is confirmed as scorer of the first goal, that'll be two on his debut for the Blues.

16:17

Sunderland have pulled one back against Bolton. Conor Wickham, brought on for Cuellar just moments earlier, scored with a left-foot volley at the far post.

Bolton 2-1 Sunderland

16:14

Blackpool have opened the scoring away to Premier League side Fulham. Ludovic Sylvestre powered his shot into the net.

Fulham 0-1 Blackpool

16:12

Cross from Mata and goal for Ivanovic - his sixth of the season.

Southampton 1-3 Chelsea

16:07

Conor Sammon has scored for Derby, who lead 2-0 at home to Derby.

That was his sixth goal in his last eight games at Pride Park.

16:04

More poor defending from Sunderland, who are now two behind at Bolton. Marvin Sordell with the goal.

Bolton 2-0 Sunderland

Reading have begun to stamp their class on proceedings, now leading Crawley 3-1 courtesy of a Le Fondre penalty.

15:51

Villa have equalised against Ipswich. Just 45 seconds into the second half, Darren Bent steps up to the mark.

15:50

Half-time in all the games.

15:46

Chelsea now lead Southampton, a goal in the last minute of the first half seeing them in front thanks to Victor Moses.

Demba Ba is being credited with Chelsea's first - a debut goal for the former Newcastle man.

Southampton 1-2 Chelsea

15:44

Man City now lead 2-0 against Watford thanks to Gareth Barry, while Reading have come from behind to lead Crawley 2-1, Noel Hunt with their second.

15:42

Bournemouth lead at Wigan. Eunan O'Kane lets the ball fly across his body and meets it with a stunning left-foot strike which gives the Wigan keeper no chance.

Wigan 0-1 Bournemouth

15:39

Jackson has doubled Norwich's lead at Peterborough. David Fox with a long ball over the top to Simeon Jackson, who clipped it over the Peterborough keeper.

Peterborough 0-2 Norwich

15:35

Chelsea have levelled against Southampton. Hazard moved well down the wing and slipped the ball to Mata, who slipped the ball in from a tight angle as debutant Demba Ba tried to rush in and steal the glory.

Spurs have scored a third goal against Coventry., Again it's Baleand Dempsey involved, with the former's corner being finished by Dempsey.

Spurs 3-0 Coventry

15:33

Spurs are pounding the Coventry goal and have a deserved second goal. Clint Dempsey, who scored the opener, shot but his deflected shot fell to Gareth Bale, who finished to double Spurs' lead.

Spurs 2-0 Coventry

15:30

Aston Villa's victory against Liverpool in Anfield is a thoroughly distant memory now as they are behind at home to Ipswich. Chopra may claim the goal but it could be an own goal.

15:26

Norwich have broken the deadlock at Peterborough, Bennett with the goal for Chris Hughton's side.

15:25

Man City have opened the scoring against Coventry, Carlos Tevez with the goal on 25 minutes.

15:14

Jay Rodriguez has given Southampton the lead against Chelsea. After that disastrous result at home to QPR midweek, this is hardly the start Rafa Benitez needs.

15:08

Reading are level with Crawley. Off a good move, Hunt passed it to Le Fondre, who hit the back of the net.

Chung-Yong Lee with the opener for Bolton against Sunderland. Desperate defending from Cuellar, whose pass across his own box was met by Chung-Yong Lee.

Blackburn lead against Bristol. Danny Murphy with the shot from the edge of the box.

15:00

Nicky Adams has put Crawley in front against Reading after 1 minute against Reading.

15:00

3.00pm games have kicked-off.

14:26

"I don't know how I did it, to be fair, but it was a nice finish," - Andrea Orlandi

14:23

Arsenal defender Johan Djourou has joined Bundesliga side Hannover on loan until the end of the season, the Barclays Premier League club have announced.

14:20

All over and Newcastle's dismal run continues. The injury-ridden team is out of the FA Cup, and deservedly so.

Let's not get carried away. Brighton were not brilliant, by any means, but they were effective against a poor Newcastle side. Wayne Bridge looked classy going forward, while El-Abd, Bridcutt and Lopez also deserve positive mention.

14:18

LuaLua a little selfish with the ball. He could have released team-mates on a couple of occasions but when he finally decided to release the ball it was a poor pass and easily cut out. It won't matter but it was certainly poor play.

14:18

Three minutes of added time.

14:16

Another chance for Hoskins, but Elliot does well, coming out quickly to snuff out the danger.

14:14

GOAL - BRIGHTON - HOSKINS

Forget that Newcastle chance now - it's 2-0 to Brighton.

A fine through-ball from Lopez sends Hoskins through and he slips it between Elliot's legs. Game over, surely.

14:13

Just four minutes remaining. Under normal circumstances you'd expect Newcastle to have at least one last decent chance but, in truth, they've had hardly any in the previous 86 minutes and so I won't be holding my breath.

14:11

LuaLua receives the ball from a corner and the Brighton man strikes low and hard. However, the ball skims past the post, rippling the side netting on the way out for a goal-kick.

14:10

Change for Brighton: Dean Hammond replaced by Welsh international Andrew Crofts.

14:05

Brighton appear to have weathered that mini storm from Newcastle, which, in any case, didn't develop into anything too threatening.

14:02

Fifteen minutes for ten-man Newcastle to rescue something and for the first time in the match, they're making inroads.

Ankergren has to be alert to prevent a wicked deflection from turning into an equaliser.

13:59

Terrific block by Bridcutt. The ball bounces kindly for Marveaux, who connects perfectly with his left foot but Bridcutt is brave and blocks the goal-bound shot.

13:54

Mackail-Smith's influence on the game was not what it might have been and he has been replaced by Will Hoskins.

Newcastle also make a change, removing Obertan, to replace him with Marveaux.

13:51

LuaLua looks very lively since his introduction. He's going to cause Newcastle real problems in this final 25 minutes.

13:48

Shola Ameobi receives his second yellow card and departs the field, leaving Newcastle in real strife. Both cards were quite soft and he can count himself somewhat unfortunate. David Lopez rolled three times, making the second foul look a lot worse than it was.

13:43

Fifteen minutes gone in this second half and still Brighton looks the more dangerous side.

Brighton make their first change: Former Newcastle man Kazenga LuaLua replaces goalscorer Andrea Orlandi.

13:41

Ranger tries a volley from just inside the Brighton box but it's a shocker. Any higher and it'd have disappeared out of the ground. Composure required. And quick.

13:39

Goalscorer Orlandi tries from distance but his right-footed strike rises high and flies safely past the Newcastle goal.

13:37

Five minutes gone in the second half and the early indication is that Brighton will not sit on their lead. They been more creative than the visitors.

13:36

Shola Ameobi is not getting a lot of change out of El-Abd and unless that changes soon I wouldn't be surprised to see Pardew make his third change.

13:33

Mackail-Smith almost sent through for Brighton but the forward is unable to stay on his feet, letting the chance slip.

13:32

Two changes for Newcastle: Abeid and Perch make way for Nile Ranger and Paul Dummett

13:18

Alan Pardew has had his 15 minutes to talk to his Newcastle side and it's now all about how they react in the second half. The first period was far from a classic and, ironically, Newcastle fell behind at a time when they were dominating possession.

13:16

Just as I mention that, Newcastle threaten. Obertan makes a strong move into the box but Lopez does well to stand up to his man, resisting the temptation to dive in. The ball is eventually clear and the referee blows for half-time.

13:09

Newcastle have tried to apply some pressure since going behind but there's no cohesion to their play. Half-time is coming up and it'll be a relief to the away side.

13:05

Long-range effort from Anita never threatens Ankergren. The 23-year-old Dutchman has shown some signs of ability but, as has been the case for most of the first half, he and Newcastle have struggled to find a way in behind Brighton.

13:02

GOAL - BRIGHTON - ORLANDI

Brighton take the lead. A long, long ball from Greer looks like it's going to go out beyond the end line but Wayne Bridge's pace gets him there just in time. His first-time cross is half-controlled by Orlandi, who improvises with a flick/shot which flies beyond Elliot.

Brighton 1-0 Newcastle

13:01

El-Abd and Shola Ameobi are having a real tussle. Don't be surprised if it results in cards as the game progresses and minds and legs get tired.

12:58

It's all about Newcastle at the moment but there's little to report in the way of clear-cut chances.

12:55

Sammy Ameobi has spent quite a bit of time on the ground in this first half - some of it by choice, some courtesy of Brighton's defence.

12:54

Dean Hammond receives a yellow card for an over-exuberant stretch which catches Ameobi.

12:47

Chance for Obertan to break, with Bridge caught out of position, but, after moving past a few players, his attempted cross is weak.

Just moments later Bigirimana tries his luck from distance. The shot has direction but is never a danger to the Brighton keeper.

12:45

Lopez tries his luck from a very tight angle out on the right hand side. His strike is powerful but Elliot holds it firm - nicely done.

12:41

Plenty of commitment but little penetration in the last five minutes. Newcastle are seeing a little more of the ball but are yet to trouble Brighton.

12:38

A cross from Lopez, who did well to keep the through ball alive, looks like it's going very long and harmlessly across the goal but it's kept alive at the back post and headed back into a danger area by Dicker. Newcastle's defence is on the job, Perch heading clear.

12:36

Newcastle's first concerted effort results in a deflected cross from Obertan, but Brighton keeper Ankergren gets across in plenty of time to catch the ball.

12:34

Newcastle have struggled to get on the ball in the first five minutes.

12:33

The Ameobi brothers have become the first brothers to play in an FA Cup tie for Newcastle since Chilean siblings George and Ted Robledo played for the Toon some 60 years ago.

12:31

Good positive start from Brighton, but Dean Hammond's strike - the first of the game - rises way too high.

12:31

12:29

Before the action gets under way, there is just time to mention that Didier Drogba's agent is claiming AC Milan and Juventus are both interested in signing the Ivory Coast striker.

12:27

The teams have taken to the pitch for the first of 29 FA Cup Third Round games to be played today.

12:13

Teams:

Brighton: Ankergren, David Lopez, Greer, El-Abd, Bridge,
Bridcutt, Hammond, Orlandi, Barnes, Mackail-Smith, Dicker. Subs:
Kuszczak, Dunk, Hoskins, Crofts, Dobbie, LuaLua, Buckley.

Newcastle: Elliot, Tavernier, Perch, Williamson, Santon, Anita,
Abeid, Bigirimana, Obertan, Shola Ameobi, Sammy Ameobi. Subs:
Krul, Amalfitano, Marveaux, Ranger, Ferguson, Dummett, Campbell.
Referee: Lee Probert

12:18

Newcastle made five changes, omitting striker Papiss Cisse from the squad altogether.

Rob Elliot started in goal and Shola Ameobi was named captain in a weakened team that demonstrated manager Alan Pardew's priority was the Premier League.
Brighton named winger Will Buckley, who has been struggling with a hamstring injury, on the bench.
load older posts
return to top