As It Happened: Sunday's cross-channel soccer
English Soccer League •
3 years, 6 months ago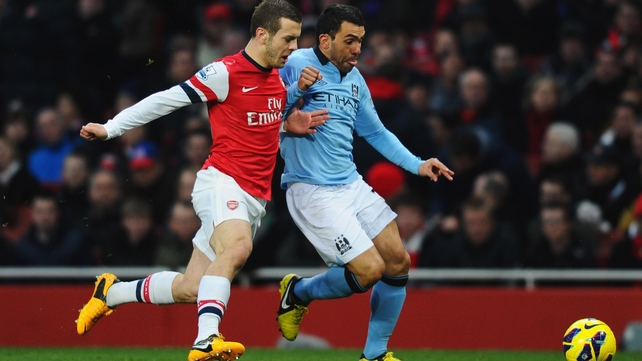 By Ed Leahy
Sunday's EPL Results:
Arsenal 0-2 Manchester City
Manchester United 2-1 Liverpool
Contact us:
e-mail: sportonline@rte.ie
18:00

That's it for today...Don't forget Premier Soccer Sunday will have highlights of both of today's games - on RTE TWO from 8pm.

17:59

FULL-TIME: ARSENAL 0-2 MANCHESTER CITY

17:49

Full time whistle sounds at The Emirates and another three points for Man City to move back to within seven points of Man United...Arsenal were up against it after the early red card but have to sort out their defending if they want to compete with the clubs above them in the table...Deserved win for City and back to the drawing board for Arsene Wenger...

17:48

90minsWalcott through on goal...shot beats Hart but Lescott is back on the line and clears the ball...scores stays at 2-0...Five minutes of injury time to play...

17:48

89minsBalotelli is on and he has a new hair cut...

17:46

88mins Edin Dzeko named man of the match...

17:42

[tweet https://twitter.com/DietmarHamann/status/290512758791872513]
The tough-tackling fraternity are out in force on Twitter...

17:41

82mins Arsenal haven't been able to capitalise on the 10v10 scenario and don't look like getting back into the game although City are defending a lot deeper now...Shout for hand-ball from a Walcott cross but not entertained by the ref

17:36

Looking again at the Kompany tackle...Looks fine in real time but slo-mo shows two feet leave the ground...It was more clumsy as Kompany was in a standing position and had to get to ground as quick as possible..

17:34

[tweet https://twitter.com/morriskid/status/290512044678053888]
Wouldn't expect anything else from the former Chelsea hard-man...

17:31

75mins Kompany sent off for jumping into a tackle on Wilshere...Two-footed tackle and left the ground...Winning the ball doesn't come into the equation...10 v 10 but only 15 mins for Arsenal to turn it around...

17:29

71mins Former Arsenal favourite Clichy has had very little to do all day but he gives away a free kick in the right corner...Decent ball into the box and Giroud gets a header unchallenged but cannot keep it down and it sails over the bar...

17:28

69mins Relentless from City as Tevez played through by Dzeko...Keeper out and takes the ball from Tevez's feet...another let off for Arsenal

17:25

67mins More City pressure from Milner down the right...decent cross and Milner clears for a corner...City waste corner but remain in Arsenal final third until Dzeko gives away a free, which was a bit harsh on the big Bosnia & Herzegovina striker...

17:23

66mins Arsenal win a free into the box...ball cleared but drops to Cazorla but his curling effort is too high and never looks like threatening the goal...

17:22

65mins Game has turned into a very scappy affair...City just going through the motions but can step it up at any moment...Again nearly get in behind but Vermaelen is over to make a decent interception

17:20

62mins City attack and while there are plenty of Arsenal defenders (at least six) behind the ball, they are all attracted to the player with the ball and a couple of quick passes nearly get City in behind but Arsenal get back to clear...

17:18

60mins Dzeko fouls but ref's card stay in the pocket...Vermaelen in the ref's ear about a caution and he gets it right back as Mike Dean tells him who's boss...

17:16

58mins Long ball over the top...Szczesny alert and out to sweep up but slices it into the crowd...sort of sums up the Arsenal performance

17:14

56mins Wenger looks to freshen things up and Giroud comes on for Podolski

17:09

52mins Arsenal getting back into the game...Gibbs working well down the left wing but getting no joy in the final third...Milner picks up a yellow card for a mis-timed tackle

17:07

48mins More of the same from City...Milner played in down the right, sits up a great ball to the back post and Dzeko cannot get a proper header on it and it sails high and wide...just couldn't get over the ball there but that would have been game over for Arsenal...

17:04

Second half kicks off at The Emirates...

16:49

Edin Dzeko's penalty miss looks like it will be of no significance as City dominate the fixture and lead 2-0 at half-time...

16:48

Arsene Wenger decides not to confront the officials on the pitch and instead storms off down the tunnel. The Arsenal players leave the pitch to a chorus of boos...

16:47

HALF-TIME ARSENAL 0-2 MAN CITY

16:45

45+1min Vermaelen takes Dzeko out of it from behind and picks up a needless yellow card...he should be making those sort of challenges in important areas instead of showing his frustration

16:44

45mins Three additional minutes to be played in the first half...

16:42

43mins City corner and the ball gets to Garcia who heads it towards the top corner but the man on the post does his job and Arsenal clear...Much too easy for Garcia to win that header...

16:37

40mins Soft free gives Arsenal a chance from about 35 yards... Wilshere is set to swing it into the box...Sagna goes down but no claims for a penalty as the ball is cleared... Ball back into danger zone and Diaby gets the shot away but never in danger of threatening the goal

16:36

36minsArsenal playing good slick football in possession but City are well organised and inevitably the Gunners passing gets intercepted...Just too many sky blue shirts to play through

16:35

35mins Arsenal getting a little bit of joy down the left and get a shot on target but easy for the keeper...

16:33

33mins What now Mr Wenger? Ten men against the champions and looking suspect at the back every time that City push forward... No doubt Arsenal will still pile forward but cannot see them outscore today's opponents...

16:31

31mins GOAL Zabaleta wins the ball off Gibbs and sets up Milner down the right wing...Great ball across the box and Tevez slides in to make the keeper make a great save...Unfortunately the ball falls straight to Dzeko who rolls it into an empty net... ARS 0-2 MANC

16:28

29mins At last, Arsenal break and it's Walcott who attack down the left..A cross-field ball to Cazorla just fails to reach and City stop the attack...better from Arsenal but City push forward again...

16:26

26mins Still City press...Win corner, taken short...ball into the box gives Garcia a free header but he powers it wide and Arsenal let off again...

16:25

25mins More Arsenal mistakes as Diaby plays the ball straight to Silva...Silva squares it to Tevez and the shot is on target but easy enough for the keeper...

16:23

23mins More Man City pressure but the effort flies high and wide...Arsenal need to grab a hold of this game before City finish them off...

16:21

21mins GOAL Quick free-kick on the edge of the box as Arsenal defenders not paying attention...A couple of short passes set James Milner up and he hits the ball on the turn and it flies past Szczesny and in off the far post...No chance the keeper, but the defenders were certainly not in the Wide Awake Club there... ARS 0-1 MANC

16:17

19mins Wilshere was hurt in midfield but is fine to play on...City break up the field and play the ball across the pitch from the right, over to Dzeko in a great shooting chance but the striker blasts it wide as he slices the shot wide...

16:13

15mins Better from Arsenal down the right as Cazorla and Sagna combine to win a corner...Hart with a weak punch into the path of Walcott but mis-cues his shot high and wide...

16:11

9mins MISSED PENALTYDzeko blasts the penalty down the middle and the keeper deflects the ball onto the post...the ball hops along the goal-line and, whilst on the ground, Szczesny grabs the ball and Arsenal escape...

16:09

9mins Yes, a penalty is awarded and more significantly a red card for Koscielny as he was pulling at Dzeko as the ball was bouncing in the box....

16:09

8mins Ball over the top bouncing around the Arsenal box...Keeper flies out to punch clear but referee blows whistle and points to the spot...Seriously??

16:04

7mins City looking very dangerous and Arsenal forced to defend deep...

16:01

3mins Great pace to the start of the game and both sides look like they are out to play quick, attacking football...Expect lots of goals in this one...

16:00

Game on at the Emirates and on time as well despite the security threat from earlier...

15:37

[tweet https://twitter.com/DietmarHamann/status/290483211153338368]
RTE pundit and former Liverpool hero Didi Hamann sums up today's game:

15:36

Let's concentrate now on the game at the Emirates and the team news is just in:

Arsenal v Man City
Arsenal: Szczesny, Sagna, Koscielny, Vermaelen, Gibbs, Diaby,
Wilshere, Cazorla, Oxlade-Chamberlain, Podolski, Walcott.
Subs: Mannone, Mertesacker, Andre Santos, Giroud, Ramsey, Coquelin, Jenkinson.
Man City: Hart, Zabaleta, Kompany, Nastasic, Clichy,
Javi Garcia, Barry, Milner, Silva, Tevez, Dzeko.
Subs: Pantilimon, Lescott, Sinclair, Kolarov, Suarez, Rekik,
Balotelli.
Referee: Mike Dean (Wirral).

15:29

So all over at Old Trafford and now Man City will know they really need a victory to stay in touch at the top of the table...A win for City in London will see them get to within seven points but anything else and Mancini's defence of the title could already be over...and it's only January...

15:26

94mins No more than the four extra minutes and the final whistle blows...United made to work for the win in the second half but Liverpool will be kicking themselves for not getting into the game until they were 2-0 down...Certainly the makings of a decent Liverpool team judging by the eleven who finished the game but again United do enough to win and move ten points clear for the time being at least... Full time at Old Trafford and the final score is Man United 2-1 Liverpool

15:24

92mins Four additional minutes to be played so United nearly home now with two remaining...Keeping the ball well in the Liverpool half and Agger gives away a free, which kills the game...Yellow for Agger

15:23

90mins Into injury time and an audacious back-heel from Van Persie makes Reina make a decent save at his left-hand post...Liverpool move up the pitch and Suarez attempts a back-header but easy for the keeper...

15:22

89mins More Liverpool pressure but Sturridge pushed wide again and tries to squeeze it in at the near post...should have checked back and kept ball in play as he drilled it into the side-netting...

15:20

88mins Van Persie flies into a tackle with Johnson but ref plays on as Liverpool attack...will he come back and book him?? Liverpool attack breaks down and Gerrard gives away a free to ease United pressure...No yellow for RVP

15:19

87minsUnited now defending deep and happy to launch the ball out of defence... Liverpool still knocking it about and staying patient...

15:18

86minsJohnson takes Valencia out of it with a rugby tackle and gets away without getting cautioned...would have been off if he had got the yellow card there...

15:16

84mins Great chance blasted over the bar by Sturridge after some great work by Borini and Suarez getting into the United box...Just leant back as he was striking the ball and it flew over...

15:14

[tweet https://twitter.com/BBCSport/status/290476401759506432]
Game going ahead at the Emirates...

15:12

81mins The game has calmed down after all those changes in the last few minutes...Liverpool need to get the intensity back up for the last ten minutes...

15:11

79mins Jordan Henderson on for Joe Allen

15:08

77mins Jones on for Kagawa to put a bit more steel in the United midfield no doubt...Smalling also on for Vidic, who must be a bit groggy after that clash of heads...

15:07

75mins Evra gets a bit of his own medicine from Glen Johnson who chops him down on the half-way line...A tactical yellow card there from Johnson as Evra was flying forward...

15:06

74mins Ball whipped in and off a United defender, Vidic, for a corner but the ref doesn't spot it and gives a kick-out...poor call from Howard Webb...

15:04

72mins Liverpool now first to everything and Downing comes to life down the right wing...skips past Evra but the Frenchman takes him out and picks up a yellow card...Gerrard to whip a free into the crowded box here...

15:03

71mins Good spell of possession for Liverpool and Allen starting to get involved after a quiet first half...Good pressure and the ball rolls across to Borini who tries a volley from the edge of the box but flies wide...

15:02

69minsSuarez with a great cross-field ball to Sturridge who makes some space and gets his shot away but goes for the near post and hits it wide...

15:00

67mins Sturridge and Suarez starting to look like a good combo but ball from the former is just too strong as the Uruguayan striker cannot get on the end of a pass into the box...

14:58

BREAKING NEWS: Police have found what they describe as a "suspect package" in a car park close to the Emirates Stadium and have cordoned off the ground prior to today's Barclays Premier League match between Arsenal and Manchester City.

Surely a delayed kick-off for that, if it will go ahead at all...

14:54

63mins United have certainly upped their game in the second half... Welbeck breaks forwards and the interception rolls to Kagawa who tries to caress it into the top corner but a fine save by Reina to concede a corner...Big clash of heads between Wisdom and Vidic from the corner...Both ok to continue

14:52

60mins Van Persie squeezes it through the wall and the ball nearly falls for Welbeck but Liverpool clear...End to end the last few minutes and the Red mist that is enveloping the ground is coming from the away end...an illegal flare, no doubt...Borini on for Sterling

14:52

59mins United press forward again and Gerrard has a little tug on Van Persie's shirt...Another dangerous free-kick...

14:50

58minsFergie's jovial mood will surely have changed now as a proper game of football has broken out...

14:49

56mins GOAL... All over?? No chance... Liverpool pile forward and Gerrard smashes a great effort on targert...Excellent save but straight to super sub Sturridge who makes no mistake and reduces the lead to one again... MU 2-1 LV

14:47

54mins GOAL Ball whipped to the back post and Evra heads it goalwards...the ball deflects slightly off Vidic's face and past the keeper...All over?? MU 2-0 LV

14:44

53mins Suarez is playing a bit deeper now as Sturridge is leading the line...United break clear and Skrtel picks up a yellow, leaving United with another free in a dangerous position...Fergie looking calm on the bench having a chance with TV celeb Statto, who is sitting behind him...

14:41

49mins Game, at last, has stepped up its intensity and Liverpool start to spray the ball, using both sides of the pitch...Great chance for Wisdom down the right but blasts wide...should have at least tested the keeper there...

14:39

47mins Allen fouls Kagawa about 30 yards out and Van Persie fancies himself from here... Poor effort from RVP and blasts it over the bar...

14:37

46mins United start as they finish the first half...on the attack...Welbeck with the shot but wide...

14:33

Valencia on for United replacing Ashley Young who must have been struggling after that hefty Agger challenge. Sturridge makes his Premier League Liverpool debut on for Lucas which will surley change the formation now as well...

14:32

Looks like new Liverpool signing Daniel Sturridge is coming on for the second half...Will he play alongside Suarez...??

14:20

Whistle blown for half-time and United will be very happy with that 45 minutes as they have cruised through it and grabbed the lead in the process. United will surely need to move into fourth or fifth gear in the second half as Liverpool cannot be any worse after the break. It's only 1-0 but United look very comfortable... HT Man United 1-0 Liverpool

14:17

45+2 Approaching half-time and Lucas gives away a free inside his own half and takes a yellow card for his troubles...Van Persie free into the box is cleared.

14:13

44mins More United pressure... Sloppy at the back from Liverpool... Rafael gets in behind Johnson and rolls it across the six-yard box...Van Persie tries to back-heel it into the goal but Skrtel clears and Reina takes a right smack off the in-coming Kagawa and is down needing attention...

14:10

40mins Liverpool cannot clear properly and the ball falls for Cleverly who hits a first-time volley that whizzes past the far post with Reina beaten...Another wake-up call for Liverpool who move up the field and win a corner but that is easily dealt with

14:07

38mins Suarez finally gets space to turn and run at the United defence... Plays a one-two with Gerrard but the return pass is mistimed and a bit too ambitious and United clear...

14:06

35mins Liverpool looking second best all over the pitch and it has been a stroll for United with the game at quite a low intensity compared to previous encounters between these two teams...

14:05

34mins Better from Welbeck as Cleverly rolls it through - the England international has space to shoot but blasts it over the bar...

14:03

32mins Let off for Liverpool as Joe Allen misplaces a pass straight to Welbeck who is in on goal... Great covering from Agger to get back and block Welbeck shot, which was weak enough, and clears... Welbeck should have done better and Allen breathes a sigh of relief

14:02

30min Young hobbles off but should be okay to continue... United down to ten men for no more than a minute as Young returns...

13:57

28mins OUCH Young's touch is a bit off and he loses control - Agger sees the chance to take man and ball and clears before crashing into Young who collapses on top of his own knee. Nothing wrong with Agger's challenge, more to do with the way Young went down. Medics on attending Young...

13:56

25minsYoung pushes on down the right wing and feeds Van Persie... The Netherlands man hits it first time but off balance and it loops over the bar...

13:51

22mins Liverpool starting to knock the ball around and United seem happy to sit back and absorb the pressure staying pretty calm as the Reds push forward.

13:49

19mins GOAL Pressure pays off as Liverpool forced deep into their own box. Evra down the left smashes a great ball across the box and Van Persie is on hand to whip it past Reina from about 12 yards out... That goal was coming and the Dutchman again showing his quality with the opening goal... MU 1-0 LV

13:46

16mins All United for the last few minutes and Liverpool defending very deep on edge of their box...

13:44

13 minsRafael plays his way into the box but good defending by Johnson prevents the Brazilian and then Van Persie from getting into a shooting position.

13:42

12mins Liverppol getting into the game now and win another free. Better this time from Gerrard but a good defensive header by Ferdinand clears the danger...

13:41

10minsLiverpool eventually get up into the United end and win a free in a dangerous position - ball into the box is poor and United clear.

13:40

9mins Sloppy at the back by Reina and United almost get in on goal - Van Persie hits a right-footed shot from the edge of the box but blocked and Liverpool clear.

13:36

7mins First corner of the game as Kagawa wins it on the left but then proceeds to foul in the box and a free out is awarded to Liverpool.

13:35

4mins Kagawa into the action early doors for United - playing wide on the left but otherwise a slow start to the game...

13:31

Game on at Old Trafford. Liverpool, wearing away black and grey with red socks, shooting into the Strettford End in the first half.

13:22

Team News: Manchester United v Liverpool

Manchester United: De Gea, Rafael, Ferdinand, Vidic, Evra, Carrick, Cleverley, Young, Kagawa, Welbeck, van Persie. Subs: Amos, Jones, Valencia, Anderson, Giggs, Smalling, Hernandez.

Liverpool: Reina, Wisdom, Skrtel, Agger, Johnson, Lucas, Downing, Gerrard, Allen, Sterling, Suarez. Subs: Jones, Henderson, Sturridge, Carragher, Borini, Shelvey, Robinson

11:54

Thanks to Gary Carey for the pictures from the ground this afternoon. He's hoping for another three points for the home side today - we hope he's not too disappointed come 3.30.

If you're at this game or any other match in the future, why not send your photos to sportonline@rte.ie and we'd more than happy to use them on our trackers.

11:52

[tweet https://twitter.com/OptaJoe/status/290423082299060224]

11:52

[tweet https://twitter.com/OptaJoe/status/290409786460209152]

11:18

The crowds arrive early at Old Trafford. The first of the day's two Barclays Premier League games sees leaders Manchester United take on Liverpool.

United manager Alex Ferguson has had a few words of advice for his rivals this week, but is hoping for no drama this afternoon.

Nani and Anderson have been declared fit for today's game.

Steven Gerrard has seen a lot and achieved much at Liverpool but he's not entirely happy with the direction things are going right now.

There have been changes at Liverpool this week, with Nuri Sahin ending his loan spell, and the prospect that Kenny Dalglish will return in some capacity.
load older posts
return to top