As It Happened: Sunday's soccer action
English Soccer League •
3 years, 8 months ago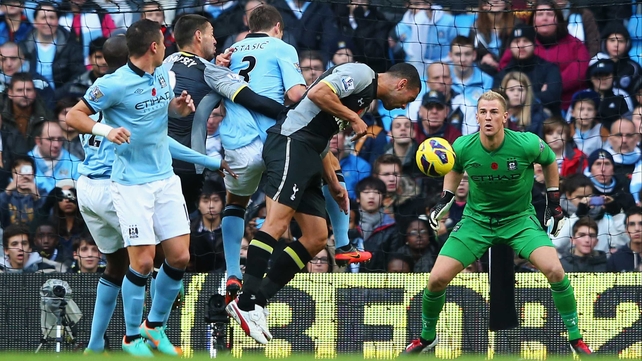 17:58

That's all from today's soccer tracker. The final results and links to the reports will be posted in the key points above.

17:55

All over at Stamford Bridge and Liverpool have to be delighted with that. They weren't at their best and could easily have found themselves more than a single goal behind.

But yet again Suarez earns Liverpool a point. Where would Brendan Rodgers' side be without Suarez? Right at the bottom of the Barclays Premier League table is the answer.

Chelsea will be frustrated at not having made the most of their early dominance and they are now three points behind leaders Manchester United.

17:52

Last-minute chance for Enrique, after some great work from Sterling. His strong left-footed strike is blocked by Cech.

17:51

Four minutes of added time to play.

17:50

Into the last minute of the 90 and Hazard finds a little space to unleash a shot but it drifts away from the goal at the last minute.

17:48

Super goalkeeping from Cech. A great through ball from Enrique puts Suarez through but Cech comes out of his box to block before the Uruguayan strikers can unleash a shot.

17:47

Fine header from Ivanovic. Some quick feet saw him in front of Wisdom as the Chelsea corner came in but his header rose just too high.

17:46

Suarez tries a shot from out on the sideline and just inside the Chelsea half. It has the direction but Cech has it all the way.

17:43

Good work from Gerrard to release Sterling down the right wing. However, Sterling's ball into the box is half a yard behind Suso, whose attempted strike fails to connect properly.

17:41

Dean Sturridge is on for Torres, who is being waved off by the Liverpool fans. He doesn't look happy at not having scored against his old club since leaving.

17:39

Liverpool are playing with a lot more confidence since the goal but for all their possession they're not creating real openings.

17:38

Card for John Obi Mikel for a foul on Suso.

17:35

Chelsea sub: Victor Moses replaces Oscar.

17:31

GOAL - LIVERPOOL - SUAREZ

A corner to the corner of the six-yard box is flicked on by Jamie Carragher and Suarez is perfectly positioned to head it home unchallenged from just a yard.

Chelsea 1-1 Liverpool

17:29

Suso is a player of real potential but his short appearance so far in this game is no advertisement of his wares. The Spaniard has given the ball away a number of times and is fortunate Chelsea haven't capitalised on at least one of them.

17:28

Wow, how did that stay out. A brilliant curled ball into the box from Mata flies just over the head of Torres but Jones gets a touch on it. It deflects off Ramires and just out to safety.

17:26

Yellow card for Gerrard for a late tackle on Oscar. It gives Chelsea a free-kick in a dangerous position, to the right corner of the box.

17:21

Liverpool's final ball has been pretty poor today. The lack of a striker is apparent in each infrequent attack. With more firepower up front, they could have caused problems.

17:19

Change for Liverpool: Nuri Sahin goes off, to be replaced by Suso.

17:15

Superb save by Jones from a Torres header. In a packed box, the Spaniard rises highest to send the ball goalward but Jones reacts with his knee.

17:11

Chelsea look the more determined side at the moment and are winning most balls. Juan Mata is the latest player to try his luck for Andre Villas-Boas' side but his shot lacks accuracy.

Brendan Rodgers' answer is to prepare Suso to enter the fray.

17:08

Mistake by Allen - not his first today - forces the midfielder into bringing down Torres. Booking for the Liverpool man.

16:56

Back in action at Stamford Bridge and Sterling looks lively - as usual However, he'll need to find some end product for his struggling side.

16:56

It's now all over in Newcastle and Sam Allardyce's West Ham side will take all the points back to London.

16:53

It's all over in Scotland and Celtic have been held to a draw by St Johnstone. Midweek hero Tony Watt opened the scoring for Celtic but Nigel Hasselbaink levelled in the 77th minute and that's how it stayed.

Champions League exertions taking their toll?

16:52

In the dying minutes in Newcastle and Celtic.

Newcastle still trail West Ham by that Kevin Nolan goal, while Celtic are being held by St Johnstone.

16:50

Half-time at Stamford Bridge. Chelsea look very comfortable and deserving of their lead. Liverpool will need to offer something completely new if they're to claw their way back.

16:49

Superb play from Juan Mata engineers a great chance for himself but his strike rises just above the fingertips of Jones and above the bar.

16:47

As has been the case all the season, thus far, Liverpool look dependent upon Suarez producing something special if they're to get back into the game.

16:42

Five added minutes at the end of the first half in Stamford Bridge.

In the first of those, a mistake by Andre Wisdom almost lets Chelsea in but Brad Jones is alive to the threat.

16:40

Meanwhile, Hasselbaink has equalised for St Johnstone at Celtic.

Newcastle are still striving to get back on terms with West Ham but to no avail at this stage. Less than 10 minutes to go.

16:39

Substitution confirmed. Terry off, Cahill on.

16:36

Terry has been down for a number of minutes now and he's about to be stretchered off. Cahill is preparing to replace him.

16:34

Goalscorer John Terry is down on the ground and he looks quite badly hurt.

16:32

Liverpool have had 63% of the possession in the first 32 minutes of the game and yet they look toothless. Chelsea appear in control at this stage.

16:30

Nice effort from Allen but his left-footed strike lacks the accuracy to threaten Cech.

16:23

Real chance for Torres against his former club but his low shot is very well blocked by Liverpool keeper Brad Jones.

16:21

Liverpool were a shade unfortunate to be under pressure for the goal as an attempted pass into midfield hit the legs of referee Howard Webb, giving Chelsea the impetus to force the corner which led to the goal.

16:20

GOAL - CHELSEA - TERRY

A corner-kick to Chelsea is met with a very powerful header from the centre-back. Fine goal.

Chelsea 1-0 Liverpool

16:15

Interesting free-kick from Chelsea but Ivanovic's shot, from long range, rises high and drifts off to the keeper's left.

16:13

Tony Watt, who tormented Barcelona in midweek, has given Celtic the lead against St Johnstone.

Celtic 1-0 St Johnstone

16:08

Demba Ba offers an early threat for Newcastle in the second half against West Ham but his effort is cleared.


16:04

First real chance to Oscar. Joe Allen caught in possession and a quick through ball to Oscar opens up Liverpool. However, the attempted lift of the ball goes too high.

16:03

Liverpool on the move early and Agger's foray into the Chelsea results in him falling to the ground. No great appeal from anyone and the play goes on.

16:01

Liverpool fans, at least, begin the game full of positivity. The Fields of Anfield Road rings around Stamford Bridge.

15:51

Liverpool about to tip off against Chelsea.

15:48

15:46

Celtic and St Johnstone are approaching half-time and the deadlock is yet to be broken.

15:41

GOAL - WEST HAM - NOLAN

Kevin Nolan opens the scoring for West Ham, with a 38th minute goal.

Newcastle 0-1 West Ham

15:37

Team News: Chelsea v Liverpool

Chelsea: Cech, Azpilicueta, Terry, Ivanovic, Bertrand, Mikel, Ramires, Hazard, Oscar, Mata, Torres.
Subs:Turnbull, Romeu, Moses, Ferreira, Marin, Sturridge, Cahill.

Liverpool: Jones, Wisdom, Carragher, Agger, Johnson, Allen, Gerrard, Sterling, Sahin, Jose Enrique, Suarez.
Subs: Gulacsi, Cole, Assaidi, Henderson, Coates, Downing, Fernandez Saez.

Referee: Howard Webb (S Yorkshire)

15:32

Still no goals in the game between Newcastle and West Ham. The home side has had a little more of the possession but there's little between them at the moment.

15:26

He might not like to be called a 'super sub' but Edin Dzeko laughs as he admits it's not the first time he's come off the bench to rescue City.

15:24

Full-time: Last cross of the game comes from Gareth Bale but Hart collects it comfortably and the referee calls a halt to proceedings. The three points bring City back up into second place, two points behind city rivals Man United.

Result: Manchester City 2-1 Tottenham

15:20

We're into the last of the five added minutes and Spurs have struggled to respond since the Dzeko goal. City should be able to run down the clock for the three points.

15:19

City sub: Aguero goes off for Javi Garcia.

15:17

West Ham are doing well against Newcastle at the moment. They're solid in the middle of the park and cutting out a lot of what the home team are trying to create.

15:15

GOAL - MAN CITY - DZEKO

A super ball over the top from Silva is met by Dzeko's first-time left-foot strike which flies past Brad Friedel.

Just a couple of minutes for Spurs to rescue something.

Manchester City 2-1 Tottenham

15:15

Spurs sub: Aaron Lennon goes off for Kyle Naughton.

15:13

Maicon has done well since his introduction. He has consistently threatened down the right-hand side.

15:11

Great save from Friedel. A long throw into the box is backheeled into the path of Silva, whose first-time strike is brilliantly blocked by the Spurs goalkeeper.

The ball then goes straight up to the other end courtesy of Gareth Bale's blistering pace. His ball into the centre is cleared just before the on-rushing Dempsey can get to it.

15:10

Great work from Aguero and Silva again, with the latter receiving the ball inside the box before hitting a shot which drifts wide of Friedel's post.

15:09

City are pressing hard now and Kolarov has the latest chance. From a tight angle, he unleashes a powerful strike but Gallas deflects it out for a corner.

15:08

The City fans are booing again - this time it's for Adebayor, who leaves the field to let Jermain Defoe join the action.

15:07

Edin Dzeko rises high to meet a City corner but his header drifts just too far left.

15:06

Newcastle and West Ham are currently in action and the home side has had the better of the very early exchanges. No score yet, though.

15:04

After letting the play go on, the referee goes back to Adebayor to give him a yellow card for that tackle on Zabaleta.

15:02

Zabaleta and Adebayor clash - not for the first time today - and the referee ignores the tackle which leaves Zabaleta on the ground.

15:01

Chance for Bale. The Welshman strikes the ball from just inside the box but Hart gets his body in front of the powerful shot.

14:59

Spurs realise they need to attack if they want anything more than a draw from this game now. It's resulting in a more open game now. Just less than 20 minutes to go.

14:57

Toure rolling around on the ground after a tough challenge from Sandro. The Spurs man got the ball but the problem is that Toure appeared to land on his back.

14:56

City pressing on and Maicon sends a lovely, fast cross right into the box but none of his team-mates were there to get on the end of it.

14:52

GOAL - MAN CITY - AGUERO

Terrific finish from Aguero, who pulls City level. Sent through to the right hand side of the goal, he pulls the ball back neatly on to his left foot before sending it low and across Brad Friedel and into the Spurs net.

Manchester City 1-1 Tottenham

14:47

Speculative effort from Bale as Spurs make a rare foray forward in this second half.

14:46

Tevez frustrated as he's called offside when blatantly onside. That's the sixth offside decision against City in this game. Most of them, it must be said, have been right.

14:45

Team News: Newcastle v West Ham

Newcastle: Krul, Simpson, Steven Taylor, Williamson, Santon, Ben Arfa, Cabaye, Gutierrez, Ferguson, Cisse, Ba. Subs: Elliot, Anita, Amalfitano, Bigirimana, Marveaux, Shola Ameobi, Obertan.

West Ham: Jaaskelainen, O'Brien, Reid, Tomkins, McCartney, Benayoun, Diame, Noble, Jarvis, Nolan, Carroll. Subs: Spiegel, Cole, Maiga, Collins, Demel, O'Neil, Hall.

Referee: Mike Dean (Wirral)

14:44

City substitution: Nastacic leaves the field to be replaced by Maicon.

14:41

Long ball through from Toure to Aguero finds the Argentinian in space but this time his first-touch lets him down.

Is it just a matter of time or is this going to be a very frustrating afternoon for City?

14:40

Silva's first-touch let him down when it looked like he might be clear on goal. City continued to press.

14:36

City are trying to make inroads but, in the main, the Spurs defence is doing well in the early stages of this half.

14:35

The second half is underway with City on the offensive immediately.

14:17

The referee blows for half-time and the City players leave the field to a chorus of boos from their fans. I'm sure there'll be more goals in the second half but will they be for City or Spurs?

City have created chances but they trail by that Steven Caulker goal.

14:16

After some great work from Aguero and Silva, the ball is slipped through to the encroaching Zabaleta but his shot is easy for Friedel to handle.

14:14

Mancini, Kidd and Platt are deep in conversation as an interesting team-talk looms.

14:13

The City players are already getting very frustrated and referee Oliver has called captain Kompany to ask him to talk to his players and ask them to stop the dissent.

14:12

Another well-created opening from City. Toure slipped a fine ball through to Silva whose short cross into the middle of the box is met by a disappointingly weak shot from Tevez. No problem for Friedel.

14:09

Gallas misread the bounce of a ball and it almost let City in. He's ridden his luck a couple of times already this afternoon

14:06

[tweet https://twitter.com/OptaJoe/status/267629132861566977]

I promise I'll stop stalking OptaJoe shortly ... but you've gotta admit, he comes up with some interesting stats ...

14:05

City are beginning to create a bit more now as they look to claw back the deficit before half-time.

14:02

A penalty claim for City this time as Huddlestone ignores the ball and runs right into Zabaleta. Referee Oliver sees it the other way, though. The ball was probably gone, though, and that may have swayed the decision.

14:01

[tweet https://twitter.com/OptaJoe/status/267627338290839552]

Maybe we should have seen that Spurs goal coming ...

14:00

Looking back at the Spurs goal, the ball bounced in front of Hart and hit his body/hands before hitting the net. Still should have been stopped.

13:57

Yellow card for Zabaleta but it's unjust. Adebayor is already on his way to the ground for a blatant dive before the City man comes near him. Poor decision by the ref.

13:55

Chance for Huddlestone at the other end. A great run from Adebayor carves an opening but rather than striking it himself, he backheels it to Tom Huddlestone, whose typically powerful strike shaves by Hart's post.

13:53

Penalty claim for City at the other end but the referee, Michael Oliver, waves it away, much to the annoyance of the home crowd. Gallas' hands were high and if that was a real penalty at Arsenal yesterday, this should certainly have been given.

13:50

GOAL - SPURS - CAULKER

A cross into the City box is met by Steven Caulker, who connects well with the header. It looks comfortable for Hart but after getting both hands to it, he appears to claw it into the net.

Man City 0-1 Tottenham

13:48

Some confusion at the back for City as a crossed ball bounces high and almost into the path of a Spurs striker.

13:43

Some concerted pressure from Spurs, forcing a couple of corners. But, like City, they have thus far failed to create a clear-cut opportunity.

13:34

City have certainly started the better of the two but, at this point, their attacks have failed to produce anything like a clear-cut chance. Spurs have hardly had a chance to settle on the ball.

13:33

[tweet https://twitter.com/OptaJoe/status/267615110200193024]

First interesting stat of the day, courtesy of OptaJoe ... Our apologies to all optimistic Spurs fans!

13:03

The first game of the day is underway and Tottenham wear distinctive black and grey halved jerseys.

13:02

Team News: Man City v Tottenham

Man City: Hart, Zabaleta, Kompany, Nastasic, Clichy, Toure, Barry, Silva, Tevez, Kolarov, Aguero. Subs: Pantilimon, Maicon, Dzeko, Sinclair, Javi Garcia, Toure, Razak.

Tottenham: Friedel, Walker, Gallas, Caulker, Vertonghen, Sandro, Huddlestone, Lennon, Bale, Dempsey, Adebayor. Subs: Lloris, Naughton, Defoe, Dawson, Sigurdsson, Livermore, Carroll.

Referee: Michael Oliver (Northumberland)

13:00

The good news for Man City is that David Silva has returned after a five-match absence due to a hamstring injury.

11:53

Manchester United extended their lead at the top of the Barclays Premier League when coming from behind to beat Aston Villa on Satuday.

That victory puts pressure on Manchester City and Chelsea, who can scarcely afford to let Alex Ferguson's side slip clear at the top.

City host Tottenham in the first of the day's kick-offs, while Chelsea welcome Liverpool to Stamford at 4pm.
load older posts
return to top