As it Happened: Champions League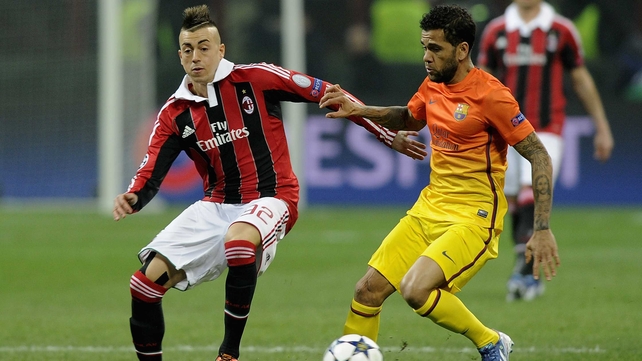 by James McMahon

RESULTS
AC Milan 2-0 Barcelona
Galatasaray 1-1 Schalke 04
Comments, thoughts and tweets welcome: @RTESport - sportonline@rte.ie
RESULT - GALATASARAY 1-1 SCHALKE

RESULT - AC MILAN 2-0 BARCELONA. Tactically Milan got it right tonight as two left-footed voleys from Boateng and Muntari give the Italian side more than a fighting chanace to reach the quarters. Part 2 of the instalment at the Nou Camo on Tuesday 12 March.

Milan holding on to their 2-0 lead.

5 additional minutes for Milan to keep Barca out. Galatasaray and Schalke are still deadlocked.

Game entering its final minute in the San Siro. Milan look the most likely to score again.

Mali international Traore comes on for El Shaarawy - who has had an outstanding game so far. Barcelona send on Mascherano as Puyol makes way

Barca just can't get their passing game going. Messi a shadow of himself.

The home side deserve their lead, with Montelivo having an outstanding game in midfield

First time this season that Milan have scored two in the Champions League at home this season.

Sulley Muntari 81 minutes scores his first European goal as Milan go 2-0 up. El Shaarawy cross from the right and the veteran from Ghana blasts his effort into the corner of the net and it's joy in the San Siro.
load older posts
return to top