Champions League: As It Happened
Updated: Wednesday, 13 Feb 2013 21:09
Tap here to refresh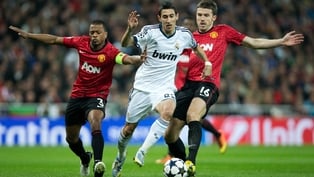 Manchester United came away from the Spanish capital with an away goal after their 1-1 draw with Real Madrid, while Shakhtar Donetsk and Borussia Dortmund shared four goals in tonight's other game.
By Ed Leahy
Champions League Results
Real Madrid 1-1 Manchester United
Shakhtar Donetsk 2-2 Borussia Dortmund
Comments, thoughts and tweets welcome: @RTESport @Ed_Leahy sportonline@rte.ie
21:42
So that's it for this week's Champions League action, four more games next week ahead of the vital second leg fixtures. A decent result for United tonight, although Madrid could have scored a few more tonight and will be happy to take the game to Alex Ferguson's side at Old Trafford.
In the other game, Borussia Dortmund will be happy to come away from the Donbass Arena with two away goals after drawing 2-2 with Shakhtar Donetsk.
Match reports will be online shortly and check back for lots of reaction and analysis in the morning... Goodnight.
21:38
Full-time scores:
Real Madrid 1-1 Manchester United
Shakhtar Donetsk 2-2 Borussia Dortmund
21:36
90+4mins United corner...Last chance of the game for sure...or not...the referee blows full time and the United players are furious as they cannot take the corner. Ronaldo has time for a few hugs for his former dressing-room buddies before departing...should be in for a very warm welcome at Old Trafford.
21:34
90+3mins Perhaps not... United win a soft free and launch it into the box...ball cleared but played back to Van Persie...shot is low and flying into the bottom corner but a great save by Lopez to push it clear for a corner...
21:33
90+1mins Modric makes space down the left and Ronaldo gets in between Jones and Evra but the ball just evades him and United clear... Last chance to win it perhaps...
21:29
89mins Game starting to drop in intensity for the first time as United sit back and Madrid look to have run out of ideas and energy...Good result for both sides perhaps as Mourinho will be just as confident that his side can, once again, prevail at Old Trafford
21:28
85mins Ronaldo smirks after his effort just dips over the bar as De Gea remains stuck to his line... An audacious effort but always a little too high...
21:26
84mins Modric trickery wins a free but it must be 40 yards out...Surely not, Ronaldo...
21:26
SUB Anderson on for Rooney
21:24
SUB The not-so-lovable rogue Pepe has come on for Alonso...
21:23
81mins United attack and a mistake in the Madrid defence sees Giggs in the box with space....He decides to take a touch when the shot was on...United win a corner but wasted...
21:21
79mins Relentless Madrid pressure as Ozil twists and turns in the box... Khedira smashes it into the turf and De Gea makes another super save and again United get away with it...
21:19
78mins United sitting very deep now and Modric is getting on the ball with a lot of space in midfield...Madrid push on and win a corner...Cleared and Valencia looking to get on the loose ball but is taken out of it...fairly...
21:18
SUB Luka Modric on for Angel Di Maria & Antonio Luis Valencia on for Danny Welbeck
21:13
71mins Two chances within a minute as Van Persie bursts into life...first effort, a brilliant right-footed half-volley is tipped onto the crossbar and second is a mis-kick that eludes the keeper but is cleared off the line by Alonso...
21:12
70mins Ronaldo flies at the near post to get on Higuain's cross but Ferdinand matches the run and concedes a corner, which is cleared...
21:10
68mins Surely United would be quite happy to take this result back to Old Trafford. They would be confident of beating Madrid at home so away goals may not come into play... But still another 20-odd minutes to get through here...
21:07
66mins Di Maria shows good pace down the left and Ferdinand clears for a corner...Twice the ball is cleared from crosses into the box and then once more as United are quite happy to deal with balls into a crowded area...Welbeck takes a tumble and wins a free to let United breathe...
21:06
SUB The rather redundant Kagawa departs for old man Giggsy...
21:03
60mins Madrid pressure down the right wing... Khedira played down the wing and his whipped ball is met by Coentrao at the back post... De Gea makes another crucial save and this time he appears to save it with his feet and boots it away Kung Fu style...
20:58
SUB Madrid striker Benzema replaced by fellow striker Higuain
20:56
53mins Evra played through down the left and big Madrid defender Varane appears to pull at his jersey as compatriot Evra goes down but the ref waves play on... Could have been a red if the free was given
20:53
52mins It's one-way traffic at the Bernabeu as Madrid put United under constant pressure...Two shots from Di Maria from the edge of the box within the space of a minute and De Gea saves the first one but smashes the second one wide...
20:52
46mins Second half starts as first half finishes with Madrid on the attack and againd it's Ronaldo taking control...Turns and shoots from the edge of the box but easy enough for De Gea this time...
20:35
Half-time: Shakhtar Donetsk 1-1 Borussia Dortmund
20:32
Half-time: Real Madrid 1-1 Manchester United
20:31
45mins Lovely flighted ball by Coentrao for Ronaldo...but this time the header is just off target and it's honours even at half-time...
20:28
GOAL Shakhtar 1-1 Dortmund (Lewandowski 42)
20:26
41mins Di Maria again runs at the United rearguard and gets into the box before Jones pushes him over and Evans clears...Di Maria goes down and there is a huge shout for a penalty but the ref is not interested....and neither are his rarely used officials behind the goal...
20:25
40mins Rafael having a torrid time in the United defence and picks up a yellow card for a needless foul on Ozil on the left-edge of the box...Free into the box is cleared... Will we be seeing Rafael in the second half??
20:23
39mins Madrid pressure and another chance to score as the ball is pulled back across goal...Ronaldo tries a flick and Benzema just fails to get on the end of it and cleared...
20:21
37mins End to end at the Bernabeu.... Alonso plays a great cross-field pass to Ozil...one touch and smashes his effort goalwards but yet again, a decent save from De Gea at his near post...
20:20
GOAL Shakhtar Donetsk (Darijo Srna) 1-0 Borussia Dortmund
20:19
34mins The corner is only half-cleared and Rooney makes some space and gets his shot away but dragged wide of the near post...United competing with Madrid now after their sluggish start...
20:18
33mins Another great chance for United as a ball whipped in from the left attracts the keeper...but Welbeck first to the ball and his touch appears to take a deflection and out for a corner...
20:15
30min GOAL.... And it's United old boy Ronaldo who powers home a header from about 12 yards after a superb ball in from the left by Di Maria...Nothing De Gea could do about that one as the header flies into the sidenetting...Super goal from a super player...No celebration from Ronny in front of his old teammates
20:11
28mins Madrid free from 30 yards...Ronaldo lines it up and smashes is straight into the wall...But the Portuguese catches the rebound with his left foot and the ball rifles past De Gea's post and wide...
20:09
25mins Madrid corner and this time De Gea comes out like he's waving down a taxi...Gets a slight touch and Madrid get yet another corner but danger is averted again...
20:06
23mins Madrid back on the attack and De Gea gets down well to tip an Arbeloa effort wide for a corner...Two great saves from the United man enjoying the game against former club Atlético Madrid foes...
20:04
20mins GOAL.... Welbeck gets away from his marker, Ramos and heads home from the edge of the six-yard box...great header and great finish....Totally against the run of play and what a vital away goal for United
20:04
19mins Another long ball to ease United pressure and Kagawa works hard and wins the corner...
20:03
18mins Madrid are running right at United... This time it's Ozil who runs at the centre of the defence and gets his shot away but Carrick was tracking back and made a great block
19:59
15mins Jonny Evans takes a knock from Ramos from a free into the box that was cleared by the Northern Ireland international... No booking for Ramos even though there was more contact than the Van Persie yellow
19:57
12mins United starting to settle a bit but it's still all Madrid in the opening exchanges...
19:50
6mins All Madrid and Ronaldo works the ball down the left and plays the ball across the box...Ferdinand clears but only to Coentrao....His curling shot crashes off the inside of the post and to safety...De Gea may have got the slightest of touches to tip the ball on to the post...Great save.
19:49
5mins Long ball from United defence and Van Persie picks up a very soft yellow...theatrics from Ramos didn't help...
19:48
4mins Madrid pile forward against as Di Maria runs at the retreating United defence... His left-foot shot slices well wide of the target...
19:47
2mins Early Madrid pressure... Good link up play sees Benzema link well to play Khedira in on goal...The German international snatches his shot and it is dragged wide... Good early tempo to the game.
19:45
Game on at the Bernabeu... Pitch looking exceptional, Madrid in traditional all-white playing right to left and United also in home strip for this first leg clash.
19:40
Dermot in Kerry emails to say: Out the door from work at 7.30, Cant wait now for Real v Utd. I'm going to say 3-1 to Real with Ozil to score first... Well Dermot, nice job if you can leave at 7:30 and be home in time for the game...Enjoy
19:11
Team sheets:
Shakhtar Donetsk: Pyatov, Srna, Rakitskiy, Chygrynskiy, Rat, Fernandinho, Hubschman, Alex Teixeira, Mkhitaryan, Taison, Luiz Adriano. Subs: Kanibolotskiy, Stepanenko, Eduardo, Shevchuk, Devic, Douglas Costa, Ischenko.

Borussia Dortmund: Weidenfeller, Piszczek, Felipe Santana, Hummels, Schmelzer, Kehl, Bender, Blaszczykowski, Gotze, Reus, Lewandowski. Subs: Langerak, Subotic, Leitner, Sahin, Schieber, Bittencourt, Halstenberg.
19:00
Alex Ferguson included Shinji Kagawa and Danny Welbeck but not Nemanja Vidic in Manchester United's starting line-up. Phil Jones was also included in midfield, with the expectation he would be tasked with the job of subduing the threat posed by former United star Cristiano Ronaldo.

Xabi Alonso was also in the Real side despite fears of a groin injury, whilst Wayne Rooney and Robin van Persie carried the burden of goalscoring responsibility for the Red Devils.

Team sheets:
Real Madrid: Diego Lopez, Arbeloa, Sergio Ramos, Varane, Fabio Coentrao, Khedira, Alonso, Di Maria, Ozil, Ronaldo, Benzema. Subs: Adan, Pepe, Kaka, Carvalho, Essien, Modric, Higuain.

Man Utd: De Gea, Da Silva, Ferdinand, Evans, Evra, Welbeck, Carrick, Jones, Kagawa, Rooney, van Persie. Subs: Lindegaard, Valencia, Anderson, Giggs, Smalling, Hernandez, Cleverley.
18:31
REAL MADRID v MANCHESTER UNITED - MANAGER HEAD-TO-HEAD
Manchester United's Champions League last-16 clash with Real Madrid will see Alex Ferguson once more pit his wits against former Chelsea boss Jose Mourinho. Here's how the two compare:
EXPERIENCE
Ferguson - No one in the game can boast more experienced than Ferguson; he has seen it and done it numerous times over both in Europe and at home.
Mourinho - It seems only the other day that he was the new kid on the block, but Mourinho now has more than a decade in top-flight management under his belt, including domestic league titles in four different countries, plus two Champions League and a Europa League win.
MIND GAMES
Ferguson - He thought he was the master but he met his match when Mourinho arrived on the scene in the Premier League.
Mourinho - Instead of going for the jugular, as he did with Wenger and Benitez, Mourinho talked about Ferguson like his favourite uncle, and the tactic worked.
TACTICS
Ferguson - Has the knack of achieving a great balance to his teams, and how many times have his substitutions paid off? Teddy Sheringham and Ole Gunnar Solskjaer in the 1999 Champions League final to name just two.
Mourinho - For a head-to-head match, Mourinho probably shades it even over Ferguson. Remember how his Inter Milan side triumphed over Pep Guardiola's all-conquering Barcelona team in 2010?
MAN MANAGEMENT
Ferguson - For all of his legendary hairdryer treatments, Ferguson still knows when to put an arm around his players, and you would be hard pushed to find one who would speak ill of him.
Mourinho - He also appears to inspire complete loyalty from his players. Once a Mourinho man, always a Mourinho man.
18:30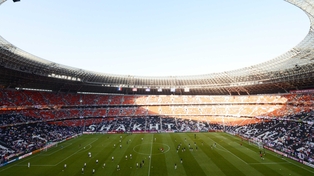 Good evening. Another two games taking place in the Champions League Round of 16 this evening as Manchester United face the tricky test of Spanish champions Real Madrid, while Shakhtar Donetsk welcome the much fancied Borussia Dortmund to the Donbass Arena.
Team news to follow shortly