As it happened: Saturday's Six Nations
Updated: Saturday, 09 Feb 2013 19:07
Tap here to refresh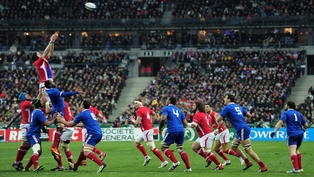 Relive today's Six Nations clashes: Scotland's 34-10 victory over Italy and Wales' first win in Paris since 2005.
By Tadhg Peavoy
Scotland 34-10 Italy
France 6-16 Wales
Get in touch: sportonline@rte.ie @TPeavoy
18:46
Wales have won in Paris for the first time since 2005. France were lacking strategy, guile and passion. Wales played a patient if not totally inspired game, to secure victory. One moment of genius from Biggar led to the crucial try for North. Wales keep their championship hopes alive. There is serious pressure on France coach Philippe Saint-André now as he must bring his side to London to face England next.
Thanks for joining, a report will appear on the site shortly. See y'after.
18:46
FULL-TIME: FRANCE 6-16 WALES
18:45
81 mins: France remain on their 22 as they go nowhere in a hurry. Eventually Trinh-Duc tries a chip and as he attempts to collect the ball he knocks on.
18:43
80 mins: France are kicked back possession and again turn it over as Cuthbert attempts to cut France open. It comes to Lloyd Williams who things the clock has run into the red and boots it out. But there is ten seconds to go and France take their lineout. They win and spread wide to Fofana on the right wing. The France backline shuffle it across the line trying to find a way through the Welsh defence. It's all lateral as they conjure nothing meaningful.
18:43
80 mins: Scott Williams is on for Jamie Roberts.
18:42
80 mins: Shingler is on for Ryan Jones.
18:42
79 mins: France knock on at the Wales 22 as Leigh Halfpenny is named Man of the Match.
18:40
78 mins: Penalty France from the scrum and France attack wide right. They reach the Wales 22 and Dusautoir is wrapped up in a choke tackle by Roberts.
18:40
78 mins: Scrum Wales as France fans stream out of the stadium early.
18:39
77 mins: Apologies, that was a knock-on, scrum Wales near halfway.
18:38
77 mins: It reaches Trinh-Duc on the left wing and Cuthbert stops him easily. Dusautoir is done for holding on at the ruck. Penalty Wales near halfway.
18:38
76 mins: France attack with desperation as they seek a try to get back in the game. Michalak passes to nobody but Bastareaud secures.
18:35
74 mins: PENALTY - WALES - HALFPENNY
Wales back on the attack and they win a penalty for France killing the ball at the ruck. From outside the France 10, right of goal, Halfpenny opts to go for goal. Halfpenny smacks it and the ball sails through the posts - awesome kick and Wales lead by ten with five to go.
France 6-16 Wales
18:32
72 mins: TRY & CONVERSION - WALES - NORTH & HALFPENNY
North batters forward on the charge. They make the 22 and Williams feeds wide left. Biggar chips for the left corner where the ball bounces up for North to claim and force his way past Trinh-Duc to touch down over the whitewash. Try. Halfpenny goes for the conversion from wide left, on the touchline, from the 22. He lands it with an amazing kick.
France 6-13 Wales
18:31
72 mins: France win a scrum and boxkick long to touch. The French crowd are booing their team around the ground.
18:31
71 mins: Lloyd Williams is on for Mike Phillips.
18:30
70 mins: Ten minutes to go and one try will win this game.
18:29
69 mins: Roberts carries to contact and manages to smuggle the ball back on the ground under immense pressure. Halfpenny gets the ball out wide and Dusautoir stops him in his tracks. Biggar tries to chip ahead and the ball is awful and France break but Huget knocks on under zero pressure. This is a simply dreadful game.
18:27
68 mins: Biggar boots the penalty to touch. Wales win at the tail and Davies smacks Bastareaud in the centre. Ryan Jones carries well as Wales edge forward. Tipuric also makes some ground with ball-in-hand.
18:27
67 mins: Third scrum: again it goes down, this time it's a Wales penalty. The pitch is cutting up something terrible and it's hard to know what's going on in there.
18:26
66 mins: The second scrum collapses as well and they must go a third time.
18:26
66 mins: Second scrum is set as Suta comes off for Taofifenua.
18:25
66 mins: Scrum France: again Wales collapse as has been the norm today.
18:24
65 mins: After multiple phases Ryan Jones manages to get his hand on the ball but knocks on. Scrum France.
18:23
64 mins: France very carefully keep moving forward and edge their way towards Wales. Eventually Huget comes into the line on a pop from Michalak, he is stopped without making any ground.
18:22
63 mins: France take their lineout and then maul forward. Ducalcon carries to the Wales 22. France use Dusautoir and Fofana on crash balls.
18:21
62 mins: We enter the final quarter in Paris with a scrum again. This time Wales are again penalised. Michalak boots to touch in the Wales half.
18:20
60 mins: The scrum is set and once more collapses. The scrum really is a bit of a mess today.
18:18
59 mins: Wales win the lineout and go up the centre with Davies. Roberts does likewise. Roberts tries to pop inside to Ryan Jones on a pre-planned move a few phases later, but Jones knocks on.
18:18
60 mins: The replacement fullback boots to touch.
18:17
59 mins: Phillips boxkicks away and Trinh-Duc claims the mark.
18:16
58 mins: Suta wins the lineout and Parra boots long to North. North barges forward at France as they attempt to put something meaningful together. Awful second period so far.
18:16
57 mins: Again Adam Jones collapsed. Michalak clears the penalty to touch near halfway.
18:15
56 mins: Wales win a scrum in the France 22. The packs set and France win a penalty as Wales collapse.
18:14
56 mins: Owens is on for Hibbard. Ducalcon is on for Mas. Parra is on for Machenaud.
18:12
54 mins: France win at four and maul forward. Picamoles breaks lose down the blindside and is eventually stopped. But the ball is lost in the ruck and Wales go across the pitch to Halfpenny on the right wing. Wales now in the France half before Biggar pops the kick to touch deep in the France half.
18:11
53 mins: France win the restart and Machenaud launches a garryowen. Wales claim but then get put into touch.
18:10
53 mins: PENALTY - FRANCE - MICHALAK
France take the scrum from the free-kick and win a penalty as again Adam Jones is forced to ground. Michalak lands the kick from outside the Wales 10.
France 6-6 Wales
18:09
52 mins: France win a free-kick from the scrum. Chouly also comes on for the injured Ouedraogo.
18:08
51 mins: Kayser and Debaty are on for Forestier and Szarzewski.
18:07
50 mins: Wales scrum: the scrum walks five metres across the pitch and will be reset.
18:07
50 mins: With Fall injured for France, Trinh-Duc has gone to full-back, with Huget moving to the wing.
18:06
49 mins: Wales turn the ball over as the ball pops out the side of the ruck. Referee Clancy says scrum Wales.
18:05
48 mins: Fofana makes a good line up the middle and is brought down. Bastareaud is fed the ball by Michalak but he takes it standing still and fails to make any real ground.
18:02
46 mins: Scrum France on the Wales 10. France put in and win before Picamoles breaks forward. Maestri then drives well as France try to put some phases together. Suta does well to make some more ground.
18:00
43 mins: France drive forward into the Wales 22 and go phase after phase. The ball is lashed back to Trinh-Duc, on for Fall, on the edge of the 22. He goes for the drop goal and pushes it wide. Poor drop goal and negative option considering France were chomping at the bit to attack Wales ball-in-hand.
17:57
40 mins: PENALTY - WALES - HALFPENNY
France win a penalty just outside the France on their first attack of the second half. Halfpenny nails it and Wales lead.
France 3-6 Wales
17:50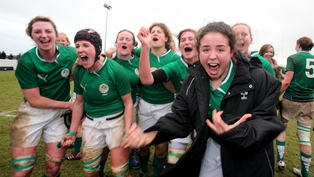 Have to include this wonderful photo. Taken just after the final whistle as Ireland claimed a famous victory over England
17:46
The game has been error strewn with France conceding a penalty after every 3:13 in possession and Wales conceding a penalty after every 4:50 in possession. Half-time report for both sides: must do better.
17:45
HALF TIME SUMMARY
A truly woeful 40 minutes of rugby. Neither side were in any way convincing and both failed to ignite any sort of passion in the crows. A penalty a piece for Michalak and Halfpenny. France could have scores two tries but wasted both chances carelessly. Wales have had oodles of possession, but they can't carve out anything meaningful.
17:45
HALF-TIME: FRANCE 3-3 WALES
17:44
41 mins: Wales again put several phases together before Biggar decides he can't do anything in attack and kicks the ball out for half-time.
17:44
40 mins: Ryan Jones wins the lineout at the tail and Tipuric makes good ground on the break.
17:42
40 mins: Wales go across the line to North and he smashes into Bastareaud. From the next ruck Wales win a penalty as France kill it. Clancy warns Dusautoir that France are conceding too many penalties and to let his team know. Biggar boots the penalty to touch in the France half.
17:42
39 mins: France win the lineout and Machenaud boxkicks long. Biggar returns the kick to Fall, Huget is fed and hoofs a massive kick at Cuthbert.
17:40
37 mins: Eventually it goes back to Biggar to go for a drop goal. But he is closed down and can't release the shot. The ball is brought to a ruck again by Wales. Eventually Biggar tries to pop a kick to touch and puts it out on the full. Very timid and dull from Wales.
17:39
37 mins: Faletau makes good ground and Wales are within ten of the France line. They recycle move after move. Ryan Jones takes a crash ball. Davies is fed out right.
17:39
36 mins: The Welsh go phase-after-phase and reach the France 22.
17:38
35 mins: Wales lineout on their 10. They win with Evans before Phillips boxkicks long to Fall. France move to the centre with a forward drive. Then Michalak pops the ball forward for Bastareaud to chase. No joy as Wales win back possession.
17:37
35 mins: There's a delay in play as a few players get attention.
17:36
34 mins: The last side to lose on the opening day of the Six Nations and win the title was France back in 2006.
17:35
33 mins: France win at the tail. They maul it hard and make several metres before the move goes to ground. After that it's pick and go from Les Bleus but Picamoles gets isolated and is done for holding on at the breakdown. Biggar clears for Wales.
17:33
32 mins: Jones fails to roll away from a tackle and Michalak boots the penalty to touch just inside the Wales 22.
17:31
30 mins: Wales lineout: they win at the tail with Tipuric and maul it. France turn it over and Fall boots long at Wales. Davies scampers back to cover and clear long. Michalak again opts to kick away possession and Halfpenny claims the mark. France had plenty of options on there. No need to kick possession away.
17:31
29 mins: Biggar grubbers to the corner and Huget must come across and kick to touch deep in his own half.
17:30
28 mins: Roberts wins a high ball and Wales attack left with Hibbard. Tipuric picks and goes. Ryan Jones is wrapped up in the tackle and driven back by France.
17:29
28 mins: Huget boots long to Wales. Biggar claims and boots back to France. The ball goes straight out. Scrum back for France.
17:28
27 mins: Eventually Biggar launches a high ball. Huget gets underneath it and claims the mark. Wales ran out of ideas and Biggar felt he had no choice but to kick. Poor attacking from Wales.
17:28
26 mins: Ryan Jones is hammered back as he tries to take the ball forward in hand. Wales' North attempts to smash through the France defence. No joy.
17:27
25 mins: Wales win the lineout at four and Phillips box kicks long to France. Tipuric wins the breaking ball and Wales go up the middle with Roberts.
17:26
24 mins: Scrum Wales on their own 10. The Welsh hammer France at the scrum - penalty to the Principality. Biggar boots to touch.
17:25
24 mins: Scrum Wales. Tipuric receives some attention to his arm prior to the scrum.
17:24
23 mins: Michalak drives at Wales and Ryan Jones choke tackles him to prevent the No 10 from getting the ball back to his team. Scrum Wales.
17:23
22 mins: France win their lineout and Michalak high balls for Fall to again claim. Biggar has a clearance charged down by Huget and Wales scramble back to cover. They lose the ball to France, but with a four-man overlap France butcher another chance.
17:21
20 mins: France on the Wales 22 now, they move wide to Huget who skips into the Wales 22 and is almost away before a last-ditch tackle. France come in waves as they edge towards the Wales line. Huget juggles a pass and straightens his line, he has Fofana outside him, but fails to give the pass. Wales turn over the ball at the next ruck and Halfpenny boots long to touch.
That was a certain France try if Huget had passes outside him.
17:20
19 mins: Wales receive the restart and Halfpenny slots the egg into touch. France win the lineout and Machenaud garryowens for Fall to claim in the Wales half. Bastareaud makes some ground on a crash ball.
17:17
18 mins: PENALTY - WALES - HALFPENNY
Wales lineout. Ryan Jones wins at the tail and the Welsh pack try to maul it, before France counter maul them. Roberts takes a crash ball and then Biggar makes some good ground. Two metres short Clancy says penalty Wales as France are done for offside. Halfpenny knocks over the peno from in front of the posts.
France 3-3 Wales
17:16
15 mins: Wales back on the attack with Cuthbert. On halfway they go to contact and France kill the ball. Biggar decides to boot the peno to touch deep in the France half.
17:14
14 mins: PENALTY - FRANCE - MICHALAK
France scrum right on the Wales 10-metre line. The scrum collapes as Wales pull it down - Adam Jones was the guilty party. Penalty France. Michalak opts to go for goal. He takes two short steps, before smacking the ball over for the opening points.
France 3-0 Wales
17:13
13 mins: France make the Wales 10 and the ball fails to come back out of a ruck. Scrum to France.
17:13
12 mins: Picamoles wins at the tail for France. The French move up the middle of the pitch and then use Oueadraogo.
17:12
11 mins: Suta wins the France lineout at two. Dusautoir knocks on under no pressure with a first man drive off the side of the ruck. Davies then chips ahead to touch for Wales.
17:10
10 mins: Wales get the shove on the France scrum but Picamoles picks and goes before being grounded. France win a penalty as Ryan Jones fails to release after the tackle. Michalak boots the peno to touch.
17:10
10 mins: Scrum France on their 10-metre line.
17:09
10 mins: Free-kick Wales as France engage early again. But Roberts knocks on as he takes an inside pass from Biggar.
17:08
9 mins: This time the scrum is good and France turn over the ball, but Picamoles knocks on as he attempts to break with possession.
17:07
8 mins: Scrum Wales: the scrum collapses and will again be reset. The pitch is cutting up badly, which won't help the scrum in any way, shape or form.
17:07
7 mins: Dusautoir takes to contact and the ball doesn't come back. Scrum Wales in the France half.
17:06
7 mins: The Welsh pick and go and then bring Davies in on a crash ball. They move wide right before Biggar tries a drop goal from the 10-metre line. It drops way short for Huget to claim and break with a run.
17:06
6 mins: The scrum engages early and must be reset. France early engage again - free-kick Wales.
17:05
5 mins: The lineout from Hibbard is crooked. France scrum down near halfway.
17:04
5 mins: Scrum France in their own 22: they win and Machenaud boots long to touch to relive the pressure.
17:03
4 mins: Wales win Ryan Jones at the tail and Phillips drives at the France defence. Faletau picks and drives and knocks on. Sloppy.
17:02
3 mins: France win at two with Suta and break off the side of the ruck. They reach the Wales 22, but are done for holding on. Penalty Wales. Biggar boots the peno to touch.
17:02
2 mins: Wales move to the middle, where they knock on. Scrum France. Les Bleus win a penalty from Clancy. Michalak boots to touch.
17:01
1 min: Biggar starts the tie with a kick-off to France. Fofana takes and is put into touch by Coombes.
17:00
George Clancy of Ireland is the man in the middle today.
16:58
The Stade is jammers for the visit of the defending Six Nations champions Wales. Paris is not a place Wales tend to enjoy visiting. The last time they won in that capital of culture and croissants was 2005 when they came out 24-18 on top.
16:58
The anthems belt out into the Parisian night. Kick-off beckons shortly good people.
16:57
Wales have lost eight on the bounce, France were shamed by Italy last week. Both of these starting XVs are smarting and need a win to keep any championship hopes alive. It's all set up to be a humdinger!
16:41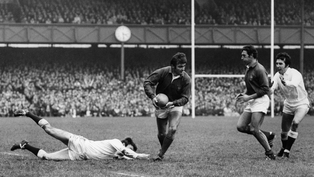 These two have been playing each other for a while, but if France win this match then the head to head record between these sides will be exactly 44 wins apiece (and three draws).
16:38
Here's how the two teams will line out:
France XV: Huget, Fofana, Mermoz, Bastareaud, Fall, Michalak, Machenaud, Forestier, Szarzewski, Mas, Suta, Maestri, Ouedraogo, Dusautoir (capt), Picamoles
Replacements: Kayser, Debaty, Ducalon, Taofifenua, Chouly, Parra, Trinh-Duc, Fritz
Wales XV: Halfpenny , Cuthbert, Davies, Roberts, North, Biggar, Phillips, Jenkins, Hibbard, Jones, Coombs, Evans, Jones (capt), Tipuric, Faletau
Replacements: Owens, James, Mitchell, Reed, Shingler, Williams, Hook, Williams
16:33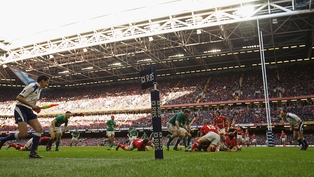 So what now for Wales? Despite having the most amount of time in possession of any side last weekend (22:57) and the highest tackle completion rate (91%) they still ended up on the wrong end of a thrilling 30-22 scoreline against Ireland.
Regardless, Wales have now lost their last eight games in a row, their worst run since 2002/03 when they lost 10 on the bounce.
Wales have won just two of their last nine games against France in all competitions - however four of their last five encounters have been decided by seven or fewer points.
16:25
So, any predictions ahead of France v Wales? sportonline@rte.ie or @RTERugby to get in touch. We'll include your comments here.
16:20
FULL TIME SUMMARY:
An aggressive and disciplined performance from Scotland drove them to a 34-10 victory over Scotland this afternoon.
Tries from Tim Visser, Matt Scott, Stuart Hogg and Sean Lamont as well as 14 points from the boot of Greig Laidlaw helped Scotland overwhelm an Italy team that came into the match on a high after victory last week.
It was Scotland's first win in this year's championship - they were soundly beaten 38-18 by England on the opening weekend.
In a match often billed as the wooden spoon decider, Scotland were superior in all areas and capitalised on a string of Italian errors to win their first match at Murrayfield after five successive defeats.
Alessandro Zanni got a consolation try for the Italians, a conversion from Kris Burton and penalty from Luciano Orquera rounded off the scoring.
16:15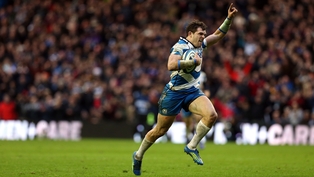 One picture to sum up Scotland's Day. Sean Lamont romps home for the final try.
16:13
FULL-TIME: Scotland 34-10 Italy
80+1 mins
Late yellow for Gross.
78 mins
Greig Laidlaw is the man of the match.
74 mins
TRY! Lots of changes from both sides now as the game winds down, Italy have a scrum 10m out as they look for a consolation score. And they get it, Zanni touches down after Parisse's inside flick. Burton's kick is good. Scotland 34-10 Italy
70 mins
TRY! Sean Lamont picks up a loose ball and sprints home unmolested, the Italian defence looks on helplessly. Laidlaw has the simpliest of tasks with the conversion. Scotland 34-3 Italy
68 mins
Matt Scott is down injured now, Derbyshire comes on for Italy.
65 mins
Ooohh, Scott touches down in the corner but ref says there was a forward pass just before from Maitland, looked sideways to me. Scrum Italy.
63 mins
Scotland have a lineout inside the Italy 22, and Italy steal it. Visser then takes a quick lineout and Maitland is stopped on the far side, Gray throws Gori out over the sideline after the replacement tried a cheeky dummy.
61 mins
Italy can't make anything out of their possession, Laidlaw clears to halfway. Scotland have made 105 tackles so far; Italy 41.
60 mins
Kelly Brown also took a heavy knock there, they are all okay now.
60 mins
Italy building up the phases, they're up to the 22, Canale looks for a gap, penalty. Parisse is down, holding his elbow, looks hurt.
15:45
FULL-TIME: Ireland Women 25-0 England Women
58 mins
Italy try to run it from inside their won half, penalty advantage.
57 mins
Scrum turns into a penalty, some handbags.
56 mins
Parisse knocks on at the base of the scrum, poor error. Scotland can clear their lines.
54 mins
Perhaps a chance for Italy, lineout on the Scots' 5m line, Zanni claims, penalty advantage, penalty. Ref talks to Scotland about not releasing, Italy opt for the scrum.
52 mins
Italy make some changes but with half an hour to go, this game is over.
49 mins
It looked like Italy were in for their first try but Hogg's gamble paid off spectacularly for his third international try, Laidlaw does the business. Scotland 27-3 Italy
48 mins
TRY! Canale runs on to Masi's kick, Hogg intercepts and goes the whole way for another touchdown. Scotland 25-3 Italy
45 mins
Laidlaw adds the extra two, that's four from four.
43 mins
TRY! Scott runs in from 28m after a fantastic break by Maitland. Scotland 18-3 Italy
42 mins
Scotland penalised for not releasing, Italy tap and go from deep, then they boot it, Scotland counter through Hogg, penalty Scotland, tackler not releasing.
41 mins
We're back on at Murrayfield.
15:21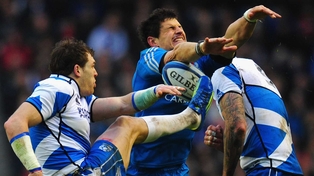 HALF TIME SUMMARY:
Tim Visser's fifth try in seven internationals has helped Scotland to a 10-point half-time lead over Italy.
Visser finished well on the half hour mark as Scotland took a deserved lead into the interval, helped by the perfect kicking of Greig Laidlaw.
Luciano Orquera reduced the deficit to 10 with a penalty in the final seconds of the half. 13-3
15:13
HALF-TIME: Scotland 13-3 Italy
40 mins
Orquera's shot from 40m is good. Scotland 13-3 Italy
39 mins
Penalty to Italy, slowing the ball down, chance to get some points on the board before half-time.
38 mins
Scotland go lateral for five or six plays, eventually Castrogiovanni snags a Scotland attacker and wins a penalty, Italy lineout inside the Scots' 22.
36 mins
Italy penalised at the scrum, not straight, free-kick, Jackson sticks up a garryowen and Scotland retrieve.
33 mins
Good open play from the Italians, they make it up to the Scots' 22, Castrogiovanni and Beattie are bear-hugging off the ball, penalty Scotland.
31 mins
That's five tries in seven appearances for Visser.
15:03
Laidlaw adds the extras. Scotland 13-0 Italy
30 mins
TRY! Hogg cuts inside and meets a wall of Italians, it comes to Tim Visser on the wing who sidesteps his marker and touches down. Scotland 11-0 Italy
28 mins
Venditti completely misses a clearance and Botes has to make a last-gasp tackle to prevent Scott going over in the corner.
26 mins
Orquera's kick doesn't go 10, or 9 or 8, scrum Scotland.
26 mins
Laidlaw, from 22m out, extends the lead. Scotland 6-0 Italy
25 mins
Jackson goes down the line, but doesn't make much ground, Harley claims the lineout, PENALTY advantage, Jackson kicks for the winger but Masi catches with ease, we'll come back for the penalty.
23 mins
Italy win a short kicking battle, lineout inside the Scotland half, good platform for attack, Parisse counters now as Botes looks for a gap, PENALTY, the scrum-half holds on after the tackle, says the ref.
20 mins
Canale goes up the middle, Scots defence is solid so far, Botes dummies, as does Masi, Castrogiovanni barges, turnover, referee Jaco Peyper then gets in the way of Laidlaw's pass, scrum Scotland.
18 mins
Parisse picks off the base and then Italy use their forwards to make some ground, Botes's head was in the way of a stray Scottish boot but he's okay now, scrum Italy on halfway.
17 mins
Masi is forced to kick from his own line but can't find touch, there's a little knock on as Scotland counter, scrum Italy.
16 mins
Greig Laidlaw slots it over and Scotland lead. Scotland 3-0 Italy
15 mins
Ref playing advantage to Scotland, Ghiraldini slowing the ball down. We should see the first score now, kick is in front of the posts about 40m out .
14 mins
Italy steal the throw, Scotland haven't gotten to grips with this game so far, Orquera kicks and then makes a mess of Hogg's return, ends up with a Scotland throw 10m outside the Italy 22.
14:43
HALF-TIME: Ireland Women 20-0 England Women
12 mins
Scotland turn it over, Jackson boots it and Masi returns it with interest, lineout inside the Scotland half.
11 mins
Scrum collapses, we'll go again.
10 mins
Hogg claims a high ball but has to take a double-team tackle by the rushing Italians, Lamont is blocked down and Italy have a scrum just outside the Scots' 22.
8 mins
Off the upright, let-off, Masi counters off the Scottish clearance, on the half-way mark.
7 mins
Hamilton comes in from the side and concedes a kickable penalty, Orquera will have a shot from 42m.
6 mins
Spirited but scrappy so far, Canale tries to work something on the short side and wins a penalty. Lineout to Italy on the Scotland 10m line.
4 mins
Scotland are wearing a QPR-esque shirt, I don't know much about fashion but it just doesn't work.
14:35
It's overcast at Murrayfield, about 4 degrees.
14:34
Ireland now lead 16-0 against England, Niamh Briggs with a penalty.
2 mins
Scotland spin it on the half-way line and they are all about running in the early stages. Ends up with an Italy scrum on the 10m line.
1 min
GAME ON! Jackson kicks deep, Italy claim.
14:29
The referee today is 32-year-old Jaco Peyper from South Africa.
14:28
Italian anthem sung with gusto, here's Flower of Scotland.
14:28
The Irish women now lead 13-0, Alison Miller with the try.
14:20
Almost time for the anthems at Murrayfield. Two good ones too.
Scotland have two enforced changes to the team that lost to England last week. Hooker Dougie Hall (knee) and flanker Alasdair Strokosch (fractured eye socket) have dropped out with Ross Ford and Robert Harley coming in.
14:13
It's now 8-0 to the Irish Women
14:12
Latest score from Ashbourne: Ireland Women 5-0 England Women
13:50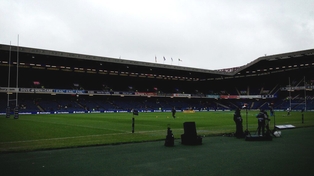 Here is the scene right now in Murrayfield, crowd just starting to build. Kick-off in 30 mins or so...
13:48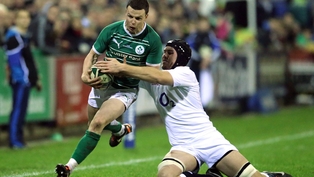 Last night an Ireland Club XV took on an England Counties selection. Ireland took the victory with a final score of 30-20 - full report here
13:23
Andre Lo Cicero is down on the starting XV for the Italians and all going well he will earn his 100th cap in around an hour's time.
Lo Cicero will be just the second Italian to do so - Alessandro Troncon got 101, so the overall appearance record beckons...
13:08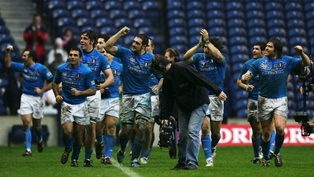 So last week's victory in Rome was a second consecutive win for the Italians (counting the final match of 2012 Six Nations), but they have never won three on the bounce.
The omens are not too bad though - the only away win Italy have ever had came at Murrayfield in 2007, final score 37-17.
In their history, Italy have won six of their 13 games with Scotland (overall points difference just 19 in Scotland's favour), a seventh today would be a huge boost.
12:44
Do you have a prediction for today's matches? How will Ireland fare against England tomorrow?

Get in touch via sportonline@rte.ie or @RTERugby and we'll do our best to include your comments here
12:34
The Irish women's team are in action today also. Ireland Women v England Women kicks off at 1400.
We will keep you up date with the result here, but you can also watch the match on Irish Rugby TV
12:31
If you are going to be out and about this afternoon you can watch all of today's action via the RTÉ Player App (Ireland only).
Radio coverage is of course available worldwide
12:08
It is the second weekend of the 2013 Six Nations - and first up this afternoon is a trip to Edinburgh.
Here are the teams:
Scotland XV: Hogg, Maitland, Lamont, Scott, Visser, Jackson, Laidlaw, Beattie, Brown, Harley, Hamilton, Gray, Murray, Ford, Grant
Replacements: Hall or MacArthur, Low, Cross, Kellock, Denton, Pyrgos, Weir, Evans
Italy XV: Masi, Venditti, Benvenuti, Canale, McLean, Orquera, Botes, Lo Cicero Ghiraldini, Castrogiovanni, Geldenhuys, Minto, Zanni, Favaro, Parisse (capt)
Replacements: Giazzon, De Marchi, Cittadini, Pavanello, Derbyshire, Gori, Burton, Garcia