As it happened: autumn internationals
International Rugby •
3 years, 9 months ago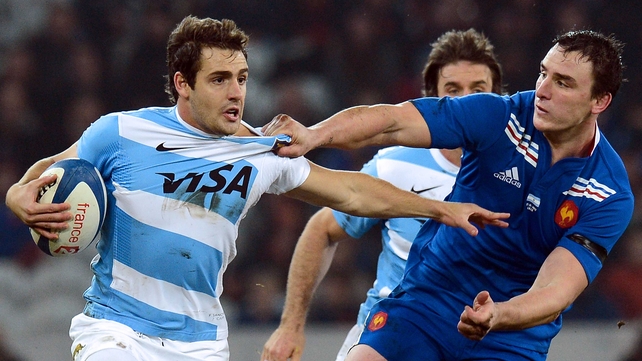 21:49

That's the last action of this super Saturday of autumn internationals.

The weekend tallies stands at Northern Hemisphere 2-4 Southern Hemisphere.

Thanks for reading today. Join us for more next weekend.

See y'after.

21:46

83 mins: Scrum France at the death: they pick from the base and Michalak attempts to break through the last line of Pumas defence. He's held back. The pack attempt to bludgeon their way over, but the ball is lost in the mud and the mire. Referee Steve Walsh calls an end to proceedings. FULL-TIME: FRANCE 39-22 ARGENTINA.

21:37

Michalak adds another three points, but the result is already secure for Philippe Saint-Andre's team. France 39-22 Argentina.

21:35

74 mins: Sanchez and Michalak exchange further penalties. Before the French outhalf adds another. Just a few minutes left in Lille and it looks as though Les Bleus have done enough. France 36-22 Argentina.

21:14

60 mins: Anything you can do, I can do better. Michalak sends over another penalty. France 30-19 Argentina.

21:14

Morgan Parra appears for France in place of Maxime Machenaud.

21:11

Sanchez once more boots three points with ease. France 27-19 Argentina.

21:10

53 minutes gone in Lille. Very even second period in northern France.

21:02

Michalak drops a goal to cancel out Sanchez' penalty. France 27-16 Argentina.

21:01

Lille-Grand-Stade.

21:01

Sanchez adds another penalty, first score of the second half, as Los Pumas close the gap. France 24-16 Argentina.

20:46

Half-time in Lille. France 24-13 Argentina.

20:35

[tweet https://twitter.com/samfeasey/status/269898468112347136]

20:25

Yannick Nyanga is fed the ball way out and gallops through a gap and into open space. Los Pumas are powerless to stop him going over for France's third try. Michalak converts. France 24-13 Argentina.

20:19

25 mins: Clerc gets on the end of a grubber to race over for a second try. Michalak converts. France 17-13 Argentina.

20:15

Mermoz makes a scintillating break down the left wing, before flinging the ball back inside. The pass goes loose but Vincent Clerc gather the egg and crosses for a try. Michalak converts. France 10-13 Argentina.

20:10

15 mins: A further penalty from Sanchez stretches the lead for Los Pumas. France 3-13 Argentina.

20:07

10 minutes: Sanchez adds another penalty to stretch the Pumas lead to 10-3. France 3-10 Argentina.

19:58

France open the scoring in Lille with a Frederik Michalak penalty. But Marcelo Bosch responds with a try for Los Pumas. Nicolas Sanchez converts. France 3-7 Argentina.

19:57

Last game of the day is France v Argentina in Lille. We'll bring you score updates from that last clash this Saturday.

19:40

[tweet https://twitter.com/UlsterRugby/status/269889726654320640]

19:37

19:36

Declan Kidney: "There was some great finishing by the backs but there was a lot of good play by the forwards as well.

"We have to get a win next week to stay in that top eight position.

"The young guns put their hands up and we'll take a look at the videos and see if that affects selection.

"Jonathan Sexton picked up a groin strain [in the warm-up], but he should be okay."

19:34

So that win for Ireland puts this weekend's overall hemishphere battle at Northern Hemisphere 1-4 South Hemisphere. The last of the weekend's games sees France and Argentina lock horns in Lille. We'll provide updates on that clash as they come in.

19:33

[tweet https://twitter.com/killianbyrne/status/269874524961517568]

19:32

[tweet https://twitter.com/Meadejonathan/status/269884373543825408]

19:30

[tweet https://twitter.com/pigsgolfinfo/status/269885019080761344]

19:26

That Luke Marshall try was the last action of the tie. Ireland devoured a very, very, very poor Fiji, who didn't seem to care about the result or the performance. Ireland dominated all over the pitch and ran in eight very good tries.

In terms of learning about these young Irish tyros, it's hard to gauge their performances given that Fiji were so poor. That said, the old adage rings true: "You can only beat what's put in front of you."

Ulster's hat-trick hero Craig Gilroy was named man-of-the-match for that superb performance.

19:24

FULL-TIME: IRELAND 53-0 FIJI

19:22

79 mins: TRY- IRELAND - LUKE MARSHALL

Ireland move it from left to right where Jackson feeds Henderson, he pins the ears back and strides toward the corner, before offloading to Luke Marshall to canter over for try number eight for this Ireland XV in Limerick. Jackson misses the conversion.

Ireland 53-0 Fiji

19:20

79 mins: Luke Marshall feeds Cave, who in turn feeds McFadden on the right wing. He enters the Fiji 22. The ball is spun wide left to Strauss who makes good ground.

19:20

78 mins: Zebo tries a kick and chase, it's got too much legs on it and comes to nothing.

19:18

77 mins: Henry straight back into the fray and bursts forward. Possession is then booted away.

19:18

76 mins: Henry returns after his sin-binning.

19:17

76 mins: McCarthy on for Heaslip.

19:14

72 mins: TRY & CONVERSION - IRELAND - GILROY & JACKSON

Ireland intercept deep in their own 22 and move it wide left. Jackson, Cave, to Gilroy. The winger runs the length of the pitch to touch down and complete his hat-trick. Jackson converts.

Ireland 48-0 Fiji

19:12

71 mins: Fiji enter the Ireland 22. It's all slow and cumbersome stuff from Ireland as they fail to really trouble Ireland.

19:10

69 mins: TRY - IRELAND - GILROY

Scrum Ireland on the Fiji 22: Paul Marshall feeds, Ireland win, then feed wide left to Jackson, Zebo and then Gilroy on the left flank. He sprints down the touchline and crosses for the try. Jackson pushes the conversion wide right.

Ireland 41-0 Fiji

19:09

68 mins: There's an allegation of a player's testicles being squeezed out on the Thomond Park pitch!

19:08

68 mins: Marshall looks to be okay and makes his way back to his feet.

19:07

68 mins: Scrum Fiji on their own 22 as Luke Marshall goes down looking for attention.

19:06

67 mins: A late tackle is called against Tuapati. Sin bin time.

19:05

66 mins: Fiji shuffle the ball wide right but the attack - once more - comes to nought.

19:04

65 mins: It all kicks off as Healy gets into a spot of handbags with several Fijians for throwing the ball at Goneva. Nothing in it really, but it gets the crowd roaring as it's the only moment of interest we've had since McFadden's second try.

19:03

64 mins: Luke Marshall kicks to Radidi. He keeps ball in hand and goes to contact. Ireland are penalised for hands in the ruck. Chris Henry is the guilty party and is yellow carded.

19:02

63 mins: Fiji win the lineout and set the ruck. Ralulu then attempts to find touch, but instead the ball is claimed and spread wide. Zebo takes into the line as Radidi halts his progress.

19:01

62 mins: Gilroy burst up the middle and then Luke Marshall boots in behind the Fiji defence.

19:00

62 mins: Cronin, Murray and Hurley off. Zebo, Paul Marshall and Strauss are on.

18:59

61 mins: Ireland lineout: Fiji infringe and it's another penalty for Ireland. Jackson bashes it to touch.

18:58

60 mins: Cronin makes a big hit to knock Fiji back hard. Matawalu picks and goes again, but has no joy. Ireland win the penalty for holding on in the ruck.

18:56

59 mins: Scrum Ireland: the green pack are penalised and Fiji drive to the Irish line. Ireland hold them up. Matawalu dives for the corner, but he is stopped.

18:55

58 mins: The lineout is won and Fiji maul it. Accidental offside is called against Nagusa. Ireland put in to the scrum.

18:55

58 mins: Ireland are done for going off their feet and the penalty is booted to the Ireland corner.

18:54

57 mins: Fiji lineout: they win and then things kick off as Healy throws a few handbags around the place.

18:53

56 mins: Fiji turn it over and break back at Ireland. They reach the Ireland 10-metre line. Bent rolls the wrong way at the ruck and concedes a penalty.

18:52

55 mins: Henry makes a dashing break and goes to contact. Murray picks and goes. Healy does likewise.

18:51

55 mins: Fiji play up the middle with some pop passing. But again they lose the ball in the ruck. Rubbish really.

18:51

54 mins: Bent comes on for Mike Ross.

18:50

53 mins: At the next breakdown Murray plays on the ground, penalty Fiji. The peno is booted to touch.

18:49

52 mins: Scrum Ireland: the scrum is good and Murray picks from the base.

18:48

51 mins: Goneva takes up the middle on the burst. But the ball gets caught in a quagmire of a ruck and Ireland are awarded a scrum because the breakdown is unplayable.

18:46

50 mins: Fiji win the lineout at the tail and set the ruck. The ball is boxkicked long to Murray. Play is spun wide to Cave in the middle before Cronin carries. Marshall tries to feed out left, but his pass is wayward and ends up in touch.

18:45

48 mins: Scrum Fiji: They win and then kick long, high and badly. Gilroy claims it and Ireland run it back with Marshall. He runs out of room and ends up in touch on the left.

18:44

48 mins: Jackson feeds Cave and then Marshall gets it. McFadden gets the ball, but it went forward and play is called back.

18:44

47 mins: Kilcoyne is subbed off for Healy.

18:41

45 mins: Scrum Ireland: they win and Murray boots long. Talebula returns the kick and Murray carries back into contact. But he is tip tackled by Matanavou. The Fijian is yellow carded - could have been red.

18:40

44 mins: Ireland field a deep kick as Heaslip bashes back into contact. Murray garryowens.

18:38

44 mins: Muldoon is down injured and will have to make way. His knee made contact with Conor Murray's head. He wears a brace as he is taken from the field.

18:35

44 mins: TRY & CONVERSION - IRELAND - McFADDEN & JACKSON

Gilroy steps inside a Fiji defender as Ireland enter their 22. Heaslip carries, hands off and offloads to McFadden. The Leinster winger batters his way to the line for try number five. Jackson converts with a banana kick from wide right.

Ireland 36-0 Fiji

18:34

43 mins: Ireland win a scrum and go up the middle with Marshall. Jackson scampers a few yards forward, before Ross makes some hard yards.

18:33

42 mins: Gilroy is now lining up on the left, and McFadden on the right.

18:32

41 mins: Fiji burst up the left with Matanavou, but again Ireland turn it over.

18:31

40 mins: Play resumes in Limerick. No changes for Ireland.

18:27

[tweet https://twitter.com/TSFullContact/status/269869498310471680]

18:25

The general opinion in studio is that Fiji are woeful and this gives very little reflection on where these young Ireland players stand. That said, they're doing the business.

18:23

[tweet https://twitter.com/DelMcG/status/269868251159339009]

18:22

[tweet https://twitter.com/dk3lly/status/269867539528552448]

18:22

[tweet https://twitter.com/RTErugby/status/269867774984216577]

18:19

HALF-TIME: IRELAND 29-0 FIJI

18:18

42 mins: Fiji play it back from their own 22. They ball handle across their own 22, but then turn it over again. However, Ireland then knock on in the ruck. That's the last action of the half.

18:16

41 mins: Jackson decides to have a pop at the sticks. From wide left, on the 10-metre line, he lashes it at goal. It goes wide right.

18:16

41 mins: Obstruction is called against Radidi. Meaning it's a penalty for Ireland.

18:15

41 mins: Ireland win the ball back and Jackson tries to duck under a Fiji tackle. The ball is held at the next ruck by an Ireland player.

18:14

40 mins: The ball is cleared to touch by Ralulu.

18:14

39 mins: At the next breakdown Ireland, and Cronin, are done for holding on. Fiji penalty.

18:12

38 mins: Scrum Ireland: Murray feeds once more. This time he picks and passes to Jackson. The ball goes wide to Hurley and he links up with Marhsall. But the latter loses it. Fiji fail to capitalise and Murray bursts into the Fiji 22.

18:11

37 mins: Koniferidi is subbed off for Radidi.

18:10

37 mins: Fiji make a few yards with Manu but once more there is a knock on at the breakdown.

18:09

36 mins: Fiji clear to Marshall, he pops to Gilroy and Ireland make it to the Fiji line, where Muldoon knocks on with the line at his mercy.

18:08

35 mins: McFadden picks from the ruck and makes a break into the 22. Jackson tries to crossfield kick for Gilroy, but the kick is just too long and ends in touch.

18:06

33 mins: Scrum Ireland on their own 10-metre line. Murray puts in and Heaslip picks and goes. Jackson kicks wide to McFadden. Jackson plays a loose pass but Marshall collects and Cave makes 10 yards.

18:03

31 mins: TRY - IRELAND - CAVE

Fiji are again penalised at the scrum and Jackson boots to touch. The pack win the lineout and maul into the Fiji 22. Kilcoyne peels away and bashes at Fiji. Tuohy is next to have a go. Cave is fed a pop ball and waltzes like Matilda through the white shirts to score Ireland's fourth five-pointer. Jackson misses conversion from the right.

Ireland 29-0 Fiji

18:02

29 mins: Scrum Ireland just inside their own half.

18:00

27 mins: Ralulu boots the penalty down the touchline. The ball is thrown over the top and stolen by Henderson. The Irish break well down the left but play ends up in touch.

18:00

26 mins: Ireland are penalised for Kilcoyne's binding at the scrum.

17:58

25 mins: Fiji try to put a meaningful attack together. They build slowly and go up the right with Ratuva. It's good recycling, but then Nagusa knocks on as he tries to attack the green defensive line up the middle.

17:56

23 mins: TRY & CONVERSION - IRELAND - CRONIN & JACKSON

Gilroy make a superb break up the right, cutting Fiji open. The ball is kept alive and moved across field to the left to Cave. A ruck is set close to the line, where Murray feeds Cronin close the line. The hooker barrels over for try number three.

Ireland 24-0 Fiji

17:55

[tweet https://twitter.com/radiobrendan/status/269852530517876737]

17:52

21 mins: TRY & CONVERSION - IRELAND - MCFADDEN & JACKSON

Heaslip pops to Murray on the right, the ball is chipped ahead before being won on the ground and spun left. McFadden gets it on the left wing and cuts his way back in towards the tryline and tries to ground the ball. The ref goes to the TMO to decide whether it's a try or not. The try is awarded. Jackson converts from wide left.

Ireland 17-0 Fiji

17:51

20 mins: Scrum Ireland: the front rows go down, they will reset.

17:50

19 mins: Sexton by the way is not on the bench today, as he strained a muscle in the warm-up. He should be okay for next week against the Pumas.

17:48

18 mins: Fiji knock on in the tackle and it's scrum Ireland. They win and spin to Marshall in the middle, but the ball is lost forward at the next phase. Fiji ruck forward but again they kill the ball at the ruck and it's a penalty for Ireland.

17:47

17 mins: Fiji win the lineout and spread it to the middle before Ralulu boots long.

17:47

16 mins: Cronin throws to O'Callaghan, but the throw isn't straight. Fiji take a lineout.

17:46

15 mins: Fiji the ball at a ruck off their feet. Penalty Ireland. Jackson boots to the corner.

17:45

14 mins: A punt ahead is played deep by Murray and Gilroy gets on to chase it, but Talebula gets back to touch down for a Fiji 22 drop-out.

17:44

13 mins: Forward pass from Ratuva to Naikatani. Ireland were lucky there as the latter was away.

17:43

12 mins: Fiji take a short lineout which Tuohy disrupts. The ball is cleared deep to Votu as Goneva attempts to bring play back at Ireland.

17:40

9 mins: TRY & CONVERSION - IRELAND - GILROY & JACKSON

Henderson pumps the legs as Heaslip plays scrumhalf. Jackson feeds Marshall out right, he draws Talebula and pops to Gilroy on the flank, who dives over the five points. Jackson converts from wide right.

Ireland 10-0 Fiji

17:38

8 mins: Ireland win a free for Fiji engaging early. The Irish go left then up the middle with Tuohy.

17:37

7 mins: PENALTY - IRELAND - JACKSON

The Ulster man bisects the posts from wide left.

Ireland XV 3-0 Fiji

17:37

6 mins: McFadden makes a half break but Fiji are caught offside at the next breakdown. Penalty Ireland.

17:36

5 mins: Marshall fields a deep ball and runs back to contact, Cave and Gilroy combine out right, but Fiji end the attack.

17:35

NOTE: The TV steam error is now corrected.

17:35

4 mins: Ireland win the ensuing lineout, but Fiji then turn it over.

17:34

3 mins: Scrum Ireland in the Fiji 22: free-kick Fiji for an early Irish engagement.

17:33

2 mins: Ireland maul off a lineout deep in Fiji territory. They win a free-kick for wrong Fiji numbers in the lineout.

17:32

Today's teams:

Ireland XV to play Fiji: D Hurley; F McFadden, D Cave, L Marshall, C Gilroy; P Jackson, C Murray; D Kilcoyne, S Cronin, M Ross, D O'Callaghan, D Tuohy, I Henderson, J Muldoon, J Heaslip

Replacements: R Strauss, C Healy, M Bent, M McCarthy, C Henry, P Marshall, J Sexton, S Zebo

Fiji XV to play Ireland: Talebula, Koniferedi, Goneva, Matavesi, Votu, Ralulu, Matawalu, Yanuyanutawa, Veikoso, Manu, Nakarawa, Naikatani, Ratuva, Ravulo, Nagusa

Replacements: Tuapati, Saulo, Somoca, Ratuniyarawa, Domolailai, Bolotagane, Radidi, Matanavou

17:32

NOTE: There are technical issues with the live streaming at present. We are attempting to resolve this now.

17:32

1 mins: Kick-off in Limerick!

17:30

Clearly that was a representation of the war dance below!

17:28

Fiji perform their traditional war dance in the centre circle in Thomond:

17:27

The boys in green look focused and composed as they prepare for battle.

17:27

Ireland's Call gets an airing in Munster.

17:26

Amhrán na bhFiann rings out and the crowd love it.

17:25

In three previous meetings Ireland have won all encounters.

Those three matches were:

18 November 1995 - Tour Match - Ireland 44 Fiji 8, Lansdowne Road
17 November 2002 - Tour Match - Ireland 64 Fiji 17, Lansdowne Road
21 November 21 2009 - Tour Match - Ireland 41 Fiji 6, the RDS

17:24

The Fijian national anthem God Bless Fiji rings out.

17:23

A superbly observed minute's silence in Limerick.

17:22

A minute's silence is held for the recently deceased Maleli Kunavore.

17:22

The conditions are wet, but not raining, at present.

17:20

Ireland are on the pitch in Thomond, with around 14,000 fans roaring them on.

17:19

Conor O'Shea: Ireland must suck the legs out of Fiji, then up the tempo out wide.

17:18

Brent Pope: Ireland must play it tight against Fijji for the first 15 minutes. Kick for field position and get points on the board.

17:16

The teams are out on the pitch in Limerick with 15 minutes to kick-off.

16:54

TV coverage starts at 17:00. Kick-off in Thomond Park is 17:30.

16:53

Video clip of the day has to be this one. One of the best tries I've ever seen.

16:51

16:42

England coach Stuart Lancaster says he was impressed with his side's mindset to keep playing and keep trying things all day today against Australia.

16:35

16:34

The Aussies lift the Cook Cup. You wouldn't want to drop the thing, it's 100% glass. Need to be careful with that at the after party, lads!

16:31

16:31

Robshaw also feels that England maybe should have kicked more points instead of running the ball so often.

16:30

Chris Robshaw looks dejected following defeat to the Aussies. He feels England were not clinical enough and didn't take their chances when they presented themselves.

16:28

If you missed Wales' defeat to Samoa on Friday night, read about that shock defeat here.

16:28

16:26

So, this weekend so far it's all about the south. Northern Hemisphere 0-4 Southern Hemisphere.

16:25

FULL-TIME: England 14-20 Australia. England cannot break down a resolute Aussie defence. They pounded and bashed but there was no way through. Defeat for the Red Rose.

16:23

[tweet https://twitter.com/brendcole/status/269828296101998593]

16:22

79 mins: Handling errors: England 8-5 Australia.

16:21

79 mins: England spin wide left and Tuilagi knocks on as he stretches for it. The pass was poor from Farrell and too far ahead of his team-mate.

16:21

78 mins: Beale boots the ball downfield as Australia's rearguard action withstands once more.

16:20

77 mins: England win the lineout but lose the egg. Australia scrum.

16:19

76 mins: Penalty England for obstruction. Farrell kicks to the corner as England go for the try to win this Test match.

16:18

75 mins: Australia lineout in their own half. They win and break downfield before kicking play back to England.

16:16

74 mins: England put together seven phases and enter the Aussie 22. But the Wallabies are firm in defence and England cannot get through. They need a spark of creativity - something special.

16:11

72 mins: Just under ten minutes left in London. With six points between the teams, it's all to play for.

16:10

80 mins: The Boks win a penalty at the death and Morne Steyn bashes the egg into touch for full-time. RESULT: SCOTLAND 10-21 SOUTH AFRICA.

16:09

79 mins: Still 21-10 to the Boks in Murrayfield. Injury time rolls into play.

16:06

[tweet https://twitter.com/brendcole/status/269828296101998593]

16:03

78 mins: Van der Merwe comes in the side for the Boks and is sin-binned in Murrayfield.

16:01

64 minutes: All England in Twickers, but the Aussies are holding firm in defence.

15:59

15:58

60 minutes: Australia lose their own put in and England go again.

15:57

59 minutes: Knock on is called against Waldrom, scrum to Australia. They survive, for the moment.

15:55

Sweet Chariot sounds out around west London as Lancaster's men make camp in the Wallaby half and they batter the try line. Lineout from five metres. England win and Waldrom forces his way over to touch down, but it looks as though he drops it before grounding the egg. The TMO will be called into action.

15:54

That's full-time in Rome. Italy 10-42 New Zealand.

15:52

Italy are being crushed now. Cory Jane and Julian Savea have added further tries for the All Blacks. Italy 10-42 New Zealand.

15:50

56 minutes Chris Ashton goes oh so close for England on the right after some brilliant build-up play by the purple-clad Red Rose.

15:46

Movember participant Barnes lands another kick for the Aussies. England 14-20 Australia.

15:42

Australia resume control in Twickenham. Two further Barnes penalties make the score England 14-17 Australia.

15:40

The second half is also underway in London. But no score as yet.

15:38

Pyrgos scores a try for Scotland as he takes a pass off the top at four in the lineout and sprints through the line and over the whitewash. Laidlaw converts. Scotland 8-21 South Africa

15:35

While further south, in Twickenham, England are hosting Australia. At half-time Stuart Lancaster's men led 14-11. A Nick Cummins try, and Berrick Barnes kicks had the Wallabies in control, with Toby Flood kicks keeping the Red Rose ticking over. However, a superb try in the left corner by Manu Tuilagi gave England the lead at the break.

15:34

Strauss has got a second try. The hooker intercepts a looping Scottish pass and strides over for an easy five points. Lambie adds the extras. Scotland 3-21 South Africa

15:31

Scotland and South Africa are in action in Murrayfield. The Boks are bruising their way to victory at present. They lead 14-3 with the second half five minutes old. Greig Laidlaw got Scotland off the mark, but an Adriaan Strauss try and Pat Lambie kicks have the Boks coasting.

15:29

Italy host World Cup and Rugby Championship winners New Zealand in Rome. The European side trail 23-10 after an hour. Alberto Sgarbi has touched down for the Italians with Luciano Orquera hitting a conversion and drop goal. However, Kieran Read and Ma'a Nonu tries, allied to booted points from Aaron Cruden has the All Blacks in control of proceedings in the Boot of Europe.


15:27

It's international Saturday once again, with a host of 6 Nations sides in action. Follow it all here, from now, till close of play.
load older posts
return to top