Ireland's battle for a top-eight ranking
Updated: Wednesday, 14 Nov 2012 11:11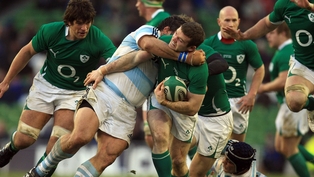 None

By Brendan Cole

Ireland are in a battle to retain their top-eight ranking, but it is not a straight shoot-out against Argentina or a simple matter of hoping South Africa beat Scotland.

The top-eight ranking is important because it will determine which pot Ireland will be in when the draw for Rugby World Cup 2015 is made next month.

But the battle is not a direct one with Argentina, as the Pumas win against Wales means Argentina will almost certainly retain their top-eight seeding, once they avoid a hammering over the next few weeks.

Briefly, the rankings work on a 'points exchange' system between the two teams involved in each fixture. Touring sides have an advantage because the rankings give greater weight to 'away' victories.

Effectively, Argentina and the other tourists are putting less on the table than the home teams. The other key weighting to bear in mind is the margin – any team getting beaten by over 15 points will be punished by losing more ranking points. Teams winning by 15 or more get a bonus.

The situation for Ireland is that they have only one counting match to go as they will field a non-Test XV in Limerick against Fiji this weekend.

In purely mathematical terms, it makes sense for Ireland as they could not have gained any ranking points by beating Fiji, who are too far behind Ireland in the rankings.

Ireland would have been at risk of losing two full ranking points or more in the unlikely event of a loss. Fiji have not been in great form of late but when you remember that Wales only drew with them at the Millennium Stadium as recently as 2010, the danger is there.

But it is worth pointing out that as things stand right now, a win for New Zealand over Ireland would not actually boost their world ranking points total. How would Ireland feel if a meeting with the All Blacks was not given Test status?

In any case, all the other contenders for the top eight will play full Test matches with ranking points on offer this weekend.

Surprisingly, while Argentina fairly safe, current sixth-place side Wales could be dragged into the battle to stay in the top eight.

The Six Nations Grand Slam holders and Rugby World Cup semi-finalists have been drawn into the scrap because along with losing to Argentina on Saturday, they were beaten in three successive Tests with Australia over the summer.

Defeats to Australia and Argentina have hurt Wales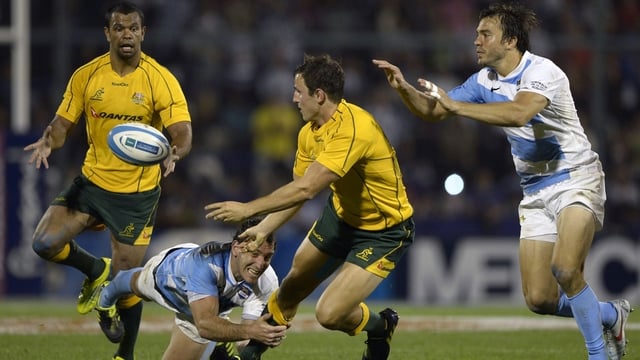 Scotland are ninth and best placed to move up after a quietly effective summer comprising of valuable Test wins in Australia, Fiji and Samoa.
Ireland, with those defeats to New Zealand in the summer having a relatively low impact, are currently eighth while the final contender Samoa are tenth.
Current 11th-placed team Italy play New Zealand and Australia over the next two weeks and are probably too far back to get involved.
Argentina play France this weekend and will remain just ahead of Ireland in the rankings no matter what the result or margin. If the Pumas lose to France, the result when Ireland and Argentina meet in Dublin in two weeks will see the sides exchange positions if Ireland win. That result will almost certainly make Ireland safe in seventh place.
Argentina will also probably be safe, unless they lose by wide margins as their losses are limited by playing away from home.
Scotland are the key side for Ireland as Andy Robinson's men will effectively set a 'bar' over the course of their two matches against South Africa and Tonga. It is actually the small but significant bump Scotland would get from beating current 12th ranked side Tonga that is likely to endanger Ireland.
If Scotland lose to South Africa by less than 15 and then beat Tonga more than 15, the 'bar' will be just under 78 points. In that scenario, a loss to Argentina would see Ireland drop underneath Scotland and out of the top eight.
Wins over South Africa and Tonga would mean the Scottish 'bar' would be set at just under 80. Again, a loss to Argentina would see Scotland move ahead of Ireland and only a win by 15 or more over South Africa would put Ireland in difficulty.
The situation for Wales and Samoa, meanwhile, depends on the result of Friday night's meeting between the teams.
If Samoa get a win they will be within touching distance of Ireland, though they would almost certainly have to follow a win over Wales with a victory over France to get into the top eight.
Wales could actually drop below Ireland if that were to happen, with defeats to Samoa and Australia potentially leaving them with a points total of around 77 and probably ranked 10th or 11th. A defeat to New Zealand would not actually affect their ranking negatively at that point.
Wales and Samoa involved in the scrap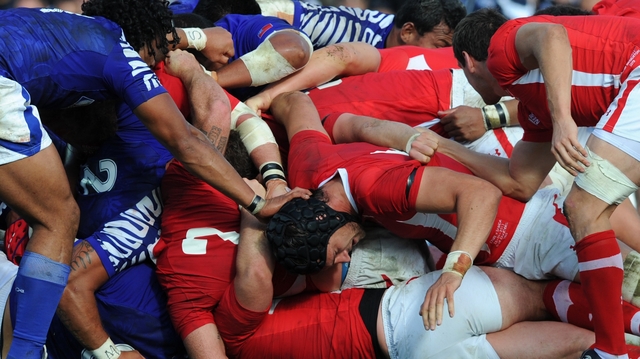 Unless they were hammered by Argentina, Ireland would probably stay above Wales in that scenario.
With Wales underperforming, the possibility should not be discounted. Historically, Samoa have beaten Wales three times in eight attempts and they arrive with a good win over Canada under their belts. The last two matches were one-score games.
If Scotland beat South Africa and Ireland beat Argentina, Wales could be vulnerable even if they beat Samoa. That would only happen if they beat Samoa by less than 15 and then lose to Australia by over 15 and New Zealand.
The likelihood is, of course, that South Africa will beat Scotland, and that Wales will beat Samoa and at least be competitive against Australia.
But even if Scotland lost to the Boks, Ireland still need to beat Argentina to retain their top-eight ranking, with that small but significant points bump Scotland are likely to get from beating Tonga the key.
WORLD RANKINGS SUMMARY
* Ireland need to beat Argentina to be sure of a top-eight place and will only be vulnerable if Scotland beat South Africa by 15 points or more if they do so
* Argentina are probably safe unless they lose by wide margins to France and Ireland
* Samoa need to beat both Wales and France to get into the top eight
* Wales are vulnerable to dropping out of the top eight if they lose to Samoa, Australia and New Zealand
* Even if they beat Samoa, Wales could also be vulnerable if Scotland beat South Africa and Tonga
* Scotland can lose to South Africa and still get into the top eight in if Ireland lose to Argentina
* Australia, England and France are the sides battling for the fourth spot in the rankings, with South Africa's win over Ireland shoring up their position and lifting them to second
Twitter: @brendcole