As It Happened: Ireland v South Africa
International Rugby •
3 years, 9 months ago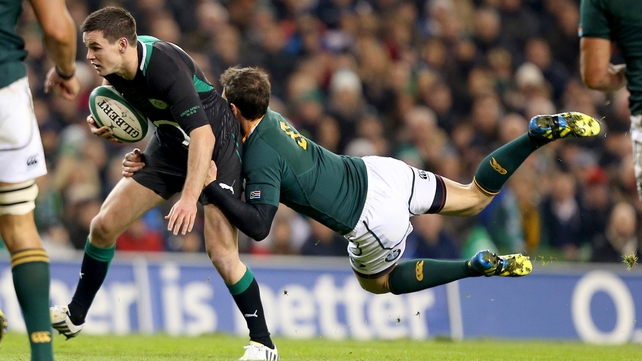 19:28

That's all for now, we'll have match reaction from the studio and from the Aviva up shortly. Thanks for logging on.

19:22

Feels like a missed opportunity from Ireland's point of view, no home scores in the second half.

19:19

Ireland stuck in midfield, O'Gara chips ahead but Pietersen cleans up and runs into touch. FULL-TIME IRELAND 12-16 SOUTH AFRICA

80 mins

Good defence by SA, but Ireland win a penalty, O'Gara goes down the line, we're into over time now...

80 mins

Turnover, Earls wrestled the ball - last chance for Ireland, scrum just outside their own 22, Mike McCarthy is the man of the match.

78 mins

Game slowing down now and you'd think Pienaar will have the smarts to see this out.

77 mins

Free kick, Heaslip taps and goes, Zebo knocks on in the tackle, scrum SA inside the Irish half.

77 mins

SA will slow things down here, but Pietersen knocks on, one last chance for Ireland perhaps...

75 mins

Ronan O'Gara and Cronin on for D'Arcy and Strauss.

75 mins

Healy and Bent rage forward, inside the 22, Zebo goes sideways into trouble but retains, slow now...and Penalty South Africa, big turnover, big moment.

73 mins

Would you believe it? Michael Bent wins a penalty off his second scrum, Sexton goes down the line. Just outside SA 22.

72 mins

Reddan is slow to release a pass and Ireland get away with it, Pienaar adjudged to have knocked on, we'll take it. Scrum Ireland just inside their half.

71 mins

Iain Henderson, Michael Bent and O'Callaghan (again) on now, Ross, McCarthy and O'Mahony off.

69 mins

He gets it, Ireland in deep trouble. 11 minutes to play Ireland 12-16 South Africa

69 mins

Disaster, SA force a penalty and this is a great opportunity for Lambie, van der Merwe gets the backslaps.

68 mins

The Sharks man scoops it and it drops shy, Vermeulen claims a loose ball, touchjudge calls a knock-on, which Barnes missed, McCarthy forced it that time. Donnacha Ryan back on.

66 mins

Penalty SA as O'Mahony interferes with Etzebeth in the air, Lambie going to have a shot, about 55m.

65 mins

Willem Alberts off, Marcell Coetzee on.

65 mins

Scrum turns into a penalty, against Ross. SA can clear, play on the halfway line.

65 mins

Donncha O'Callaghan replaces Donnacha Ryan; Heinke van der Merwe on for CJ van der Linde

64 mins

[tweet https://twitter.com/brendcole/status/267339020919517184 align='center']

63 mins

Pick and go from the Irish pack, making ground slowly, just outside SA 22, D'Arcy fires inside to McFadden, Ross drives, but didn't get his body position sorted quickly enough and when the drive collapses it's a green scrum, that's a Springbok scrum.

62 mins

Eoin Reddan on for Murray, who has played well.

62 mins

Kick drops short, SA clear, Ireland lineout on SA 10m line.

60 mins

Zebo has a dance in midfield and fools one defender, Healy makes ground, Earls also slips a tackle, penalty Ireland, offside, chance for Sexton here, surely...

59 mins

Fergus McFadden comes on for Trimble.

58 mins

SA maul on the Irish 22, de Villiers pumps the legs and all the attackers are breaking the gainline, turnover, late tackle on Bowe, Penalty Ireland.

56 mins

Pat Cilliers on for Jannie du Plessis for the visitors.

56 mins

Bowe comes in again, phase 15, penalty South Africa, Bowe playing the ball off his feet, apparently.

55 mins

D'Arcy stopped in midfield, Bowe gets involved, crowd roar, Zebo spins out of a tackle, good phase-building, Strauss almost away...

54 mins

Captain Heaslip returns but in the meantime South Africa have scored 10 points.

53 mins

South Africa take the lead Ireland 12-13 South Africa

52 mins

Trimble stops Pietersen to an ironic cheers from the Lansdowne crowd, SA, who have stepped up their game considerably, up to the Irish 22, penalty advantage, Peter O'Mahony not rolling away, easy shot for Lambie coming up.

50 mins

De Villiers bounces off D'Arcy, Taute dummies close to the line, Healy robs Etzebeth and Ireland clear, nervous times.

49 mins

Strauss's wound has reopened, Ross carries and Ireland go on the narrow side, Murray feeding runners off the base, Sexton kicks and the return from Hougaard clips Trimble's fingers, lineout SA inside Ireland half.

47 mins

Now Trimble comes off his wing and tries to set something up, Zebo is also stopped, Murray kicks and Pietersen calls for the mark.

46 mins

Healy back on now, Ireland on the back foot and need the next score badly.

45 mins

Another penalty advantage, Francois Hougaard is inches short, they're almost over, Pienaar dummies and dives over, it's surely a try, Barnes wants to check with the TMO, replay shows it has been grounded. Lambie kicks the extras Ireland 12-10 South Africa

43 mins

There is a concussion bin here today, meaning that an independent doctor has five minutes to assess Healy. Meanwhile, SA maul and go over the tryline but we'll come back for a penalty, and Jamie Heaslip gets binned.

42 mins

Mike McCarthy nails Eben Etzebeth with a monster hit, Cian Healy looks dazed after a hit as well, Dave Kilcoyne comes on. First cap for the 23-year-old.

41 mins

Game on, South Africa back to 15 and by Michael Corcoran's calculations that means Pietersen only served nine minutes of a ten-minute sentence

18:30

Donal Lenihan says Ireland need to stick to what they are doing.

18:29

Ireland coming back on to the pitch now, Springboks waiting.

18:24

[tweet https://twitter.com/Ryan_Vrede/status/267328269110632448 align='center']

18:21

Shane Horgan says SA are playing a kicking game with a running out-half, Hooks calls the visitors 'pussycats'.

18:16

Drops short and wide, that's half-time and Ireland are going very well. HALF-TIME IRELAND 12-3 SOUTH AFRICA

40+2 mins

Heaslip bashes up but O'Mahony holds on in contact, quick penalty by SA, turnover, Murray almost away but knocks on, still SA play on and win a penalty, Pienaar will have a shot from 60m plus.

40 mins

First kick for Sexton on the near side, he pulls it just wide, that's 4 from 5.

38 mins

Now Ireland maul, Strauss breaks off and makes yards, final pass is poor by Earls but we'll go back for an offside and Sexton can extend the lead here.

37 mins

Ireland battle in midfield, D'Arcy getting through a mountain of work, O'Mahony breaks one tackle, Sexton puts it up and Kirchner claims well, lineout Ireland inside SA half.

34 mins

Scrum turns into a penalty for Ireland, solid work by the pack. Lineout inside SA half.

33 mins

Ireland lose their lineout but luckily enough get away with it as Alberts can't take Pienaar's pass, scrum Ireland inside their own half.

32 mins

Did someone call '99'? Henry is taken off the ball on the restart by Pietersen, no intention of playing the ball, it prompts most of the players to get involved in a schmozzle, Penalty Ireland and yellow card for the man who thinks David Skrela plays for Ireland.

32 mins

Another brilliant kick from the Leinster man. Ireland 12-3 South Africa

30 mins

...Sexton considers a drop goal, as Ireland have a penalty advantage, gets snagged but he'll have a relatively simple kick to extend the lead.

29 mins

Play is slow in midfield and this time Heaslip forces the penalty, quick tap, Bowe cuts inside, Zebo slices, up to SA 22, Healy carries, Ireland within 15m...

27 mins

Earls beats his man on the outside but can't recycle quickly enough for the referee's liking, Penalty SA. They go for the lineout just inside the Ireland half.

26 mins

Lambie's kick from just inside the Ireland half floats to the right of the post, as you were.

25 mins

D'Arcy gets stopped but then makes a few yards (his trademark going back a few seasons) few handbags off the ball, Healy loses his shirt, penalty SA, this time Henry too slow to release in contact.

24 mins

Another penalty to Ireland, really dominating the breakdown, O'Mahony and Henry get the credit for this one, Sexton goes down the line, into SA half.

23 mins

Chris Henry carries and nearly gets his head taken off by a South African forward, lineout to SA, into Irish half.

21 mins

This kick is 40m out near the far sideline, it's perfect again Ireland 9-3 South Africa. Pitch cutting up now.

20 mins

Sexton goes for distance again from the restart, Zebo breaks one tackle and Ireland advance into Springbok territory, the pressure pays off as South Africa are offside on the far side. Penalty Ireland.

18 mins

Sexton gets some treatment, Lambie slots the penalty Ireland 6-3 South Africa

16 mins

SA rob Irish lineout, quickly up to Ireland 22, inside, Healy steals the ball off Kirchner but we'll go back for an earlier infringement and Lambie will have a chance from about 25 metres out.

15 mins

[tweet https://twitter.com/brendcole/status/267321929915039744 align='center']

14 mins

Earls takes ball but gets tackled at the same time, knocks on, Donnacha Ryan is too slow away from a ruck on the far side, Penalty South Africa. They kick for the corner.

12 mins

Springboks win their first lineout, Barnes says there was a forward pass from de Villiers to Taute in midfield, scrum Ireland.

11 mins

Beautiful strike from Sexton, always over. Ireland 6-0 South Africa, Strauss is back on.

10 mins

Lambie puts up the garryowen, but du Plessis hadn't retreated and gives Sexton another opportunity, this time from just inside the Springbok half.

9 mins

Peter O'Mahony knocks on at the lineout, scrum SA.

8 mins

Zane Kirchner has a run but gets stopped by D'Arcy, Louw gives away the penalty at breakdown and it's another positive for Ireland.

7 mins

Kick is 15m from the sideline and about 25m out, no problem for the Leinster out-half. Ireland 3-0 South Africa

5 mins

Ireland lineout on the 5m line, Heaslip was impeded in the air and it's a penalty, and Sexton will attempt to give Ireland the lead.

4 mins

Bowe claims a high ball, first penalty to Ireland as CJ van der Linde is too slow away at the breakdown. Strauss goes off with a bleeding lip, Sean Cronin comes on.

3 mins

Scrum turns to free-kick, early engagement, teams swaps a few kicks and Ireland spin it, lose it, SA spin it now, play to halfway.

2 mins

Zebo takes the first up and under and Sexton sticks one up high, Bowe is adjudged to have knocked on, replay seems to show he didn't. Wayne Barnes is the ref.

1 min

Game on! Sexton starts, goes for territory, SA gather and clear.

17:29

Mini song contest over, fireworks go off, Shipping Up To Boston booms over the PA, here we go.

17:29

[tweet https://twitter.com/EmeraldRugby/status/267317264909488128 align='center']

17:28

And finally, Ireland's Call...

17:27

Amhrán na bhFiann rings out in Dublin 4. Richardt Strauss appears to have learned the words.

17:24

17:24

Predictions: Brent goes for South Africa, Shane says Ireland but then seems to say we've too many injuries...

17:22

President Michael D Higgins is greeting the players.

17:21

Shane Horgan says the jersey is not an issue, Hook says the Irish flag is "green, white and yellow", which, of course, it isn't.

17:20

Here come Ireland, led by Jamie Heaslip, they are wearing black jerseys, George Hook is not impressed.

17:18

12 minutes to kick off and the Springboks run out at the Aviva.

17:18

Shane Horgan says an Ireland victory is dependent on how much analysis has been done on the visitors.

17:17

Declan Kidney tells RTÉ Sport: "There are are new guys coming in and we'll work with their enthusiasm...it's a hugely important time for Ireland in terms of ranking points".

17:12

17:08

[tweet https://twitter.com/carloweigian/status/267311399028527106 align='center']

17:07

George Hook says every Irish cap earned to date has been debased by the inclusion of prop Michael Bent on the bench...what do you think? #rterugby

17:05

Shane Horgan says Simon Zebo is a "brave" pick at full-back; Brent Pope says South Africa are touring with "one of the weakest squads" ever to come here.

17:00

Match coverage begins now on RTÉ Two.

16:32

It's finished in Twickenham as well, England comfortably beating Fiji, 54-12.

16:25

[tweet https://twitter.com/RTErugby/status/267300849204744192 align='center']

16:21

It's all over in Cardiff and Argentina have beaten Wales by 26 points to 12, match report up on the site shortly.

16:14

[tweet https://twitter.com/brendcole/status/267298942914539520 align='center']

Argentina are leading Wales 26-12 with five minutes to play.

16:06

Ireland's overall record against South Africa isn't pretty, losing 15 of 21 previous Tests, however, the last four games have seen three Irish wins.

15:49

[tweet https://twitter.com/RTErugby/status/267284935222644737 align='center']

Our TV coverage begins in just over an hour.

15:25

It's half-time in the two 2.30 games and England are cruising against Fiji, 25-0, while Wales are 9-6 in front against Argentina in a scrappy game in Cardiff. Felipe Contepomi was carried off injured at the start of that match.

14:56

The last time Ireland played they were at the wrong end of a humiliating defeat in New Zealand, how do you think today's game will go, do Declan Kidney's men, shorn of so many big-name players, stand a chance against the Boks? Get in touch with your predictions and comments by email or Twitter.

14:53

14:49

There is a late change to the Springboks side with former Leinster prop CJ van der Linde replacing Tendai 'The Beast' Mtawarira, who pulled out after suffering mild heart palpitations this morning, he was taken to hospital as a precautionary measure.

14:46

South Africa: 15-Zane Kirchner, 14-JP Pietersen, 13-Jaco Taute, 12-Jean de Villiers, 11-Francois Hougaard, 10-Pat Lambie, 9-Ruan Pienaar; 1- CJ van der Linde, 2-Adriaan Strauss, 3-Jannie du Plessis, 4-Eben Etzebeth, 5-Juandre Kruger, 6-Francois Louw, 7-Willem Alberts, 8-Duane Vermeulen.

14:45

Ireland: 15-Simon Zebo, 14-Tommy Bowe, 13-Keith Earls, 12-Gordon D'Arcy, 11-Andrew Trimble, 10-Jonathan Sexton, 9-Conor Murray; 1-Cian Healy, 2-Richardt Strauss, 3-Mike Ross, 4-Mike McCarthy, 5-Donnacha Ryan, 6-Peter O'Mahony, 7-Chris Henry, 8-Jamie Heaslip

14:44

Our television coverage begins at 5.00pm and Saturday Sport on RTÉ Radio 1 (link above) will have build-up throughout the afternoon.

14:43

Good afternoon and welcome to the RTÉ.ie match tracker for Ireland's first game of the season, a mouthwatering clash with the no-nonsense Springboks.
load older posts
return to top