As it happened: Heineken Cup Sunday
Heineken Cup •
3 years, 7 months ago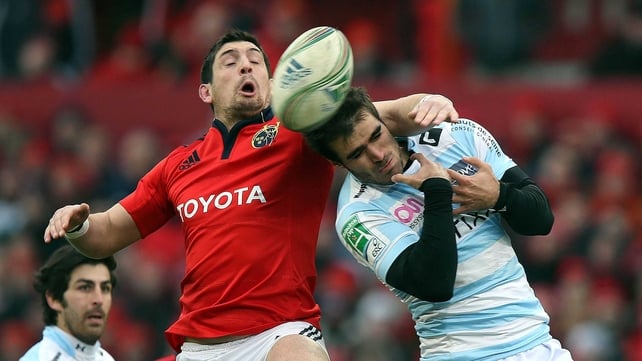 By Tadhg Peavoy
Twitter: @TPeavoy
Email: sportonline@rte.ie
Results:
Munster 29-6 Racing Métro
Saracens 40-7 Edinburgh
Benetton Treviso 17-14 Ospreys
Leicester Tigers 9-5 Toulouse
17:20

Right, that is that. Good luck, thanks for reading, and see y'after.

17:20

If Leinster account for Wasps in the Amlin Cup semis they will have a home semi-final against Gloucester or Biarritz.

17:17

Amlin Challenge Cup semis:

Perpignan/Toulouse v Bath/Stade Francais

Wasps/Leinster v Gloucester/Biarritz

The ties will be played the weekend of 5/6/7 April.

17:15

Now for the Amlin semi-final draw.

17:14

To confirm, if Ulster make it to the semis, they will play Toulon or Leicester at home.

If Munster make the semis, they will play Clermont or Montpellier away.

17:07

The Heineken Cup semi-final line-up is as follows.

Ulster/Saracens v Toulon/Leicester

Clermont/Montpellier v Harlequins/Munster

Ties to be played 26/27/28 April

17:02

Next up is the draw for the semi-finals.

17:01

Leinster will face Wasps in the Amlin Challenge Cup quarter-finals.

16:59

The Heineken Cup quarter-finals are:

Harlequins v Munster

Clermont v Montpellier

Toulon v Leicester

Saracens v Ulster

The ties will be played the weekend of 5/6/7 April.

16:57

Ulster face Saracens in the Heineken Cup quarter-finals. That match will be played at Sarries' new stadium Allianz Park on an artificial surface.

16:56

Leicester beat Toulouse. Munster qualify for the Heineken Cup quarter-finals as second bet runners-up. Munster face Harlequins in the last eight. Ulster face Saracens in the last eight. Both Irish sides are away from home.

16:56

FULL-TIME: LEICESTER 9-5 TOULOUSE

16:53

Leicester win the scrum, but are done for a penalty. But that's the last action of the match.

16:53

The clock ticks into the red. Scrum awarded to Leicester and they must just win the scrum and that will be that.

16:52

Toulouse come again with pick and goes. Do or die.

16:51

Beauxis kicks the penalty to touch. The French team lose their own lineout as Deacon and Parling snaffle it.

16:51

Toulouse stick it up their jumper and maul at Tigers. Penalty Toulouse as Leicester steal illegally in the ruck.

16:49

Toulouse win the lineout and a penalty. Beauxis smashes the penalty to touch deep in the Tigers 22.

16:49

Beauxis kicks the penalty to touch on halfway.

16:48

Castrogiovanni carries hard as does Youngs. It's phase after slow phase as Tigers grind down the clock. But the ball is too slow to come back and Toulouse win a penalty.

16:47

Leicester win a lineout deep in Toulouse territory and maul forward.

16:46

It finishes Treviso 17-14 Ospreys. Amazing result for the Italian side and their first victory of the campaign.

16:44

Eight minutes to go in Welford Road. No more scores.

16:43

Are Racing gonna face any sanctions for fielding such a joke of a side? No honour or integrity, a joke of a club.

Ian, Dublin (obviously!)

16:41

Medard is on for Poitrenaud for Toulouse.

16:39

16:34

Yellow card for Flood for a deliberate knock down from a McAlister inside pass. Leicester down to 14 men on 68 minutes.

16:32

64 minutes gone in and it could go either way. The teams have six European Cup wins beaten them but the snow has reduced this match to an error-ridden war of attrition. Fascinating stuff.

16:28

Toulouse win a penalty wide left. And Luke McAlister misses it. Incredible, a very gettable kick, and he's pushed it wide. That's four missed penalty kicks for Toulouse, and one missed drop goal.

16:22

No change at Welford Road. The snow is still falling and Leicester have been sticking the ball up their jumpers and grinding through phases. But still no further score. Leicester 9-5 Toulouse

16:18

James on email: In fairness, Leinster are the better team and might have navigated the knock-outs better than Munster are likely to. And, I'm speaking as a Munster season ticket holder. It's just the luck of the draw really. Unfortunately too. I wish them well in Amlin. I'm sure they'll rock right through it.

16:14

49 mins: Huget scores for Toulouse. A high ball is played deep to Leicester's Tait, who fumbles the mark. The ball drops down for Huget to touch down for the try. Beauxis misses the conversion. Leicester 9-5 Toulouse

16:13

Still 9-0 in the snow at Welford Road.

16:11

[tweet https://twitter.com/damien_omeara/status/293027656021209088]

16:09

If things stay as they are, Ulster will face Saracens at Vicarage Road in the quarter-finals. Munster will travel to England, possibly Twickenham, to face Harlequins.

16:08

Leicester and Toulouse are back out in the snow at Welford Road. Beauxis tries a drop goal and puts it wide.

15:58

Richard McCarthy: Think all the stars lined up in favour of #MunsterRugby. Weak Racing Team. Red card. Snow in Welford Road. We'll take it!

15:52

I'm losing my marbles, that was of course Flood slotting that last penalty for Leicester, not his England rival Farrell!

15:51

As it stands, Leicester go through as pool winners and Toulouse go out, as they only have 18 points, Munster 20. Munster are forty minutes away from being certain of their quarter-final spot.

15:44

Flood slots another penalty as Leiceser go in 9-0 ahead of Toulouse at half-time. Leicester 9-0 Toulouse

15:43

Leicester lead 6-0 now, another Flood penalty on 31 minutes. Leicester 6-0 Toulouse

15:26

[tweet https://twitter.com/AidoFar/status/293018405513093122]

15:25

Any Leinster fans out there want to voice their opinions on whether they want Toulouse and Leicester to go through at the expense of Munster? Feeling brave and cheeky? Or patriotic?

15:22

After 18 minutes in Welford Road, Leicester lead 3-0 with a Toby Flood penalty. Leicester 3-0 Toulouse

14:55

As far as I can see, Munster have qualified for sure. If Toulouse beat Leicester, Leicester are definitely out (17pts at best). If Leicester win they top the group, but Toulouse would only have 19 points in 2nd place, so they're out. And if it's a draw (and Leicester score 4 tries) they would finish 2nd with 19 points, still behind Munster. Am I mistaken?

- Shane in Carrigaline

TP: You are correct on all of the above. However, if Toulouse score four tries and lose, they got two bonus points, and qualify ahead of Munster on tries scored.

14:53

On the Racing red card, which really handed Munster the tie on a plate, there has been this reaction:

Martin O'Neill from Tipperary: Red card was severe, but rule stipulates Barnes did the right thing if he believes contact was deliberate?

14:47

We'll keep you updated with score updates on the Leicester v Toulouse clash as they come in. Munster report to follow on the site shortly.

14:44

So, the top eight as it stands is now:

1. Harlequins 28 (28)

2. Clermont 28 (23)

3. Toulon 23 (23)

4. Saracens 23 (15)

5. Ulster 23 (12)

6. Toulouse 18 (14)

7. Montpellier 22 (17)

8 Munster 20 (14)

_________________________

9. Leinster 20 (12)

10. Leicester 16 (13)

11. Biarritz 15 (14)

12. Northampton 15 (9)

14:42

Saracens win Pool 1 with 23 points, Munster take second with 20 points. That means Munster edge out Leinster as the second best runner-up and at the moment are prepared to take a spot in the last eight. We will have to wait until the end of the Leicester v Toulouse clash to see if they hold that spot, but one thing is certain, Leinster are out of the Heineken Cup.

14:41

Over in Watford, Saracens have beaten Edinburgh 40-7 with Wyles scoring a fifth try, and Farrell converting.

14:40

FULL-TIME: MUNSTER 29-6 RACING

14:38

81 mins: Bobo crashes at the line, followed by Cronje, who manages to reach out and touch the ball down over the line. Or does he, it looks like he stretches out and just grazes the whitewash with the ball. Referee Barnes goes to the TMO, who says the effort is short of the line and also a double movement. No try. That's the last action of the tie as Keatley boots the ball to touch.

14:38

80 mins: Munster are done for offside, Butler is the guilty party and is sin binned.

14:37

80 mins: Racing win the lineout and Barkley dances to the line only to be stopped short. Racing recycle and go again with Orlandi.

14:37

80 mins: Hat-trick hero Simon Zebo is named man-of-the-match.

14:36

79 mins: Barkley boots a Racing penalty to touch in the Munster 22.

14:35

79 mins: Matadigo is done for a tackle off the ball.

14:35

78 mins: Matadigo has been sin binned for Racing. Not sure why yet.

14:34

77 mins: The penalty is kicked to touch. But Munster's maul off the lineout goes truck and trailer. Penalty Racing and they bash it to touch.

14:32

76 mins: Laulala rips through the Racing defence before the ball is put left to Holland, but a forward pass is called. Play is brought back for offside against Racing.

14:30

75 mins: Descons taps and goes a Racing penalty as the French look for a consolation. They're into Munster's 22, but Ghezal carries and then holds on in the ruck. Penalty Munster.

14:30

74 mins: The Munster bench has been emptied.

14:28

72 mins: Munster defending now as Racing put together some phases and edge their way to halfway through Orlandi. But again the ball fails to emerge - scrum Munster.

14:27

[tweet https://twitter.com/triggerfinger/status/293001322096123905]

14:26

Saracens score a fourth try through Hodgson and Farrell converts. This means Ulster are out of the home quarter-final slots. Saracens 33-7 Edinburgh

14:25

70 mins: Eventually Munster loose the ball forward in a ruck. Racing are putting out fires all over the place. A sixth try looks like a matter of time.

14:24

69 mins: Munster scrum. It goes wide to Howlett and then back inside to Butler. With his first touch he accelerates onwards. Ryan then barges forward as Dumoulin halts him.

14:23

69 mins: O'Mahony comes off for Munster, Butler comes on.

14:21

68 mins: Referee Wayne Barnes has clearly been getting out the French audio tapes prior to today's game, he's dropping French phrases all over the place. Tres bien, Monsieur Rosbif.

14:21

66 mins: Barkley tries to jink past the Munster centres. No entry, but the ball is recycled well and spread to Fall, the France winger tries to chip and collect, but the ball is ushered into touch.

14:20

Still Saracens 26-7 Edinburgh.

14:20

66 mins: It's all Munster now as Racing can't hold onto the ball at all.

14:19

65 mins: Munster maul forward and spread left where O'Callaghan bashes forward on the wing.

14:18

[tweet https://twitter.com/MiPiX/status/292998265304150017]

Kerryman Mike Curran is clearly pretty pleased with today's turn of events!

14:18

64 mins: Hanrahan is on for Earls.

14:17

63 mins: O'Donnell makes a lung-bursting break deep into the Racing half. The French boys scramble back to make the tackle. He's had seven carries today. One of many superb Munster performances today.

14:16

[tweet https://twitter.com/spooneman/status/292993816150016000]

I'd say you're not the only Leinster man who ain't best pleased!

14:14

60 mins: Munster win a penalty at the scrum and bash it to touch. Varley, on for Sherry, overthrows the lineout and Matadigo claims the loose ball to snuff out Munster's attack.

14:12

60 mins: Scrum Munster: Lo Cicero and Botha are having a conversation about the finer points of scrummaging, it seems to be an animated discussion.

14:11

58 mins: Racing on a rare foray into Munster territory. They maul into the 22. But they are done for not using the ball by referee Barnes.

14:10

Joe Ryan from France has emailed to say:

I'm following the match in France where the red card is judged to be very severe.

What do you think Joe?

14:07

54 mins: TRY - ZEBO - MUNSTER

Kilcyone bundles a few more yards forward. Ryan does the same with strength and power. Munster then spread wide left where Zebo is waiting in the wings to dart down the line and dot down in the corner. Hat trick for the winger. Racing are all over the gaff now, they want to back on the team bus back to Shannon Airport. Keatley hits the conversion against the post from way out on the left touchline.

Munster 29-6 Racing

14:05

52 mins: The Fields of Athenry is being belted out around Thomond. They know they're possibly headed for the last eight. And better still, they're knocking Leinster out at the same time.

14:04

Stevens scores try number three for Saracens. Farrell converts. Saracens 26-7 Edinburgh

14:02

49 mins: TRY & CONVERSION - MUNSTER - ZEBO & KEATLEY

Racing take a quick drop out and spread wide left where Zebo receives on the flank, the winger chips a lovely kick ahead into the 22, collects with a fortunate bounce and touches down. Bonus point secured. Munster have one foot in the quarter-finals. Keatley converts.

Munster 24-6 Racing

14:00

48 mins: Coughlan makes ground up the centre, before Ryan does likewise. Kilcoyne bashes through the line before Keatley chips to the in-goal area for Howlett to chase on to. The former All Black make a desperate lunge to touch down but the ball goes dead, just.

13:59

47 mins: Lineout Munster. O'Callaghan wins at two. Downey pummels up the middle before Earls slaloms his way through midfield. O'Mahony makes a few more yards.

13:58

46 mins: Cronje picks and drives from the base, before Barkley relieves with a kick to halfway.

13:57

46 mins: Munster knock on in the lineout at the back through Coughlan. Scrum Racing in their own 22.

13:57

45 mins: Racing infringe and Keatley puts the penalty in the corner.

13:56

44 mins: Downey again straighten the attack up the middle before Earls brings play to halfway. Zebo and Howlett combine before O'Donnell takes the ball off their shoulder.

13:55

43 mins: He loses in contact and it's possession back to Munster.

13:53

42 mins: Scrum Munster on their own 22. They win and boot it long to Germain, who takes back to contact.

13:52

43 mins: O'Mahony carries hard but takes a knock as he does and must receive attention.

13:51

41 mins: And we're off again in Limerick.

13:49

Another try for Ashton pushes Saracens further ahead at Vicarage Road. Saracens 19-7 Edinburgh

13:44

No response on the red card, so I'm assuming you all concur with Monsieur Barnes and his card happy handing out. Leinster fans surely would beg to differ.

13:42

What are people's thoughts on the red card? Justified or not?

13:40

[tweet https://twitter.com/sportsdes/status/292989938755051520]

13:39

13:38

In the group's other game, it's Saracens 14-7 Edinburgh at half-time. The English side doing enough to keep themselves in top spot in the pool.

13:37

One red card for Racing, three tries for Munster. That's the story of the first half in Limerick. Barring a miracle, Munster will score a fourth try and take a bonus-point win to leapfrog Leinster in the rankings and put themselves in line for a place in the Heineken Cup quarter-finals.

13:37

HALF-TIME: MUNSTER 17-6 RACING

13:35

40 mins: Racing boot the ball long and Zebo claims. The Irish side spread wide right and Earls hacks the ball long into the Racing 22. It's a foot race between Barkley and Earls, the former wins and boots to touch as the half ends.

13:34

39 mins: Racing take the 22 again and win possession, but Descons clears long. Zebo takes and runs it back to the Racing 22. Munster move it to the centre of the pitch and concede a penalty for holding on at the ruck.

13:34

39 mins: Bobo takes a quick 22 and is racing clear for a try, but referee Barnes calls play back as he wasn't ready for the restart.

13:31

37 mins: Munster win the restart and spread wide left to Earls, he has Zebo outside with an overlap, but he again takes to contact himself. The ball is spread back inside where Keatley chips over the Racing defence. Howlett races on to get the crucial touch in the in-goal area, but Descons and Bobo manage to get there first and the ball goes over the deadball line for a 22-drop out.

13:29

36 mins: TRY - MUNSTER - SHERRY

Keatley kicks the penalty to touch. Munster win the lineout with Ryan at four and Munster maul it hard. Sherry is at the base and he is the man with the ball as the pack crash over the line for try number three. Keatley misses the conversion.

Munster 17-6 Racing

13:27

34 mins: Keatley boots the penalty to touch. Sherry finds O'Callaghan at two in the lineout. On the Racing 22, Murray feeds Ryan, then Keatley threads through a grubber kick which Germain gets back to claim. Downey tap tackles as he attempts to break free and the French side are done for holding on.

13:26

33 mins: O'Donnell pumps the legs and makes some good ground. He wins a penalty for a shoulder charge by a Racing player.

13:25

32 mins: Munster go again. Downey feeds to Zebo out left, it's a poor pass, but Zebo claims it off the ground and barges forward.

13:23

30 mins: PENALTY - RACING - GERMAIN

Keatley plays a garryowen which Barkley claims. Munster are done for offside. Germain lands the conversion from way out.

Munster 12-6 Racing

13:21

28 mins: TRY - MUNSTER - ZEBO

Earls hits the Racing defence hard on a pop pass but Racing stop him. Munster recycle and Kilcyone breaks the line up the middle with a fine break before setting the ruck. Murray feeds wide left to Keatley, who feeds Earls, who pops to Zebo to cross for try number two. Keatley misses the conversion as he pulls it to the left, from the left of the pitch.

Munster 12-3 Racing

13:20

Ashton has scored a try for Saracens, while Tonks has scored a five pointer for Edinburgh, which Laidlaw has converted. Saracens 14-7 Edinburgh

13:18

26 mins: TRY & CONVERSION - MUNSTER - MURRAY & KEATLEY

Murray takes from Sherry at the base and bashes his way over the line from five metres out. Superb try. Keatley slots the extras from wide right.

Munster 7-3 Racing

13:18

25 mins: Ryan claims the lineout and Munster maul. Sherry takes control of the ball at the base.

13:16

25 mins: In fact Descons kicked the ball out of Murray's hands. Zebo kicks the penalty to touch.

13:15

24 mins: Murray tries to feed Keatley and a Racing hand knocks on the ball as he is about to offload. Handbags breaks out as punches are thrown.

13:14

24 mins: Munster win the lineout at two and maul forward. Murray clears long and Zebo gets under it and manages to tap back into play. Murray feeds O'Callaghan on the burst as Keatley does the same.

13:13

23 mins: Scrum Racing: they win it and Descons chips a kick into the Munster corner.

13:12

Farrell slots a third penalty for Saracens. Saracens 9-0 Edinburgh

13:12

22 mins: They switch wide left to Zebo and again he knocks on. The winger has started very poorly so far.

13:11

21 mins: The Irish team win the lineout and Downey charges up the centre with a fine attack. From the ruck Munster go wide right to Jones on the wing. Racing stand firm in defence.

13:10

20 mins: Munster win the scrum and Keatley kicks long to Germain. The fullback boots long to touch.

13:08

19 mins: Racing kick a penalty to touch in the Munster half. They win the lineout and grind towards the Munster 22. However, Brugnaut is caught unaware of an inside pass from Descons, who is on for the concussed Belie at scrumhalf.

13:06

A reminder of the teams today:

Munster: F Jones; D Howlett capt, K Earls, J Downey, S Zebo; Ian Keatley, C Murray; D Kilcoyne, M Sherry, BJ Botha; D O'Callaghan, D Ryan; P O'Mahony, T O'Donnell, J Coughlan.

Replacements: D Varley, W du Preez, J Ryan, B Holland, P Butler, D Williams, JJ Hanrahan, C Laulala.

Racing Metro 92: G Germain, J Jane, G Bousses, A Dumoulin, S Bobo, O Barkley, M Belie, J Brugnaut, B Noirot, B Sa, K Ghezal, F Metz, A Batut, B Le Roux, J Cronje,

Replacements: T Bianchin, A Lo Cicero, JP Orlandi, J Qovu Nailiko, B Fall, S Dellape, S Descons, M Matadigo,

13:05

18 mins: Coughlan rampages for Munster up the right touchline, before Munster then go wide left to Zebo. But Munster concede a penalty as Ryan comes in offside at the ruck.

13:01

Saracens lead Edinburgh 6-0 through two Owen Farrell penalties in the opening 15 minutes.

12:59

12 mins: PENALTY - RACING - GERMAIN

Barnes gets some attention from the medics. He gets a cheer as he is able to continue. But is then not so popular as he gives RAcing a penalty for a third early engagement from Munster. Germain slots the penalty to give Racing the lead. Munster 0-3 Racing

12:57

11 mins: Racing win the scrum and Barkley boots long to Jones. Keatley tries to clear with a kick, but he ends up booting the ball directly into the face of referee Wayne Barnes. It's one of those kicks that knocks the the head back on it's axis!

12:56

10 mins: Zebo gets his hands on the ball on the wing but he knocks on at the breakdown. Another scrum for Racing.

12:56

10 mins: Barkley is fed from a ruck and he boots long to touch.

12:55

9 mins: Munster get the put in to a scrum in the Racing 22. Racing win a penalty from the scrum and they break swiftly.

12:53

8 mins: Munster don't take the points and instead opt to keep possession. They go through several phases before the ball is spread wide right to Earls. He has an overlap outside him and Munsons the chance as he fails to release the pass and instead takes it back inside.

12:50

6 mins: RED CARD - MUNSTER - BATTUT

Racing win their own scrum. Dumoulin loses the ball in contact and Munster hack the ball along the ground at Racing. The French team race back to cover and manage to secure the ball, but concede a penalty as they fail to release on the deck. But further controversy ensues as referee Barnes red cards Antoine Battut for allegedly kneeing a Munster player in the head. It looks a very harsh decision.

12:49

5 mins: But Munster again engage early and Racing are awarded a free, scrum again to Racing.

12:49

4 mins: The ball fails to emerge from the tackle as Zebo and Keatley enforce the choke tackle on Barkely. The ref says scrum Munster.

12:47

3 mins: Scrum to Racing. The first of the game. Early engage from Munster. Free to Racing and they break wide right to Barkley.

12:45

1 min: Keatley starts the match. Munster win back possession and set a quick drive in the middle. Then Keatley launches a garryowen at Germain, the fullback. Racing secure the breakdown and clear to Keatley.

12:45

Keatley blesse himself as he emerges onto the hallowed turf. He'll need the man upstairs on his side today.

12:44

Munster emerge to a roar of appreciation from their tifosi.

12:44

Danger men for Racing today: Olly Barkley, Sireli Bobo, Jacques Croinje.

12:34

The house is jammers in Thomond as the Munster faithful turn out en masse to roar their boys on. Racing emerge from the tunnel to the pitch first.

12:33

Action in Thomond is just 15 minutes away.

11:10

Is that all clear? I hope so. If not tweet or email me if you have any questions and I'll do my best to get to the kernel of them. Kick-off in Limerick is 12:45 so get the coffee in, papers bought and rashers cooked - now. Stat.

11:09

And just to confirm, the quarter-final matches will be between the teams ranked: 1 v 8, 2 v 7, 3 v 6, 4 v 5. The higher-ranked side will be the home team. The semi-final draw will be randomly allocated.

11:06

Ulster will also have a keen eye on today, at the moment they sit in fourth place, and will crucially be handed a home draw if they stay there. But if Saracens win at home to Edinburgh with a bonus point, they will jump the Ulstermen in the rankings. Similarly, if Toulouse get their bonus-point win over Leicester, they will jump Ulster as well. So, Ulster will finish fourth, five or sixth ranked.

11:05

If Toulouse defeat Leicester, even a two-bonus-point defeat will not save the English side and Munster or Leinster will advance, depending on Munster's result.

11:02

However, and but, if Leicester defeat Toulouse at Welford Road in the 15:00 kick-off, and Toulouse collect two bonus points in defeat, then Toulouse will jump above Munster on tries scored and neither Munster or Leinster will make the quarter-finals.

11:00

So, what is the craic with today's ties. Well, Munster are first up. If they win, with a bonus point, at home to Racing, they leapfrog Leinster into eighth spot. If they fail to do so, they are out of the Heineken Cup, but will take a spot in the Amlin Challenge Cup.

10:54

So, the H Cup qualifying line-up as it stands is as follows.

1. Harlequins 28 (28)

2. Clermont 28 (23)

3. Toulon 23 (23)

4. Ulster 23 (12)

5. Saracens 18 (10)

6. Toulouse 18 (14)

7. Montpellier 22 (17)

8. Leinster 20 (12)

_________________________

9. Leicester 16 (13)

10. Biarritz 15 (14)

11. Munster 15 (9)

12. Northampton 15 (9)

10:53

The last eight is comprised of the six pool winners, joined by the two best runners-up. The third to fifth best runners-up take a spot in the Amlin Challenge Cup. The sixth go home with nothing.

10:47

It all comes down to this, after five scintillating rounds of pool-stage rugby, the quarter-final line-up for the Heineken Cup has all but taken shape. However, there are a few last details to be decided. Not least, whether Leinster or Munster can grab the last best runner-up spot. At present, Leinster sit in that qualification place. But Munster face Racing Métro at home knowing that a bonus-point win will unseat their eastern provincial rivals from their box seat and put the men from Limerick into a last eight battle; they would like nothing better.
load older posts
return to top