As it happened: Connacht 25-20 Zebre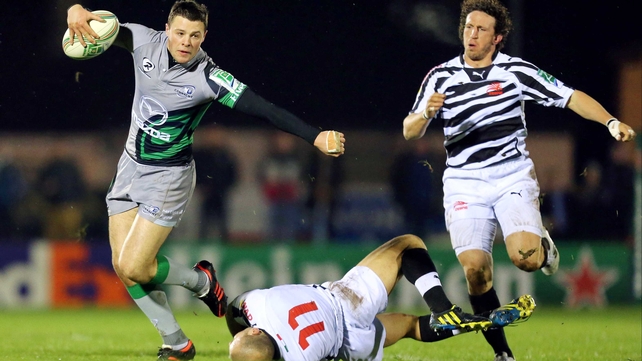 Full time: Connacht 25-20 Zebre

Connacht hold up the Zebre ball carrier in the centre of the field, eating up crucial seconds before forcing a scrum. There's no time to take it however and Connacht hold on for a hard fought victory.

It wasn't pretty but Eric Elwood bows out of Heineken Cup rugby with Connacht with another win.

78 mins: Zebre win the line out but are held up by some stout defence just a metre from the line. Connacht manage to snatch the ball and it's kicked to safety by O'Donohoe.

77 mins: Zebre get their first penalty of the night from the scrum, well within kicking distance but the go for the corner. This is going to be a tight finish.

75 mins: CONNACHT DROP-GOAL, Parks

Paul O'Donohoe, Ronan Loughrey and Ethienne Reynecke are all introduced into the game by Elwood and Connacht are suddenly revitalised.

Robbie Henshaw again makes the yards for the home side, bursting forward and the Westerners go through the phases well. The ball is worked across to Parks who has little room to operate in but he still manages to find his range and kicks over.

71 mins: CONNACHT PENALTY, Parks

Parks, from 40 metres out and in front of the posts, puts his previous misses behind him and kicks his side back into the lead.

68 mins: ZEBRE PENALTY, Halangahu

Henshaw is penalised for coming across Trevisan just inside the Connacht half and for the first time, Zebre go for the line out.

The home side are then penalised for interference in the line. This time Zebre go for the kick and Halangahu's effort from the 22 is good.

66 mins: Zebre steal the ball for the first time tonight from a Connacht line out and it's indicative of how much the game has turned in their favour. Eric Elwood should be looking at making changes now.

63 mins: Parks has the chance to settle Connacht nerves with the kind of penalty that he really should be making with ease, but the Scot's kick hits the outside of the right post and Zebre take heart.

60 mins: ZEBRE TRY, Trevisan

It's been coming and it's a simple, simple try. Marmion opens a gap and Venditti breaks the Connacht line, bursting forward. He off-loads to Pratichetti who then hands off to Trevisan and he goes over in the corner. The TMO is called upon but Trevisan is there comfortably and the try is awarded.

Halangahu misses the conversion

58 mins: It's a tidy throw and Connacht fail to disrupt the play. Zebre push forward but are stopped right in front of the posts. Replacement Luca Martinelli is wayward with his pass and throws the ball against team-mate Dave Ryan's head, allowing Connacht to gather the ball.
load older posts
return to top