As it happened: Edinburgh 17-26 Munster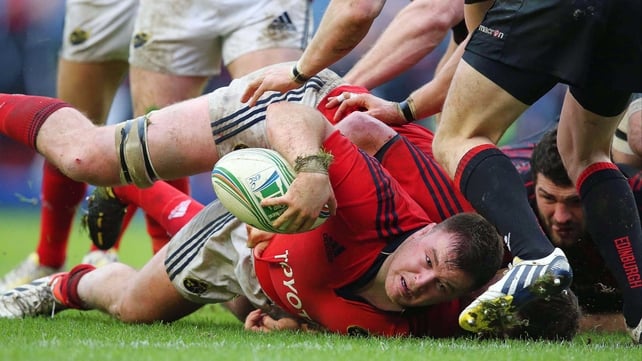 By Tadhg Peavoy
Email: sportonline@rte.ie
Twitter: @TPeavoy
It really is so tight for those two best runners-up qualification spots. At present they stand like this: 18 Montpellier, 15 Munster, 15 Leinster, 14 Biarritz, 14 Northampton, 13 Toulouse. With Toulouse of course still to play today. Munster are ahead of Leinster currently as they have scored nine tries to Leinster's eight. It's going to go down to the wire. Munster report to follow on the site shortly.

Thanks for reading. See y'after.

A stodgy, error ridden game of rugby. Two tries a piece, but total domination for 70 minutes from the Irish province. No bonus point for Munster but the win is enough to lift them above Leinster on tries scored and into a qualification spot for the last eight as one of the second-best losers.

FULL-TIME: Edinburgh 17-26 Munster

80 mins: Munster win a lineout in the Edinburgh 22 and launch repeated attacks at Edinburgh. Williams pops to various forwards but the attacks are blunt and eventually Edinburgh win a penalty as Munster lose the ball in thee ruck. Laidlaw boots the penalty to touch and that's the last action of the tie.

77 mins: TRY & CONVERSION - EDINBURGH - FIFE & LAIDLAW

The Scots win the lineout and move it to midfield where Laidlaw plays a reverse pass back inside to Fife on the burst into the line. O'Mahony falls off the tackle and Fife makes it across the tryline to score. Laidlaw converts.

Edinburgh 17-26 Munster

76 mins: They win the lineout and go phase-after-phase at Munster. A weary looking Munster pack concede another penalty at the breakdown. Laidlaw pops the egg into touch in the Munster 22.

74 mins: Edinburgh scrum on their own 22: They win and recycle and then Munster kill the ball. Penalty Edinburgh. Tonks tonks the ball into touch.

72 mins: TRY & CONVERSION - EDINBURGH - FIFE & LAIDLAW

Scott makes a classy break and smashes the Munster line to reach the 22. They make the Munster line on the right and then spread through the hands from right to left where Fife receives the ball to race over the tryline and touch down. Laidlaw converts.

Edinburgh 10-26 Munster

72 mins: Allan is on for Hislop for Edinburgh.

71 mins: Edinburgh win a penalty as Munster kill the ball at the ruck. Williams is on for Murray at nine for Munster.
load older posts
return to top