As it happened: Six Nations Saturday
Updated: Saturday, 02 Feb 2013 20:08
Tap here to refresh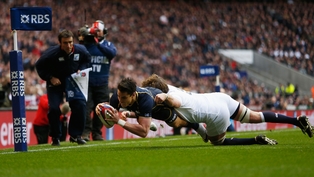 Ireland have beaten Wales 30-22 in their RBS 6 Nations opener, while England have hammered Scotland 38-18 in the Calcutta Cup. Relive it here with our live text.
By Tadhg Peavoy
Click 'Live' to watch in Player above from 1230 (mobile users visit RTÉ Player App)
Video Island of Ireland only - Radio coverage available worldwide
Wales 22-30 Ireland
England 31-18 Scotland 1600
Get in touch: sportonline@rte.ie or @RTERugby
17:46
That's the last action of the day, as England captain Chris Robshaw raises the Calcutta Cup into the Twickenham air.
Thanks for reading. See y'after.
17:45
In Ireland injury news, it is reported that Mike Ross and Peter O'Mahony are not injured as first feared, but Gordon D'Arcy must go for a scan.
17:43
England massacre Scotland, in truth. A better pack, a better back line, a better game plan, a better mentality. They will come to Dublin next Sunday with their tails up.
A report on today's Red Rose win over the thistle will follow on the site shortly.
17:43
FULL-TIME: England 38-18 Scotland.
17:39
81 mins: TRY & CONVERSION - ENGLAND - CARE & FARRELL
England lineout on the Scotand line. It goes to the front and Haskell then drives off a pop pass from Care. Haskell reaches the line where Scotland scamper back to cover. They fail to do so as Care picks and goes and dives over for England try No 4. Farrell converts a simple one from right on front of the posts.
England 38-18 Scotland
17:39
79 mins: Scotland coach Scott Johnson makes his way to the tunnel with a look of dejection on his face.
17:38
79 mins: Haskell picks and goes on the Scotland line and fails to release. Penalty Scotland - they escape conceding another try.
17:37
77 mins: England on the attack again looking for try number four. Vunipola jinks his way forward before Flood makes a line break to enter the Scots' 22. Ashton goes himself before Farrell feeds Barritt.
17:35
76 mins: Lawes steals the ball at a Scotland ruck and Farrell chips to the Scotland corner for Strettle to chase. But Gray gets back to touch down for the 22-drop-out.
17:34
75 mins: Farrell restarts and Scotland receive. Once more they kill the all at the breakdown. But Farrell misses touch with the penalty. Hogg boots back to England and then England boot back to Scotland. More ping pong in Twickers.
17:32
74 mins: Scotland win a penalty in the centre of the park and Jackson bashes to touch in the corner. All of sudden Scotland have revived from their reverie. They win the lineout and maul forward. Denton comes away with it and passes outside him where the ball is aimlessly hoofed forward. England deal with it with ease and touch down in the in-goal area for a 22-drop-out.
17:30
72 mins: TRY & CONVERSION - SCOTLAND - HOGG & LAIDLAW
The ball is recycled after Denton's break and moved left. Maitland receives wide right and chips ahead deep into the England in-goal area. Hogg comes across from the left wing and beats the England defence to touch down for a Scotland try totally against the run of play. Laidlaw converts.
England 31-18 Scotland
17:29
71 mins: It's off the cuff passing from England as they look for another try: Robshaw, Care, Flood. But England lose it and Denton breaks from his own 22.
17:28
70 mins: Scotland turn over and Visser gets his hands on the ball. He surges down the touchline but the ball is turned over once more by England. Scotland can't put more than two phases together and England are swamping them all over the pitch.
17:27
69 mins: Flood is on in the centre now with Barritt making way. Strettle comes on at fullback.
17:26
68 mins: The Red Rose win the lineout and spread it left. Scott is done for offside as he comes up to early to make the tackle. Farrell keeps Scotland moving backwards with another kick to touch.
17:26
68 mins: Farrell lashes the penalty to touch.
17:25
67 mins: Scrum Scotland: Beattie picks from the base and makes zero ground. Ford carries to contact and doesn't release. Penalty England.
17:24
66 mins: Scotland scrum five metres from the England line. They win but the ball is so slow coming out of the ruck that any sense of surprise or momentum is lost. Another scrum to Scotland.
17:23
65 mins: Lawes comes on for Launchbury.
17:22
64 mins: Scrum England: they win it but then lose the ball at the next breakdown. Scotland are given the put in to a scrum.
17:21
63 mins: Jackson finds touch right in the England corner. They win at two with Kellock. Beattie hands off and goes to contact, before the ball is spread to Denton on the left wing, he knocks on. The attack ends. Scrum England near their own line.
17:19
61 mins: Scotland win the lineout and bash to touch. England win their own lineout and spread wide left where Barritt and Goode combine before Vunipola makes more ground. Scotland are clinging on for dear life. It's just attack after attack for England. Eventually they lose it and the best they can do is spread to Visser to kick away possession to Goode. The fullback gets caught in possession. Penalty Scotland. Visser won that penalty by chasing up on his own kick.
17:18
60 mins: England recycle and then move to Robshaw out wide right, he's pushed into touch just a half metre short.
17:17
59 mins: England win and go wide right, Mike Brown gets his hands on the ball and pumps the legs, but he can't cross for the try.
17:16
58 mins: Scrum Scotland: Scotand are penalised and England win a free. They opt to take the scrum.
17:15
59 mins: Care and Vunipola come on for England.
17:13
58 mins: Scrum Scotland: England win against the head and the ball is again pumped deep to Hogg. The No 15 launches another kick back towards Goode. He takes back to contact with a strong line and carry. The ball ends in touch as the pass goes forward.
17:11
56 mins: TRY - ENGLAND - PARLING
Ford takes the Scotland lineout to the tail. Scott goes up the centre and loses the ball. England turn over and No 9 Ben Youngs snipes up the right, marching into the Scotland 22. The Scots scamper back to cover. But England then move it across to Farrell at ten and he sends a long looping pass wide to second row Parling waiting out on the left wing. The No 5 claims the egg and runs over for a try from two metres.
From the 22, on the touchline, Farrell pushes the conversion wide right.
England 31-11 England
17:08
52 mins: Farrell is next to drive hard at Scotland in the centre. England have put so many phases together now and just keep on coming at Scotland. The blue jerseys tackle their hearts out knowing another score would surely kill off the game. Farrell plays an inside pass to Goode, the fullback jinks his way past three Scotsmen to the line, where he is just about stopped. Launchbury then picks and drives over the line. Rolland says try, but then, on the advise of his touch judge, calls play back for dangerous play against Tom Youngs. Penalty Scotland and they boot to touch. Tom Youngs is then called ashore for Dylan Hartley.
17:07
50 mins: England win the ball at the tail and drive into the Scotland 22. Twelvetrees can't get a pass away and must go to contact. Haskell is brought down by Denton.
17:04
49 mins: Early engagement from England and it's penalty Scotland. England knock on a garryowen and Scotland claim the loose ball. But Gray is done for going off his feet at the ruck. Farrell lashes the penalty to touch in the Scotland half.
17:03
48 mins: The ball is put into touch. Scotland lineout: Gray wins at two and Scotland maul it. The ball is launched long and England knock on. Ross Ford is on for Dougie Hall.
17:02
48 mins: Scotland win the lineout and hammer long through Jackson. Brown takes and directs his attack back into the centre.
17:01
47 mins: James Haskell is on for Ben Morgan.
17:01
46 mins: Ping pong takes place as both sides boot the ball around the gaff. Eventually England put it into touch in the Scotland half.
17:00
45 mins: You get the impression Scotland are done, diddly, done for.
16:58
43 mins: TRY & CONVERSION - ENGLAND - TWELVETREES & FARRELL
England recycle at will, with pop passes from Youngs galore. Eventually Scotland are just too stretched and Twelvetrees races onto a pass from Youngs and crashes over from a metre out. From right of goal, Farrell slams over the conversion.
England 26-11 Scotland
16:58
42 mins: Robshaw carries well and then Farrell feeds Barritt on a crash ball, before Robshaw carries again.
16:56
41 mins: We're off again in London. England lineout. They win at four and go wide to Brown up the middle. England barge their way to the Scotland 22.
16:55
The studio panel feel that Ireland have nothing to fear when England visit Aviva Stadium next Sunday. The boys might be getting ahead of themselves there.
16:52
Declan Kidney has said about the win over Wales: "It gives us a good start, but that is all that it is."
Interesting comments from the head coach and typically coy. But in truth he must be delighted with that performance and will be wearing his Brian O'Driscoll pyjamas after the veteran centre's performance.
16:52
A few minutes to the second period in London.
16:46
Scotland are described by the RTÉ panel as being solid, like a Volvo.
16:45
HALF-TIME: ENGLAND 19-11 SCOTLAND.
16:42
40 mins: PENALTY - SCOTLAND - LAIDLAW
The Scots come up the left with Gray before Denton makes good ground up the centre. Scotland makes repeated pick-and-goes and England come in the side of the ruck. Penalty Scotland. From just outside the England 22, Laidlaw converts. That's the last action of this half and England are right in this tie.
England 19-11 Scotland
16:42
39 mins: Scotland are in a spot of bother now, they must score next.
16:40
36 mins: PENALTY - ENGLAND - FARRELL
Penalty against Beattie for a high tackle in the centre. Farrell will go for goal for England on the Scotland 10-metre line. Four from four so far for Farrell, he knocks this one over as well.
England 19-8 Scotland
16:38
35 mins: England win the lineout and Ben Youngs box kicks to Scotland. Jackson tries a halfbreak but can't find a gap, and possession is returned to Scotland, before England do the same. Hogg calms himself and bashes possession to touch.
16:37
34 mins: England win a lineout off the top in the Scotland half and bash up the middle, before kicking deep to Scotland. Hogg gets back to retrieve and hammers the egg extremely deep at England - the ball goes to touch. Wonderful kick from the fullback.
16:35
32 mins: Jackson resarts and Lamont tries to get under it, but can only manage to knock on.
16:33
31 mins: TRY & CONVERSION - ENGLAND - ASHTON & FARRELL
Launchbury launches an attack into the 22, before Ben Youngs feeds outside left to Ashton. The winger holds off two tacklers and grounds the ball over the whitewash. Try. Farrell converts.
England 16-8 Scotland
16:32
30 mins: Ashton comes off his wing to take to contact where Hall stops him. Twelvetrees makes a half break before England ruck over and move right to Barritt, he is stopped in the tackle.
16:31
29 mins: Gray wins at two and Scotland shuffle across to midfield where a kick to touch is blocked down by Farrell, England turn it over.
16:29
28 mins: The ball is knocked forward by England in the air. Scotland win the ensuing scrum and Lamont bashes forward in midfield before play is kicked long to Brown from Hogg. Brown deals with it and puts it to touch.
16:29
27 mins: Scotland win their own lineout and Laidlaw boxkicks to touch on the full. England lineout back.
16:28
26 mins: Jackson bashes the penalty to touch just outside his own 22.
16:27
25 mins: England use Robshaw as a runner at second centre. They switch to Twelvetreees out left and he tries to pierce Scotland's defence. He gets isolated and is done for holding on.
16:26
24 mins: England lineout: The ball is knocked on and Scotland punt the ball at Ashton. The winger receives and England run with Twelvetrees who feeds Brown. There is no space and he must go to contact.
16:24
22 mins: Scotland's Visser is fed loose ball on the wing and chips ahead into the England corner, where Goode must boot the ball to touch. Denton takes the lineout at the back and Scotland ruck forward. But the Scots fail to use it and England win a penalty as Scotland are done for going off their feet. Farrell relieves by bashing the penalty to touch.
16:21
20 mins: PENALTY - SCOTLAND - JACKSON
Scotland go on the attack and win a penalty deep in England territory when Tom Youngs comes in the side of the ruck. Laidlaw sticks the penalty between the sticks.
England 9-8 Scotland
16:20
19 mins: PENALTY - ENGLAND - FARRELL
From right of goal, outside the 22, Farrell slots it over.
England 9-5 Scotland
16:19
19 mins: Play is brought back for Scotland not releasing the tackler.
16:19
18 mins: Denton stands in at scrum-half and makes an awful mess of it. England turn over and try to move it right to Twelvetrees on the wing, but the pass goes forward.
16:18
17 mins: Scotland scrum: the men in blue win it and spread wide right.
16:18
17 mins: Scrum Scotland: it collapses and must be reset.
16:17
16 mins: Visser up and unders to Robshaw. The ball goes forward as the captain offloads to Tom Youngs. Scrum Scotland.
16:16
15 mins: Denton is on for Strokosch on the Scotland team.
16:15
14 mins: Farrell decides to go for goal from wide left and makes no mistake.
England 6-5 Scotland
16:14
13 mins: England turn over the ball and put two phases together before Scotland are penalised by Rolland for killing the ball at the breakdown.
16:13
12 mins: Farrell restarts for England to Visser and he boots back to England. Goode receives and launches an up-and-under. Scotland secure and set the ruck.
16:10
10 mins: TRY - SCOTLAND - MAITLAND
The ball is turned over and Hogg makes a clean line break to scream into the England half. Scotland recycle and Grant picks and goes down the blind side on the right. He is stopped short but Laidlaw is there to pop outside to Maitland to go over in the corner. Laidlaw puts the conversion wide right.
England 3-5 Scotland
16:10
9 mins: England win the lineut and go up the middle with Morgan. Brown injects some space with ball-in-hand on the left flank.
16:09
8 mins: The ruck is set and Hogg boots long to touch.
16:07
6 mins: England attack phase-after-phase as Scotland simply can't get their hands on the ball. Eventually England knock on and Scotland get a scrum in their own 22. They win and Jackson takes to contact at outhalf.
16:05
4 mins: Scrum England, they win and boot long to Scotland. Scotland return the egg and England spin wide to Goode on the left wing. The ruck is set and Tom Wood sets off for the Scotland line with a pick and go. Twelvetrees tries to offload in the tackle, but the ball is intercepted and cleared.
16:04
2 mins: PENALTY - ENGLAND - FARRELL
From right of the sticks, just outside the 22, Farrell kicks the penalty at goal. No mistake. England lead. He's now scored 112 points for England.
England 3-0 Scotland
16:03
1 min: We are off in London. England build phases slowly as they batter away at Scotland. They reach the Scotland 22 and Murray comes in the side of the ruck and Irish referee Allain Rolland says penalty England.
16:02
Dave Denton made more carries than any other player in the Six Nations last season, but it came to nothing as Scotland went on a hiding to nothing to receive a wooden spoon.
A big day from him would be a key ingredient in Scotland turning over the impressive England boys today. I can't see it, but maybe, just maybe.
The anthems are first up.
Another big man for the Scots is Richie Gray. The second row made more tackles than anyone else without missing one last season – 43. He was also superb at all set-pieces and in the loose.
For those stattos among you, the Calcutta Cup has been played 130 times. England have won 70, Scotland 42, 18 have been draws.
And, the Red Rose are unbeaten in their last five Tests with Scotland, winning four and drawing the other.
England have won the last 11 Calcutta Cup Tests that have been staged on home soil and are undefeated in 14 outings against Scotland at Twickenham
15:33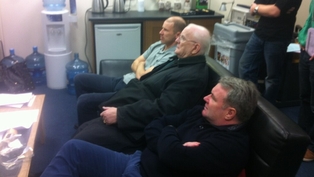 Some tense faces towards the end of that match from our colleagues over at the soccer side of the office
15:28
Right, next up England v Scotland at Twickenham, kick-off 4pm. We'll bring you all of that clash as well.
15:27
Man of the match Brian O'Driscoll, says post-match: "First game [in the Six Nations] is a must win. We started well today.
"We came out of the blocks well in the first half well and then defended well.
"Rugby is a game of momentum. Once you build it it's hard to stop it."
15:26
FULL-TIME: Wales 22-30 Ireland. Wales' Grand Slam defence is over. Ireland have begun the 2013 Six Nations in the best possible way, with a superb away victory over Wales.
15:51
OK it is England v Scotland from here on in. As always send your thoughts to sportonline@rte.ie or @rterugby
15:42
If you missed it earlier, here's that Cian Healy try - with a special appearance from Simon Zebo's heel in the build-up...
15:40
Best of luck to Sam in Australia...
"Last update from Noosa. Ed is watching to the last tense view minutes. Sam is about to touch, hold, engage. Irish and proud. Slán"
15:24
80 mins: Scrum Wales just inside their own half. They win it and break left. Wales go phase-after-phase but the ball is knocked forward and the referee blows for full-time.
15:24
80 mins: Brian O'Driscoll is named Man of the Match.
15:23
80 mins: O'Callaghan knocks on at the base of the ruck and it's scrum Wales.
15:23
80 mins: North puts boot to ball and grubbers along the ground up the left wing. Ireland claim the egg and take to contact in a ruck on halfway.
15:22
79 mins: Faletau charges, Warburton follows suit. Roberts tries to feed wide right, but his pass goes to ground and Wales must scamper back to retrieve.
15:22
78 mins: Davies tries a linebreak on his own 22, but is stopped hard.
15:21
77 mins: Wales receive the kick-off and attack again, but from inside their 22, Ireland pin them back.
15:17
76 mins: TRY & CONVERSION- WALES - MITCHELL & HALFPENNY
Wales pick-and-go repeatedly and they appear to have crossed the line through Mitchell. Referee Poite asks his TMO Graham Hughes to see if it's a try. It looks a try to me as Mitchell picked and touched down clearly. Hughes agrees. Try Wales. From left of goal, Halpenny converts.
Wales 22-30 Ireland
15:17
76 mins: Owens hits Tipuric at the back of the lineout. Wales maul at Ireland. The green defence holds firm. But Wales slowly grind forward.
15:16
75 mins: Ireland win their own put-in and O'Driscoll slices his boxkick clear.
15:15
74 mins: Scrum Ireland on their own tryline. O'Driscoll plays scrumhalf with Murray in the sin bin.
15:14
75 mins: Formwe Wales international Gareth Thomas has just tweeted: Hats off to the Irish defence. He's dead right.
15:13
74 mins: Wakes finally move it left where there is acres of space, but with a three-to-one overlap, Wales fail to move it quick enough and Ireland scramble across to make the tackle.
15:12
73 mins: Scrum Wales: Ireland crumble in the scrum and Faletau picks from the base. Roberts is next to attack. Sexton stops Faletau and Williams picks and goes and is stopped just short. Ireland defend with desperation. Biggar loops a pass outside to Davies, who jiggles to five metres short.
15:09
70 mins: Wales are five metres short and Biggar goes it alone, he's stopped. Davies makes a break which brings him inches short of the tryline. Faletau plays first centre and barges his way to the line, he crashes through the Ireland defence and touches the base of the post with the ball. That is a try, but referee Poite has not given it. In fact, he was just short - no try. But Murray is sin-binned for illegally playing the ball on the ground.
15:09
70 mins: Superb Wales lineout and Roberts takes a crash ball at 12.
15:09
69 mins: Ross cannot continue the game through injury and Declan Fitzpatrick enters the fray.
15:08
69 mins: Biggar kicks to the corner.
15:08
69 mins: Scrum Wales on the Ireland 22: Penalty Wales as Ross collapses.
15:06
68 mins: Davies charges up the middle off a North offload and the ball is punted ahead to Kearney. The Ireland fullback knocks-on in his haste to get to the ball.
15:06
68 mins: Owens throws over the top of the lineout and Zebo gets on to the loose ball and bashes it long to Wales.
15:04
67 mins: Wales spin wide right to Cuthbert. He kicks ahead and the ball goes dead. The touch judge tells Poite that Kearney has taken the Cuthbert out off the ball. Penalty Wales. Biggar boots to the corner.
15:03
65 mins: Wales lineout: the throw from Owens was delayed and a free-kick is awarded to Ireland. Sexton garryowens to Halfpenny, who calls the mark. He bashes back to Sexton. The outhalf garryowens again to Halfpenny, the Wales fullback feeds outside to Biggar, who boots away. Again Ireland kick it back to Halfpenny and this time he attacks with ball-in-hand.
15:02
65 mins: Ireland win the lineout and a garrryowen, with O'Brien then carrying hard at Wales. He is called for holding on by referee Poite and Biggar dispatches the penalty to touch.
15:01
65 mins: Phillips is being called ashore with Williams coming on.
15:01
64 mins: Sexton bashes the penalty to touch.
15:00
62 mins: Owens barges forward and then Biggar carries well. The ball makes Cuthbert on the right and he makes it to five metres from the line before being stopped. Wales go to contact in front of the Ireland posts and are done for holding on - penalty Ireland.
14:58
61 mins: Ireland win the lineout and go up the middle. Earls carries to contact. Ireland go through the phases and then Sexton chips the ball into the Wales back three. Wales return the compliment to Gilroy and North receives and brings back to contact.
14:58
60 mins: Sexton restarts deep and Phillips receives and boots long to touch.
14:55
59 mins: TRY - WALES - HALFPENNY
Biggar boots the peno to touch and Wales win the lineout. North tries to burrow past the Ireland defence but can't. But Wales retain possession and spin wide right. It goes through the hands to Halfpenny joining the line on the right wing. He gets his body position low as Zebo and Heaslip come across to attempt to stop him touching down. They fail to do so as he touches down for the score in the corner. Superb Wales try. From wide right, on the 22, Halfpenny puts the kick wide right.
Wales 15-30 Wales
14:54
58 mins: Wales set the ruck once more and again Ireland are done for killing the ball at the breakdown. This time referee Poite says a card must be shown. Rory Best is the man who is shown yellow.
14:52
57 mins: Wales are three metres short. The ball is spread far left where there is hardly any Irish cover. The ball reaches North but Ireland scramble across to stop him in numbers. Biggar is fed from a ruck as Wales move it across field to the right. Wales go wide left again and North is hammered in the tackle by Gilroy.
14:51
56 mins: Owens hits Tipuric at four and Wales drive forward. Phillips offloads to Coombes. Jenkins picks and goes. Biggar himself has a pop.
14:50
55 mins: Wales scrum: they win and Phillips goes to contact. Owens - on for Rees - drives at Ireland. Advantage Wales as Ireland come in the side of the ruck. Penalty Wales. Ryan was the guilty party that time. Biggar pops the penalty into the corner.
14:49
54 mins: It is spread wide to left to North cutting in off his wing, Best comes across to make the tackle, and North tries to offload, but Murray knocks on the pass. Scrum Wales.
14:47
53 mins: Wales kick possession back to Ireland where Gilroy receives. He looks up and kicks long, but the ball goes out on the full. Phillips bashes forward hard and Wales try to put phases together to make some momentum.
14:45
52 mins: O'Mahony is off for Henry, the former has shipped a knock.
14:45
51 mins: But Wales spill it forward and Ireland use Gilroy to counter on the right wing and he chips ahead down the flank, the ball ends in touch and the counter ends.
14:43
50 mins: Ireland restart and Wales take. Faletau picks and goes. Phillips box kicks long to Kearney. Sexton takes a garryowen. Wales spread the ball wide left to Faletau. They make the Ireland 22. Ian Evans then receives and drives out far right.
14:41
48 mins: TRY & CONVERSION - WALES - CUTHBERT & HALFPENNY
Rees hits Coombes at four and then Wales go down the narrow side and are stopped just short. Phillips drives with a pick and go. Wales then use Adam Jones before spreading wide left to Cuthbert, he has acres of space to use, and slices Ireland open and across the tryline. Keith Earls - on for the injured D'Arcy - missed the tackle. Halfpenny converts.
Wales 10-30 Ireland
14:39
47 mins: Jenkins again takes to contact for Wales before Rees attacks with O'Brien stopping him. Poite calls penalty as Ross fails to roll away at the tackle. Biggar boots to touch.
14:39
46 mins: Tipuric, now on the pitch, drives hard at Ireland. Wales spin wide right to Cuthbert as he barges into the Ireland 22.
14:38
45 mins: Wales come again and makes halfway where Ireland kill the ball and Phillips takes a quick tap penalty. Faletau picks and goes. Jenkins does likewise.
14:35
43 mins: IRELAND - TRY & CONVERSION - O'DRISCOLL & SEXTON
Sexton feeds D'Arcy on a pop inside and the first centre makes the break down the centre. Sexton nearly makes a linebreak before feeding to D'Arcy, who feeds Kearney on the right wing. He dances back inside off his wing and is stopped just short by Wales. Murray then picks and goes and is stopped before O'Driscoll acts scrum-half and sees a gap in the Wales close in defence and simply drops over the line. Try number three. From wide right, Sexton nails a brilliant kick.
Wales 3-30 Ireland
14:34
42 mins: Ireland scrum in the Wales 22: Heaslip goes wide right and flicks back inside to Kearney on the loop. O'Mahony takes a pop pass and pumps the legs.
14:33
41 mins: Sexton restarts for Ireland. Wales take back into contact. Coombs carries to contact and Ireland immediately turn over possession with choke tackle.
14:33
Action in Cardiff is about to resume.
14:31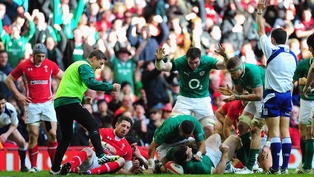 A great shot of that Cian Healy try...
14:26
Tony Sadlier (via email)
"Before the game George Hook said that 'Wales are a much better side than people think' I know he's from Cork but how does he know what people think? Like to hear his views at half time. "
14:24
IMPORTANT UPDATE on the situation in Australia, where a local girl has promised Sam a kiss if Ireland win (see 1321).
This could be a good day for Sam.
"Ed and Sam still in Noosa. Looks like Sam could be cashing in early!! The boys are making us proud Irish men."
14:23
OK. Half Time. What do you reckon? Is there any hope for the Welsh? Email sportonline@rte.ie or Tweet @RTERugby
14:19
42 mins: PENALTY - IRELAND - SEXTON
Ireland makes plenty of ground with attacks from O'Driscoll and O'Brien. Healy then takes up the attack with Shinger making the tackle and not rolling away. Penalty Ireland. From wide right, Sexton places the tee and egg, breathes deep, takes his steps, and boots the ball between the sticks.
Wales 3-23 Ireland
14:18
41 mins: From the lineout O'Brien and McCarthy make great ground from static starting positions.
14:18
41 mins: Sexton boots the peno to touch and again Best hits Ryan at two.
14:17
40 mins: Best throws to Ryan at two and Ireland maul it with Heaslip at the back before Murray boxkicks to Cuthbert, but Ireland are awarded a penalty for Warburton infringing in the lineout.
14:15
39 mins: Jenkins must leave the field with a blood injury as Sexton boots the penalty to touch.
14:13
37 mins: Cuthbert is stopped by Zebo as Wales come and come at Ireland. Rees and Jones combine to make more ground. Roberts breaks the line but is hauled down before Wales use Cuthbert and Faletau out wide. Wales are a few metres from the Ireland line now. Shingler is put to ground as Ireland defend with desperation and eventually Wales fail to use the ball on the ground, a metre short, and Ireland win the penalty. Superb defending from Kidney's men.
14:12
36 mins: Biggar boots to the corner where Gilroy receives and boots long to Halfpenny. Wales counter and counter well. Biggar spins wide left and it reaches the arms of North who cuts back inside as Wales enter the Ireland 22 with Warburton.
14:11
35 mins: Wales attack with Davies wide right and then Rees picks and goes. Coombes drives hard before Warburton tries to break the Ireland line but O'Brien stops him dead.
14:08
32 mins: WALES - PENALTY - HALFPENNY
Ireland lineout in their own 22. O'Driscoll is now wearing a commando-style headband to stem the flow of blood from his head. Ryan wins the throw in the lineout and feeds off the top to Murray who takes to contact. O'Brien picks and goes but Ireland are soon after penalised for holding on. Penalty Wales. Halfpenny decides to go for goal. From wide right of goal, the top scorer in the 2012 Six Nations, smacks the ball between the sticks, they're off the mark.
Wales 3-20 Ireland
14:06
31 mins: Wales win their own lineout and Warurton charges around the back of the lineout. Davies gets tied up as he bursts up the middle. Shingler does well to make the Ireland 22. Wales try to spin wide from Biggar to Davies to Cuthbert, but Davies' final pass is shocking and goes into touch. It was way behind the winger.
14:05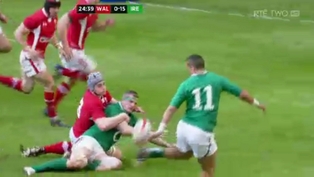 30 mins: Attached is a screen grab of Zebo's amazing backheel that led to Healy's try.
14:02
27 mins: PENALTY - IRELAND - SEXTON
Wales go on the attack and again lose in contact and Ireland bash the ball to touch down field. Wales win the lineout and Phillips tries to scamper free but is done for crossing. Penalty Ireland. Sexton decides to opt for the kick at goal. From wide left, he nails it. Ireland lead by 20.
Wales 0-20 Ireland
13:59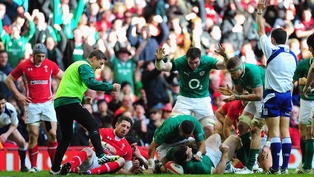 26 mins: TRY & CONVERSION- IRELAND - HEALY & SEXTON
Faletau picks and goes. Ian Evans does similar. Biggar tries to clear but the ball is blocked down by Best, who feeds out to Heaslip, who feeds wide to Zebo, who manages to backheel the ball into his arms to secure possession with outrageous skill. Zebo then goes to contact on the Wales tryline. Murray picks and goes, then Healy picks and crashes over the line. Sexton converts.
Wales 0-17 Ireland
13:58
23 mins: Ireland scrum: Early engagement from Ireland and it's a Wales free, but they lose possession and they attack Wales with Kearney dinking ahead.
13:57
23 mins: Wales restart and Roberts gets underneath it, but knocks on.
13:57
22 mins: D'Arcy is receiving attention as Ken Owens comes off for Rees to resume.
13:55
20 mins: -IRELAND - PENALTY - SEXTON
Ireland scrum: Murray feeds, Heaslip picks and feed Murray. O'Mahony drives, O'Brien clears out the breakdown. Murray feeds back to Sexton and the outhalf goes for a drop goal, it's wide, but play is brought back for a penalty against Coombs for combing in the side of the ruck. Sexton slots the penalty from inside the Wales 22 with ease.
Wales 0-10 Ireland
13:54
19 mins: O'Driscoll's head is pumping blood but it looks to be all fixed up.
13:54
19 mins: O'Driscoll receiving attention, as is Gilroy.
13:52
18 mins: Ireland win with Ryan and Murray takes forward before O'Brien bashes hard. Ireland six metres from the line. Gilroy takes Ireland to the line before being stopped, then Healy takes a pop pass and is held up. Ireland are just short again. A scrum is awarded to Heaslip's team.
13:51
17 mins: From that move, Wales end in touch and this time Ireland win the lineout. O'Mahony picks and goes, then Ryan takes a pop pass from Murray. Ireland go blind with Sexton grubbering down the wing to Halfpenny. The fullback comes across and under huge pressure slices a kick into touch.
13:50
16 mins: Healy devoured Jones in the scrum that time out and Sexton booted the penalty to touch. But the throw is turned over by Wales.
13:49
15 mins: Second scrum: Ireland win another penalty as Adam Jones collapses the scrum.
13:48
14 mins: Ireland scrum: the ball put in is delayed and the scrum must be reset.
13:48
14 mins: Rees's cut above his eye is gushing blood so Ken Owens must come on as a blood sub.
13:46
13 mins: Halfpenny claims a high punt and is swallowed by O'Driscoll in the tackle. Wales take into contact with Rees and Ireland swallow him up and the ball fails to come back out. Scrum Ireland.
13:44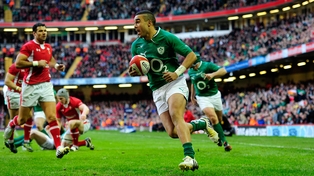 10 mins: IRELAND - TRY & CONVERSION - ZEBO & SEXTON
Ireland scrum: Ireland win the scrum well and Murray pops to Gilroy on the wrap around. Ireland spin wide from that move to O'Driscoll on the left wing and he draws the defence before feeding Zebo to dance down the left wing and across the line. Both Davies and Cuthbert were drawn in by Drico there. Sexton slots the extras.
Wales 0-7 Ireland
13:42
9 mins: Ryan wins Best's throw and Ireland maul with Best driving things as they march on five metres. Murray feeds wide and Ireland put it through the hands to Gilroy and he tries to feed back inside. Roberts knocks on as he intercepts - should be a penalty for deliberate knock on but is just a scrum.
13:42
9 mins: Sexton finds touch with the penalty. Jenkins was the man who collapsed the last scrum.
13:41
8 mins: Ireland scrum: Wales collapse - penalty Ireland.
13:40
7 mins: Biggar finds touch with the penalty. Evans knocks on the throw and Ireland claim the loose ball before Sexton bashes it long. Scrum back for Ireland thanks to the knock on from Evans.
13:38
6 mins: Wales lineout: Rees receives attention for a cut above his eye before he takes the throw. Looks like it came from O'Brien running at him. He hits Coombes at two and Phillips boots long to Gilroy. O'Brien and Ryan drive hard before the ball is booted long to Halfpenny. Wales come at Ireland with Shingler and they win a penalty just short of halfway.
13:37
5 mins: Ireland lineout: Best to Heaslip at the back, O'Brien peals off the back and drives at Wales. Murray keeps Ireland coming with pop passes. O'Driscoll decides to pop ahead and into touch.
13:36
4 mins: Wales lineout: Ian Evans takes the throw and Biggar clears his lines to touch just short of halfway.
13:36
3 mins: Murray feeds Sexton from a ruck and the soon to be Racing Metro outhalf dinks a chip into the corner.
13:35
3 mins: Wales scrum: Wales win the scrum. But they turn it over at the following breakdown and O'Mahony breaks with ball-in-hand. Heaslip does likewise, before the ball goes wide to O'Driscoll and Gilroy.
13:34
2 mins: Gilroy claims the first ball and Ireland release it back to Wales with a punt. Coombs takes the ball up the middle and the ball is knocked on by Ireland. First scrum to Wales on the Ireland 10.
13:33
1 min: Roman Poite blow his whistle and Biggar starts with the match.
13:30
Ireland are not much better, in that time they have played five full internationals. They've lost four, with one victory. That win coming in their last game against Argentina.
13:28
Wales come into this tie not having won a game since they secured their Grand Slam against Paris last year. Seven defeats in a row.
13:27
The famous ground in the city centre of Cardiff ispacked, and the sun is bathing the crowd in the stands, with the turf looking like a cricket crease it looks so fine, fine, fine.
13:26
The waiting is over, the Six Nations is here. Kick-off in 180 seconds.
Ireland made 31 linebreaks in the 2012 tournament - the highest any team mustered.
More of that is desired today as Ireland seek to end a three-game losing streak against their Celtic rivals.
Interestingly, all of those defeats have been narrow: 19-13, 22-10, 23-21.
With Wales two-point favourites to win today, it would appear another dramatic finale is on the cards.
First up in Cardiff is the anthems, with these tunes belting out:
http://www.youtube.com/watch?v=gtCOprRDUm8
13:25
From Sean and Eoin (via email)
"It's 10.10pm here in Seoul, South Korea. Sean and Eoin here. Two Gaels watching the game confident we can get a win. 20-18"
13:21
OK this changes everything...
"Ed and Sam are watching in Noosa, north east Australia. If Ireland win A local girl has guaranteed Sam a Kiss!! Come on Ireland!"
13:20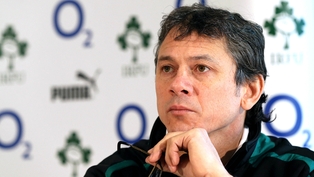 Ireland assistant coach Les Kiss: "There is a lot at stake today. Wales have a pretty formidable side out and we have to hit the ground running. We have to do the right things and get the result today. The mood is good in the camp this morning and we are ready to go"
13:16
Some optimistic predictions of high scores for Ireland coming in - well we were the top points scorers in the 2012 tournament (121 points)
Ireland scored an average of 24 points per match last year. This included 13 tries, the most for Ireland in the competition since 2007.
13:08
Michael Corcoran is down at the Millenium Stadium in Cardiff - he tells us there are no late changes to the Irish team.
"There were doubts about Rob Kearney during the week, but he's out there on the field galloping around with Craig Gilroy!"
13:02
Gerry O'Connor (via email)
"Why are u so negative about Kidney and Ireland, surely we have the best available team on the pitch, we are tired of seeing slow wingers being caught by forwards? C'mon George get behind our team"
12:57
Hello to Pete and Dyane watching in Thailand (we're not at all jealous)
"32 25 to Ireland all the way from the Emerald Bar in Koh Samui Thailand"
12:53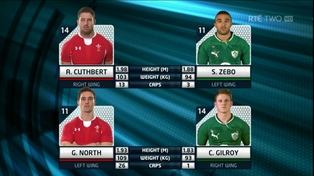 Here's two key match-ups on the wings
12:44
Harry Hackett (via email) is expecting a big score from the Irish team today: "I believe the men will step up today and win - Wales 17-32 Ireland."
12:42
So have you got a prediction for Wales v Ireland? Email sportonline@rte.ie or tweet us at @RTERugby and we will do our best to include it here...
12:28
We are live on RTÉ Two now - if you are on the island of Ireland you can watch all the coverage by clicking 'Live' on the player at the top of this page (this tracker will update automatically).

If you are reading this on mobile (and in Ireland), go to the RTÉ Player App to watch the match.

And if you want to listen to the radio coverage, you can do that anywhere in the world. Just click the link above...
12:13
Ireland XV: R Kearney, C Gilroy, B O'Driscoll, G D'Arcy, S Zebo. J Sexton, C Murray, C Healy, R Best, M Ross, M McCarthy, D Ryan, P O'Mahony, S O'Brien, J Heaslip (captain).
Replacements: S Cronin, D Kilcoyne, D Fitzpatrick, D O'Callaghan, C Henry, E Reddan, R O'Gara, K Earls.
12:08
Wales XV: L Halfpenny, A Cuthbert, J Davies, J Roberts, G North, D Biggar, M Phillips, G Jenkins, M Rees, A Jones, A Coombs, I Evans, A Shingler, S Warburton, T Faletau,
Replacements: K Owens, P James, C Mitchell, O Kohn), J Tipuric, L Williams, J Hook, S Williams
12:07
This is certain to get you in the mood for the big match