As it Happened: WGC Match Play Day 1
Updated: Wednesday, 20 Feb 2013 21:09
Tap here to refresh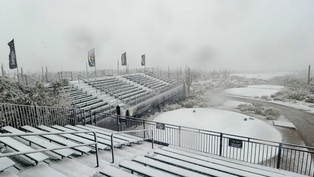 Snow put paid to play for Irish competitors in the unique opening round of the World Golf Championships-Accenture Match Play.
TBC: Graeme McDowell v Padraig Harrington
TBC: Rory McIlroy v Shane Lowry
Play suspended for the day due to the weather with neither match underway
By Rory Houston
20:09
So, play has been called off for the day due to the snow. Matches will resume tomorrow. Very disappointing.
Look out for tee times in our golf section when they are announced as organisers try to get through the 32 matches. See you soon.
19:48
Remember there is Champions League games taking place tonight and you can keep up with the latest here.
19:45
There will be an update on the situation in around 15 minutes. Snow continues to fall so expect the worst.
19:25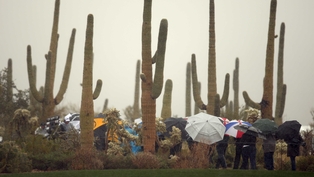 And this was prior to the snow.
19:14
Rory also revealed he went out to dinner with Shane Lowry ahead of their meeting - shortly afterwards he was hit was a snowball that came from another player.
19:09
Rory McIlroy has just told Sky Sports: "It's unbelievable – I'm looking at the putting green and there is three or four inches on it. It is ridiculous, it does not look like there will be any more play today."
19:03
Tournament officials will make a statement in an hour to update the situation.
It is likely they will rule play out today, but Fair City will get underway at time so we'll keep this live text going.
19:02
Welshman Jamie Donaldson, winner in Abu Dhabi last month, fell three down after seven to Dane Thorbjorn Olesen before the weather stopped play, but seventh seed Lee Westwood quickly moved two up on Spain's Rafael Cabrera Bello early on.
18:59
The course is completely white now because of the snow and this looks really, really bad.
The greens will suffer badly from the snow and ice - the entire day is beginning to be put into question.
18:57
It looks grim for Heath as he exited the boat by the time Brax arrived. I suggest looking in the driving range or the indoor putting greens because that is where a lot of our players will be. Now that the action in the Bay has concluded, we'll get back to looking at the situation in Arizona.
18:54
Following an emotional plea, Braxton brother the fourth has inspired an apparent rescue of Heath so we need to take that sort of hope that we'll have some sort of outcome.
"Tell him to pull his head in and get through his big ugly skull that it isn't going to happen," is the latest quote from Irene on an unrelated topic.
That sort of negativity will get us nowhere.
18:50
As April and Dexter reconcile amid the paradise-like setting in Summer Bay, it really rubs in the disappointment of the bad weather in Arizona.
Gusts of over 20mph, then rain, sleet and eventually snow have ruined today's play.
The only club we'll be seeing for a while, is the Surf Club.
18:44
Englishman Chris Wood was all square with Masters champion Bubba Watson after six when play was suspended.
"It's like playing at home in January," said the Bristol golfer, whose first European Tour title came in the warmth of Qatar four weeks ago.
"It was cold when we teed off and then got colder.
"Bubba said he was going to get a ruling, which we thought was a good idea, and the referee said play had already been called off."
18:42
Irene Roberts just used the expression "God Save Ireland" when getting a shock by a visitor to her house. Apt on this day of Irish duels in Tucson.
18:38
With this break in play we switch our attention to Home and Away on RTÉ Two where Heath Braxton is stranded in the middle of the ocean and tied up in a small boat that is taking in water. He'll need more than a nine iron to get out of this one.
18:26
It looks like this bad weather is here for a while - it's a very bleak outlook.
Hopefully play can resume as soon as possible. There is still several hours of daylight to come in Arizona but at this stage some of the later matches are already looking at a Friday finish.
18:10
Play has been suspended due to the weather with a mixture of snow and hail now falling in Tucson.
17:47
Heavy rain is falling on course, I'm afraid to confirm, with Graeme McDowell and Padraig Harrington due to tee off in a matter of minutes. It isn't looking good with the players struggling to complete holes as it increase.
17:38
So what has happened so far today?
Sergio Garcia is one up with four to play against Thongchai Jaidee.
Ian Poulter is three ahead against Stephen Gallacher as they get set to tee off at the 12th.
Jason Day is not wasting time, he's is six up through nine against Zach Johnson.
Hunter Mahan is four up against young Italian Matteo Manassero is one of the US v Europe match-ups we have today on course in Tucson. They are through just eight holes.
17:33
The event has been able to start on time at 0725 (local), but thunderstorms are forecast for later in the day and there is even the possibility of snow at the desert venue.
It would not be the first time. Luke Donald and Martin Kaymer encountered such conditions during the 2011 final.
17:15
Shane Lowry and Rory McIlroy battle it out on this the first day of the World Golf Championships-Accenture Match Play tournament in Tucson.
In a remarkable draw based on the rankings of 64 players, Graeme McDowell takes on Padraig Harrington in the opening round.
Follow the progress of the matches today with our live text.