As it happened: WGC Match Play - Irish in action
Updated: Friday, 22 Feb 2013 01:01
Tap here to refresh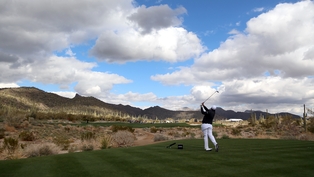 Shane Lowry has beaten Rory McIlroy and Graeme McDowell has defeated Padraig Harrington at the WGC Matchplay in Arizona.
McIlroy v Lowry (Lowry wins 1UP)
McDowell v Harrington (McDowell wins 2UP)
01:28
Shane Lowry: "I was very nervous going out. I managed a couple of chip-ins which were huge.
"I just got back to all square and I knew i had a chance from there... I said he's not going to be liking this at all. Lets just give it a go from here.
"I think deep down I knew I could beat him. I'm not here for no reason."
01:21
Rory McIlroy lands his shot in the bunker on the final hole, but a beautiful shot from the sand puts it on the green and within a few inches of the hole.
That is unlikely to be enough as Lowry is on the green already and only has a four foot putt to wrap this up... And he does. The world number one has been beaten.
Huge win for Shane Lowry.
01:06
It is going down to the wire between Lowry and McIlroy. The 17th is halved. Lowry 1Up with one to play.
Yet another quality chip from the Offaly man forces Rory to make his five foot putt for par. He does. They go to the 18th.
00:47
McIlroy takes the 16th. Real class from the man from Holywood. He sticks his tee shot inside nine feet and curls in a downhill birdie. He is now one down with two to play.
This match is not over - but the day may be very soon. It is getting dark in Arizona. Not much time to finish this one off.
00:46
Well... Rory McIlroy finds himself in the bunker on the 15th. And from there he sends his shot way, way, over the green and into the cactus and rough. He concedes the hole immediately. Lowry regains his two hole lead.
Lowry 2UP with 3 to play
00:36
Padraig Harrington is done however. A poor chip onto the green at the 18th confirms his fate. Graeme McDowell wins 2UP. He will face Alexander Noren of Sweden in the second round.
00:35
Bad miss from Shane Lowry. He gives up the 14th to McIlroy. Lowry smashes the ball off the green in frustration after the miss. Rory is not done yet.
Lowry 1UP through 14
00:24
Harrington and McDowell are now on the 18th. McDowell remains 1UP
And Harrington's drive on the 18th ends up a long way from where he would like it to be. That could be it..
00:16
Another beautiful shot puts Shane Lowry in a great position.
Lowry has followed his two chip-ins with a glorious second to the long 13th. The ball came back down the slope at the back of the green to two feet. Pressure on McIlroy, who goes on to miss his putt - so Lowry is now 2UP through 13
23:54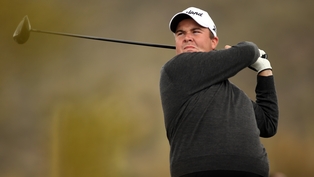 Harrington misses a short putt to give the advantage back to Graeme McDowell, who goes 1UP after the 16th
Meanwhile at the 12th, another superb chip from Shane Lowry gives him the lead. The world number one has a real fight on his hands. Lowry 1UP
23:54
Fantastic chip in by Shane Lowry at the 11th (and a good short putt from McIlroy) keeps it A/S in that one...
23:44
Great comeback from Padraig Harrington. He has levelled it up after 15 holes. Now A/S against McDowell.
23:22
Only one in it now between McDowell and Harrington after 13. McDowell 1UP.
In the other Irish clash, A poor drive from Rory McIlroy eventually cost him the hole against Lowry - they are All Square after 10
23:02
Harrington gets short putt for a par at the 12th. He has pulled it back a little against the Northern Irishman. McDowell now 2UP.
22:57
McIlroy's struggles look to be continuing at the eighth. His approach shot ends up in the bunker. He manages to get it to the edge of the green from there - but leaves himself a lot to do...
...But he rolls beautiful little chip into the hole to keep it A/S. Great shot from McIlroy.
Graeme McDowell is having no such difficulties. He is motoring along. Still 3UP on Harrington after the 11th.
22:42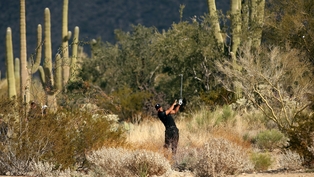 Yesterday's snow is long forgotten at this stage and the parched desert of Arizona is looking like you would imagine it should. Here's Tiger Woods getting a closer look at that desert scenery than he would like...
22:39
Great approach from Shane Lowry on the seventh puts pressure on Rory McIlroy, who leaves himself with a very long putt. Rory nearly pulls it out though - a fantastic putt leaves the ball teetering on the lip. No joy for the world number one however.
Lowry takes the seventh to even it up. All Square though 7
22:29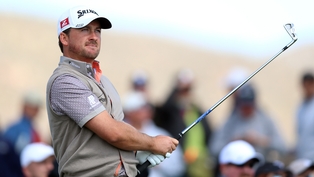 Graeme McDowell looks to be taking control against Padraig Harrington now - McDowell is 3UP after 10. But Rory has now dropped a hole against Lowry. All to play for in that one. McIlroy 1UP.
22:22
Latest results:
Sergio Garcia (Spa) beat Thongchai Jaidee (Tha) 1 up
Matt Kuchar (US) beat Kasumi Fujii (Jpn) 3 & 2
Ian Poulter (Eng) beat Stephen Gallacher (Sco) 2 & 1
Bo Van Pelt (US) beat John Senden (Aus) 6 & 5
Russell Henley beat Charl Schwartzel (Rsa) 1up
Zach Johnson (US) lost to Jason Day (Aus) 6 & 5
Jason Dufner (US) lost to Richard Sterne (Rsa) 1 down
Hunter Mahan (US) beat Matteo Manassero (Ita) 5 & 4
Bill Haas (US) lost to Nicolas Colsaerts (Bel) 5 & 4
22:19
Rory McIlroy looks to be struggling with the putter - he misses another putt at the fifth. No change in that one - McIlroy 2UP on Lowry
22:07
Rory McIlroy now 2UP on Shane Lowry. A short putt for par was enough to give him the fourth hole. McDowell is still holding his lead over Harrington through nine holes. McDowell 2UP
21:56
Well it looks like Rory is still getting used to his new clubs... Bounces into the water with his shot off the tee on the 3rd hole. Looks like a good chance for Shane Lowry to level it up on this hole. But it is not to be - the 3rd hole is halved. McIlroy still 1UP
Still no change between McDowell and Harrington - McDowell 2UP after 8
21:39
Lowry misses the green with his third shot on the second - no such problems for Rory McIlroy, but a poor chip means he still leaves himself a long very putt. Does it in two.
Lowry eventually gets on the green but misses the putt to half the hole - McIlroy 1UP
21:31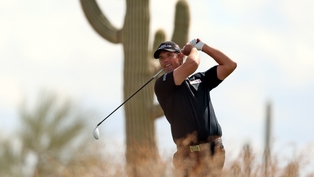 As you were for Graeme McDowell and Padraig Harrington. McDowell 2UP thru 7
21:21
A superb approach shot from Rory McIlroy puts him in a great position on the first green... Shane Lowry lands a bit further back, but gets a par with two putts. Same for Rory. All Square.
21:14
GMac has taken the sixth as well. He is now 2UP
21:02
McDowell now 1UP against Harrington after the 5th
20:56
Ian Poulter has defeated Stephen Gallacher 2&1 to become the first European into round 2.
Jason Day has also had a 6&5 win over Zach Johnson
20:46
Harrington and McDowell still all square - now through 4 holes in Tucson...
20:35
After an incredible four inches of snow in the Arizona desert and almost 24 hours of delays - the Accenture Match Play Championship has finally had its first winner, with American Bo Van Pelt defeating John Senden 6&5.
Next man through to the last 32 was another American, Matt Kuchar he had a 3&2 victory over Hiroyuki Fujita
20:31
Graeme McDowell has tied it up against Padraig Harrington. They are now All Square through 3
20:30
As if it needed to be confirmed - the second round will definitely not begin today. They will be doing well to finish off all first round matches this evening.
20:03
Padraig Harrington is 1UP on Graeme McDowell after the first hole.
19:56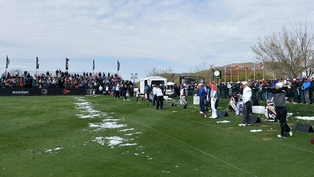 Looking a lot clearer today at the Dove Mountain course. Play set to start shortly.
19:41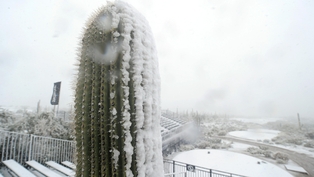 We will be focusing on the two Irish match-ups this evening, but here is how the field stood at the time weather ended proceedings yesterday
Graeme McDowell and Padraig Harrington started their match but had not completed the first hole
Sergio Garcia 2 up on Thongchai Jaidee through 15 holes
Ian Poulter 3 up on Stephen Gallacher through 12 holes
Charl Schwartzel and Russell Henley, All Square through 11 holes
Jason Day 6 up on Zach Johnson through 10 holes
Richard Sterne 3 up on Jason Dufner through 10 holes
Hunter Mahan 4 up on Matteo Manassero through nine holes
Justin Rose 2 up on K.J. Choi through nine holes
Nicolas Colsaerts 3 up on Bill Haas through eight holes
Adam Scott 1 up on Tim Clark through eight holes
Thorbjorn Olesen 3 up on Jamie Donaldson through seven holes
Bubba Watson and Chris Wood, All Square through six holes
Jim Furyk and Ryan Moore, All Square through six holes
Lee Westwood 2 up on Rafael Cabrera-Bello through five holes
George Coetzee 1 up on Martin Kaymer through four holes
Keegan Bradley and Marcus Fraser, All Square through three holes
Ernie Els 1 up on Fredrik Jacobson through three holes
Steve Stricker 2 up on Henrik Stenson through two holes
Nick Watney and David Toms, All Square through first hole
Dustin Johnson and Alexander Noren, All Square through first hole
19:01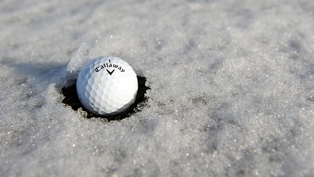 Well snow played havoc with yesterday's play at the World Golf Championships Match Play tournament in Tucson - not a single round was completed.
There have been further delays today - latest estimate is a 1500 ET (2000 Irish) start. We'll keep you up to date with how the two Irish matchups are progressing here.
That's if they progress at all.