As it happened: National League updates
Updated: Saturday, 02 Feb 2013 21:09
Tap here to refresh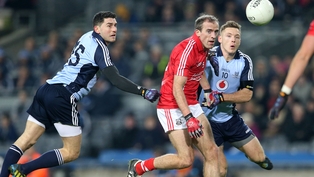 The National Football League gots under way on Saturday evening with Donegal, Kildare, Dublin and Cork all in action.
RESULTS
Football
Allianz National League Division 1
Allianz National League Division 2
Hurling
Walsh Cup semi-final: Dublin 2-19 Galway 1-21
Get in touch: Tweet @RTESport @MicilGlennon or email: sportonline@rte.ie
20:40
That's it for this evening tracker, we'll have match reports up shortly and we'll be tracking all of tomorrow's fixtures as well, log on then. Good night!
20:36
FULL-TIME: Laois 0-20 Armagh 1-10
20:34
FULL-TIME: Dublin 1-18 Cork 2-09
20:33
FULL-TIME: Down 1-08 Tyrone 1-11
20:32
Paddy Andrews is the man of the match at Croke Park, as I type, the St Brigid's man gets his fifth of the night. Dublin 1-18 Cork 2-08
20:29
Conor Laverty is sent off for Down, it's 14 v 14 for the last few minutes.
20:28
Stephen O'Neill extends Tyrone's lead. Down 1-08 Tyrone 1-11
20:24
Six minutes to play, Cork trail by five having kicked 10 wides. O'Neill draws a brilliant save from Cluxton.
20:22
O'Rourke turns inside Brennan and hits his third of the night. Dublin 1-16 Cork 2-08
20:21
Sean Cavanagh points from a free and Tyrone lead by two. Down 1-08 Tyrone 1-10
20:20
Brogan adds another, a free, it's his sixth of the evening. Dublin 1-16 Cork 2-07
20:16
Joe McMahon sees red for Tyrone as they take a lead through Conor Clarke. Down 1-08 Tyrone 1-09
20:14
GOAL! Sheehan is tripped by Darren Daly as he is about to shoot, penalty, Donncha O'Connor side-foots it home. Dublin 1-14 Cork 2-07
20:13
GOAL! Donal O'Hare hits back almost straight away for Tyrone. Down 1-08 Tyrone 1-08
20:12
Andrews gets his fourth point of the night, Graham Canty about to come on for Cork. Dublin 1-14 Cork 1-07
20:11
GOAL! Mark Donnelly puts Tyrone ahead with a goal in the 15th minute of the second half. Down 0-08 Tyrone 1-08
20:10
GOAL! for Armagh, is there a comeback on the cards? Laois 0-15 Armagh 1-09
20:09
Donncha O'Connor opens his account with a close-range free for Cork but Connolly cancels it out. Dublin 1-13 Cork 1-07
20:06
Down extend their lead with a point, Martin Penrose comes on for Tyrone. Down 0-08 Tyrone 0-06
20:05
GOAL! No problem for Diarmuid Connolly who dispatches the penalty after Cormac Costello had been fouled. Dublin 1-12 Cork 1-06
20:05
Aidan Walsh finds space and gets a point but isn't too happy with a late-ish challenge by Ger Brennan. Dublin 0-12 Cork 1-06,
20:04
Dublin back Johnny Cooper fouls Kerrigan, Colm O'Neill is wide with the free.
20:01
Another point from Brogan, Dublin 0-12 Cork 1-05
19:59
Armagh seem to have improved, they've out-scored Laois 3-1 in the second half in Portlaoise. Laois 0-14 Armagh 0-07
19:58
And Fintan Goold gets the first in Croker. Well-taken score. Dublin 0-11 Cork 1-05
19:57
Good news about Paul Mannion, who went off injured, he was 'chatting and up about' in Croke Park. Game has restarted.
19:56
Stephen O'Neill gets the first point of the second half in Páirc Esler and it's a one-point game. Down 0-07 Tyrone 0-06
19:56
Attendance at Croke Park tonight is 28,693, the GAA have tweeted.
19:44
HALF-TIME: Laois 0-13 Armagh 0-04
19:44
HALF-TIME: Down 0-07 Tyrone 0-05
19:40
Cluxton advances to block O'Rourke's effort, and the 45 is wide. HALF-TIME: Dublin 0-11 Cork 1-04
19:39
Donal Kingston is on target for Laois as they run away with the game in Portlaoise. Laois 0-13 Armagh 0-04
19:38
Paddy Andrews gets his third of the night for Dublin. Dublin 0-11 Cork 1-04
19:35
O'Rourke pulls one back for Cork but McCaffrey replies. Dublin 0-10 Cork 1-04
19:34
Substitute Ryan fists over and straight after Jack McCaffrey lands a huge point. Down 0-09 Tyrone 0-04 There'll be sic added minutes.
19:31
Concerning scenes at Croker, Paul Mannion is driven off on a stretcher. He gets a round of applause as he leaves. Three minutes of normal time left but there'll be time added for the injury.
19:29
Armagh are in trouble all over the field, Martin Kiely reports on RTÉ Radio 1, the Ulster men now trail by seven. Laois 0-11 Armagh 0-04
19:28
Philly Ryan comes on for Paul Mannion who is still receiving treatment on the pitch.
19:28
Down lead Tyrone by four. Down 0-07 Tyrone 0-03
19:26
In O'Moore Park, Laois have opened up a five-point lead. Laois 0-09 Armagh 0-04,
19:26
Paul Mannion and Paul Flynn collide in the middle and the team-mates require attention.
19:23
Paul Kerrigan beats his man and fires over a smart point. Dublin 0-07 Cork 1-02
19:19
Michael Darragh MacAuley fists over a point after skinning his man, Andrew O'Sullivan. Straight after, Paddy Andrews splits the posts. Dublin 0-07 Cork 1-01
19:18
Coulter and O'Hare score again to extend Down's lead. Down 0-05 Tyrone 0-02
19:16
Lots of score in Portlaoise as well, the home side lead Armagh by one. Laois 0-04 Armagh 0-03
19:16
Paddy Quinn wins a soft enough free and Brogan will tap this over from close in. Dublin 0-05 Cork 1-01
19:12
GOAL! Aidan Walsh comes on to Colm O'Neill's pass and blasts the ball past Cluxton, great finish. All square now. Dublin 0-04 Cork 1-01
19:11
Donal O'Hare points to give Down the lead. Down 0-03 Tyrone 0-02
19:11
Great point from Brogan again, turns his man and sticks it over. Dublin 0-04 Cork 0-01
19:09
Up in Páirc Esler, Tyrone lead by a point, Benny Coulter on target for Down, while Sean Cavanagh also on the mark. Down 0-01 Tyrone 0-02
19:06
Paddy Andrews extends Dublin lead with another point from play. Dublin 0-03 Cork 0-01
19:05
Meanwhile, in division two, Armagh and Laois swap early points. Laois 0-01 Armagh 0-01
19:04
Wow, Diarmuid Connolly hits a shot from 45 that looked like it was going a mile wide, it strikes the inside of the post and Dublin lead again. Dublin 0-02 Cork 0-01
19:03
And John O'Rourke brings the side level with a lovely point. Dublin 0-01 Cork 0-01
19:02
Paddy Quinn's shot is blocked and up comes Stephen Cluxton to try his luck from the 45. Just past the far post.
19:01
22 seconds gone and Bernard Brogan slots a beauty from about 30m out on the right hand side. Dublin 0-01 Cork 0-00
18:58
There is a moment's silence at Croke Park for Kevin Heffernan and Det Garda Adrian Donoghoe.
18:53
Emmet O'Conghaile and Paul Mannion start for Dublin in place of Declan O'Mahony and Kevin McManamen.
18:51
Four changes to Cork team: Tomas Clancy, Tom Clancy, Andrew O Sullivan & John O Rourke replace Shields, Canty, O'Connor & Sheehan.
18:47
Down: Cunningham, Turley, McCartan, Boyle, Mallon ,Carr ,O'Hagan, King, Mckernan, Quinn, Poland, Coulter, Laverty, Harrison, McComiskey.
18:45
Kildare's Niall Kelly, man of the match, says they showed a good fighting spirit at the end and is looking forward to next week's game against Cork.
18:43
Michael McHugh from Bundoran has been in touch via email. Donegal Ladies take on Laois tomorrow in Bundoran, 2pm, all support greatly appreciated.
18:34
Brilliant start to the league, despite most of the Donegal players not showing half of what they can do it was a really entertaining affair, Kildare at times playing some beautiful football. We'll have a match report up on the site shortly.
18:33
FULL-TIME: Kildare 2-14 Donegal 1-13
70+1 min
Paddy Brophy taps one over after good work by O'Connor. Kildare 2-14 Donegal 1-13
69 mins
Niall Kelly wins man of the match as Donegal pull another point back, Murphy from a free. Kildare 2-13 Donegal 1-13
69 mins
Eoghan O'Flaherty gets his name on the scoresheet, surely that is that. Kildare 2-13 Donegal 1-12
67 mins
But Niall Kelly gets his third of the day in response. Kildare 2-12 Donegal 1-12
66 mins
GOAL! And as I type that Wherity, squeezes off a pass and Molloy is on hand to punch it home. Game on, again. Kildare 2-11 Donegal 1-12
64 mins
GOAL! Johnny Doyle attempts a point from distance but goalkeeper Durcan misjudges the flight and the ball ends up in the back of the net, that will surely see Kieran McGeeney's men over the line. Kildare 2-11 Donegal 0-12
63 mins
White is fouled as he got a kick away, free-in on the 13m line, soft. Conway taps it over. Kildare's first score for 17 minutes. Eoghan O'Flaherty is on. Kildare 1-11 Donegal 0-12
60 mins
Dermot Molloy, on as a sub, sticks over a lovely point for Donegal. Kildare 1-10 Donegal 0-12
58 mins
Niall Kelly hits one from way out wide, off the outside of his boot but it strikes the post.
56 mins
Paddy Brophy on, Seanie Johnston off.
55 mins
Brilliant tempo here, Donegal defence not giving the Kildare attackers an inch.
54 mins
Padraig O'Neill concedes another free and Murphy taps over, two-point game. Kildare 1-10 Donegal 0-11
53 mins
And now Mark McHugh gets in on the act, hooking over a point. A goal in it. Kildare 1-10 Donegal 0-10
52 mins
Murphy hits another close-range free after a foul by Hugh McGrillen. Kildare 1-10 Donegal 0-09
50 mins
Durcan denies Flanagan from close range, up the other end, Murphy keeps the one-man show on the road with a point. Meanwhile, Johnny Doyle is booked. Kildare 1-10 Donegal 0-08
48 mins
Murphy, the only man playing well for Donegal, gets another. Kildare 1-10 Donegal 0-07
47 mins
Another score for Doyle, he went for a goal but Durcan diverted it over the bar. Kildare 1-10 Donegal 0-06
45 mins
And after all that it's a Kildare free, Johnny Doyle knocks it wide. Donegal have been awful so far.
44 mins
Eamon McGee, Neil McGee, Tomas O'Connor and Emmet Bolton see yellow for that schmozzle.
42 mins
Little bit of a scrap in front of an empty Hill 16, ref is talking to his linesman. About 10 players involved.
18:02
Dublin subs: Shane Supple, Tomas Brady, David Byrne, Shane Carthy, Cormac Costello, Craig Dunleavy, Chris Guckian, Paul Mannion, Darragh Nelson, Emmet O'Conghaile, Ciaran Reddin.
38 mins
Now the captain goes in the book for a high challenge on Conway. Niall Kelly from Athy cancels out Murphy's score with a point of his own. And then Johnny Doyle adds another. Kildare 1-09 Donegal 0-06
37 mins
Michael Murphy gets the first score of the half, a fierce punch from about 15m after McBrearty skied a free. That's Murphy's sixth of the night. Kildare 1-07 Donegal 0-06
36 mins
Teams are back out now. Jim McGuinness makes one change: Daniel McLoughlin comes in for Frank McGlynn. GAME ON!
17:53
Nice win for Offaly minors tonight, beating Louth 2-11 to 2-09.
17:53
By the way, Ross Wherity and Marty Boyle also started for Donegal, despite not being named originally, that's four players in total.
17:46
The Leinster county are full value for their five-point lead, Niall Kelly, in particular, is showing well, complemented by Johnny Doyle.
17:38
HALF-TIME: Kildare 1-07 Donegal 0-05
17:38
Mark McHugh and Padraig O'Neill go into the ref's notebook for some off the ball stuff.
35+1 mins
Into injury time, Murphy is fouled, harsh enough, the captain's free is accurate. Kildare 1-07 Donegal 0-05
34 mins
The All-Ireland champs are being outplayed here, Doyle and Kelly combine to find Padraig O'Neill who nails a point from 45m. 1-05 of Kildare's scores have come from play. Kildare 1-07 Donegal 0-04
32 mins
Mark McHugh replaces Marty Boyle for Donegal.
31 mins
Niall Kelly, 19, lands the score of the day for Kildare, wonderful effort from about 40m out. Kildare 1-06 Donegal 0-04
29 mins
Doyle adds another free for the Lilywhites, lively game so far. Kildare 1-05 Donegal 0-04
27 mins
Gary White goes in the book, second Kildare player to be cautioned. Meanwhile, Murphy drills the ball over the bar, possible goal chance, given his standard. Kildare 1-04 Donegal 0-04
25 mins
Really good move by Kildare results in Brian Flanagan firing over, Niall Kelly set it up. Now 16 minutes since a Donegal score. Kildare 1-04 Donegal 0-03
23 mins
Seanie Johnston goes in the book, Kildare have a free though, which Doyle taps over, this is his 14 year as a Kildare footballer. Kildare 1-03 Donegal 0-03
20 mins
Donegal without a score in 10 minutes.
18 mins
GOAL! Tomas O'Connor. Conway's free hits the post and drops into the square, the full-forward is first to react, lunching the ball into the goal, Kildare lead. Kildare 1-02 Donegal 0-03
17 mins
O'Connor had a half-chance but got overrun by the Donegal defence, the ball fell for Seanie Johnston but he too was closed down and not able to get enough power into his shot. Kildare in the ascendancy.
15 mins
Another Ulster man on the ground, this time it's Rory Kavanagh. Mikey Conway bisects the posts from a free and it's a one-point game now. Kildare 0-02 Donegal 0-03
12 mins
Dermot Molloy is on for McFadden. His first job is to watch Johnny Doyle slotting over a point, class. Kildare 0-01 Donegal 0-03
11 mins
Paddy McBrearty hits the first point from play, lovely left-footed shot from a tight angle. Kildare 0-00 Donegal 0-03
10 mins
Another chance for Murphy, he makes no mistake, this time from about 40m out. Kildare 0-00 Donegal 0-02
8 mins
Colm McFadden is receiving treatment as Niall Kelly hits a wide for Kildare, the young man, making his league debut, had plenty of time to do better.
7 mins
Full-forward Michael Murphy's next input is to take another free, this time on his own 45, he gets around. Emmet Bolton hits and up and under but Tomas O'Connor can't control it and Donegal clear.
5 mins
Michael Murphy points a 20m free and Donegal lead. Kildare 0-00 Donegal 0-01
3 mins
Frantic enough start but, as you'd imagine, once either team reaches the other's 45, they encounter a wall of defenders; Ryan Bradley hits the first wide of the day for Donegal.
1 min
Daniel Flynn and Niall Kelly start for Kildare, both not named originally. GAME ON!
16:59
Meath's Cormac Reilly is the man in the middle tonight.
16:58
Teams are all set to go here, on a perfect evening in Dublin. Floodlights on.
16:20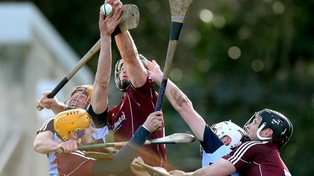 Walsh Cup semi-final: Dublin 2-19 Galway 1-21
16:16
Laois:: E Culliton; C Healy, K Meaney, P O'Leary; D Strong, J O'Loughlin, C Boyle; B Quigley, C Begley; R Munnelly, G Walsh, B Sheehan; D Kingston, P Clancy, C Kelly
16:15
Armagh: P McAvoy; M Shields, J Donnelly, G McCooey; K Dyas, C McKeever, F Moriarty; K Toner, J Lavery; C Rafferty, A Forker, E Rafferty; G McParland, S Forker, B Mallon.
16:15
Tyrone: 1. Niall Morgan (Éadan na dTorc) 2. Aidan McCrory (Aireagal Chiaráin) 3. Conor Gormley (An Charraig Mhór) 4. Cathal McCarron (An Droim Mór) 5. Ryan McKenna (Eaglais) 6. Joe McMahon (An Omaigh) 7. Ronan McNamee (Achadh Uí Aráin)8. Plunkett Kane (Oileán a'Ghuail) 9. Sean Cavanagh (An Mhaigh) 10. Kevin Gallagher (An Baile Nua) 11. Peter Harte (Aireagal Chiaráin) 12. Matthew Donnelly (Trí Leac) 13. Connor McAliskey (Cluain Eo) 14. Stephen O'Neill (Clann na nGael)15. Mark Donnelly (An Charraig Mhór)
16:14
Cork: K O'Halloran; E Cadogan, M Shields, J O'Sullivan; P Kissane, G Canty, D Cahalane; A O'Connor, A Walsh; F Goold, P O'Neill, C Sheehan; C O'Neill, D O'Connor, P Kerrigan.
16:13
Dublin: S Cluxton; J Cooper, R O'Carroll, K O'Brien; D Daly, G Brennan, J McCaffrey; M D Macauley, D O'Mahony; P Flynn, P Andrews, P Quinn; K McManamon, D Connolly, B Brogan.
16:12
Kildare: 1. Shane Connolly, 2. Ollie Lyons, 3. Peter Kelly, 4. Hugh McGrillen, 5. Emmet Bolton, 6. Michael Foley, 7. Mikey Conway, 8. Gary White, 9. Padraig O'Neill, 10. Brian Flanagan 11. Cathal McNally, 12. Eoghan O'Flaherty, 13. Seán Johnston, 14. Tomás O'Connor 15. John Doyle
16:12
Donegal: P Durcan; P McGrath, N McGee, E McGee; F McGlynn, D Walsh, A Thompson; R Kavanagh, M McElhinney; M McHugh, L McLoone, R Bradley; C McFadden, M Murphy, P McBrearty.
16:11
This is the team that Donegal announced earlier in the week, let's see how many of the teams actually line up as named.
15:52
Meanwhile, in the epic All-Ireland Junior Football Championship semi-final replay, Castleknock and Kenmare cannot be separated. After extra-time, it's 1-18 to 0-21. Another replay required!
15:47
Earlier on Dublin hurlers beat Galway in the Walsh Cup, 2-19 to 1-21. They will face either Wexford or Kilkenny, who play tomorrow, in the final next Sunday.
15:45
Good afternoon, welcome to the RTÉ.ie match tracker as the GAA season gets well and truly under way with the start of the National League. We'll have score updates for all of this evening's games.