Pope Benedict XVI to resign on 28 February
Updated: Monday, 11 Feb 2013 22:10
Tap here to refresh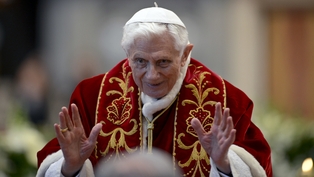 Pope Benedict XVI has announced that he is to resign at the end of the month, saying he no longer has the strength to continue in office.
Key points:
- Pope Benedict XVI to resign on 28 February
- Pope, 85, said he no longer has the strength to continue in office
- Conclave to elect a new Pope before end of March
- Benedict first pontiff to resign in nearly 600 years
- Vatican says Pope took aides by "surprise"
- Elected on 19 April 2005 when he was 78
- In Pictures: Pope Benedict XVI

22:43
The Vatican has confirmed that Pope Benedict XVI will step down at 7pm Irish time on 28th February for health reasons.

The 85-year-old pontiff said he is stepping down because he does not have the strength to continue in office due to his advanced age.

"For this reason, and well aware of the seriousness of this act, with full freedom I declare that I renounce the ministry of Bishop of Rome, Successor of Saint Peter," he said according to a statement from the Vatican.

The Vatican said the papacy will be vacant until a successor is chosen.

A spokesman said the pope "took us by surprise" with his announcement.

An official said the Vatican expects the period between 28 February and the election of a successor to be "as brief as possible".

Pope Benedict is the first pontiff to resign in nearly 600 years.

He made the announcement in Latin at a canonisation ceremony in the Consistory Hall this morning.

The Vatican said the Pope's resignation is fully in compliance with church law.

President Michael D Higgins has written to the Pontiff wishing him well in his retirement.

He acknowledged the scholarship and personal commitment that Pope Benedict brought to his leadership of the Roman Catholic community.

Taoiseach Enda Kenny said the decision the Pope made was clearly taken following careful consideration, deep prayer and reflection.

Updates and reaction:
18:24

Italian football team Juventus are in Glasgow ahead of their Champions League match against Celtic tomorrow night.

Goalkeeper and captain Gianluigi Buffon said: "I would only add that clearly he has been tiring, the Pope is ageing, he is feeling tired. It is a job with a big responsibility.

"How many would have taken the job on, how many would have taken this decision to stand on? He is clearly a very big character."
17:31
Cardinal Seán Brady has said that today is "an historic day. Pope Benedict has resigned in circumstances of his own choosing.

"While it is a shock to me, we can be certain that Pope Benedict has made this decision after very careful and prayerful reflection.

"I think it is significant that he has chosen to make this announcement on the occasion of the World Day of the Sick, the feast of Our Lady of Lourdes. Our Lady always points us to her Son. In his statement today Pope Benedict pointed us to Christ as the Supreme Pastor of the Church."
17:10

US President Barack Obama said he extends his prayers and appreciation to Pope Benedict.
Mr Obama said the Catholic Church plays critical role in the US and the world, and he offers best wishes to those selecting next Pope.
17:04
Cardinal Brady said he expected to have a vote in the conclave to elect the next Pope and said he was praying for strength and guidance in making his decision.


16:20

All Ireland Primate Cardinal Seán Brady said the resignation of Pope Benedict is a profound act of humility.
Cardinal Brady said it was a conscientious and responsible decision to hand over the ministry of the successor of St Peter in a time of great challenge for the church and for faith in the modern world.
16:12

Pope Benedict's brother, Georg Ratzinger, said he respects the decision by the pontiff to resign from his post.

He said: "I have known it for some time so of course I was prepared. He alone can decide how physically and mentally strong he is just like only he alone can evaluate the post he held.

"Based on this evaluation, he took a responsible decision which I respect."
16:11
"The resignation of a Pope is a most unusual occurrence and this clearly suggests that Pope Benedict's has such very serious concern about his health that he feels he must resign. The thoughts and prayers of everyone will be for Pope Benedict." - Northern Ireland Deputy First Minister Martin McGuinness.
15:48

"This must have been a very difficult decision for Pope Benedict and one that took a great deal of courage and must be respected." - Fianna Fáil leader Micheál Martin.
15:17
Human Life International Ireland has said that since Pope Benedict took over in 2005 he has served the Catholic Church with great courage, holiness, insight and clarity.
He has been a great and humble leader at a time of controversy and has offered much guidance to all on many of life's perplexing issues.
We pray for his ongoing good health and that the Holy Spirit will guide the College of Cardinals to elect a worthy successor to take up the great work he has done.
15:08
A pro-reform organisation of Irish lay Catholics called We Are Church has described Pope Benedict's decision of to resign as "courageous".
We Are Church, Ireland said in a statement that the present critical situation of the Catholic Church requires a Pope who will be open to the world and who advocates dialogue aimed at reconciliation of its internal governance and doctrinal differences.
15:04
Theologian Gina Menzies has said that she was shocked by the announcement and has praised the Pope's courageous decision. She felt he had great foreign policy but poor domestic policy.
Ms Menzies said that he had done great work reaching out to other religions but had not exercised justice towards those within the Catholic Church.
She said she hoped that Austrian Cardinal Christoph Schoenborn will be the successor, as she claims he has a modern and progressive touch to the Catholic Church.
14:11
Four Popes have resigned in the history of the Catholic Church. Other than Celestine V and Gregory XII, they are Marcellinus, who abdicated or was deposed in 304 after complying with the Roman emperor's order to offer sacrifice to the pagan gods, and Benedict IX, who sold the papacy to his godfather Gregory VI and resigned in 1045.
14:10
"He was a man who wanted to know a lot about what was happening in Irish society, not in a way of pointing fingers, but of trying to learn and asking me and the Irish church where are we in today's society." - Archbishop Diarmuid Martin
14:05
"I have a great personal affection for the Pope, I have known him for many, many years, and I'm not surprised that he would take a decision of this kind if he felt that the burden he was under was too much." - Archbishop Diarmuid Martin
13:48
The Archbishop said that he believed that history would look at the Pope in a "varied way".

Dr Martin said that Pope Benedict had a very clear understanding of some of the moral problems in the church and he had addressed them "head on".
13:45

Archbishop Martin said Pope Benedict was a private person and that he has a "great personal affection" for him. He said the Pope was "happiest when he was writing".
13:36
Archbishop of Dublin Diarmuid Martin has said that he believes Pope Benedict XVI will be remembered for his theological works.
13:33
"I saw him just a few months ago. There's no doubt that age, and I suppose, the struggle of coping with such an extraordinary, onerous task was telling on him." - Former Archbishop of Westminster Cardinal Cormac Murphy-O'Connor.
13:28
Archbishop of Westminster and leader of Catholics in England and Wales Most Rev Vincent Nichols called on "people of faith" to pray for the Pope, saying that his announcement had shown "great courage".
13:25
Fr Twomey said: "We all felt he looked grey and tired, and shrivelled, to a certain extent. Then he came the following day and said Mass for us and then joined us for breakfast.

"After breakfast he did something rather strange, which he never did before. He got up, as we thought, to leave, but he came over and he said: 'No, no, I just want to greet each one of you'.

"And I thought at the time, did he want to say goodbye? It looks like he did."
13:21
The Pope's former student, Fr Vincent Twomey, has said the Pope did not look well the last time he saw him.

Speaking on the RTÉ's News at One, Fr Twomey, the Professor Emeritus of Moral Theology at NUI Maynooth, said he was shocked at the Pope's resignation, but in hindsight he had given "some signals" in a interview last year.

He also said that at a gathering of the Pope's former doctoral students last summer, Fr Twomey said the Pope was very alert, but very "tired-looking".
13:08

British Prime Minister David Cameron has paid tribute to Pope Benedict, saying he "has worked tirelessly to strengthen Britain's relations with the Holy See".

"His visit to Britain in 2010 is remembered with great respect and affection. He will be missed as a spiritual leader to millions."
13:03
Tánaiste Eamon Gilmore said that like most people in Ireland his immediate concern was for the Pope's health.

Mr Gilmore wished him well in his retirement, describing him as someone who had made a huge contribution to working towards world peace.
12:59
German Chancellor Angela Merkel has said if the Pope feels he is too weak to carry out his duties, this must be respected.
12:57

"It was with a heavy heart but complete understanding that we learned this morning of Pope Benedict's declaration of his decision to lay down the burden of ministry as Bishop of Rome." - Archbishop of Canterbury Justin Welby.
12:56
"This is clearly a decision which the Holy Father has taken following careful consideration and deep prayer and reflection.

"It reflects his profound sense of duty to the Church, and also his deep appreciation of the unique pressures of spiritual leadership in the modern world." - Enda Kenny
12:49
Taoiseach Enda Kenny has sent his best wishes to Pope Benedict.

Mr Kenny, who criticised the Vatican for its response to the abuse scandals in Ireland, said Pope Benedict has given "strong leadership" to the church.
12:48

While there are no official candidates, here are some "papabili" or potential Popes.

Joao Braz de Aviz (Brazil, 65), Timothy Dolan (USA, 62), Marc Ouellet (Canada, 68), Gianfranco Ravasi (Italy, 70), Leonardo Sandri (Argentina, 69), Odilo Pedro Scherer (Brazil, 63), Christoph Schoenborn (Austria, 67), Angelo Scola (Italy, 71), Luis Tagle (Philippines, 55) and Peter Turkson (Ghana, 64).
12:46
Pope Benedict's surprise resignation opens the way for a first non-European Pope.
12:42

President Michael D Higgins has written to Pope Benedict wishing him well in his retirement.
In the letter, President Higgins acknowledged the scholarship and personal commitment that Pope Benedict had brought to his leadership of the Roman Catholic community over the past eight years and wished him every peace and fulfilment in his retirement.
12:37
The Pope will honour his official commitments and public engagements until the date of his resignation.
12:33
The resignation was Pope's "personal decision" without any outside pressure, said the spokesman, who also the decision was made "in last few months".
12:32
Spokesman said the Pope may have wanted to resign to avoid the exhausting rush of Easter engagements.
12:18
A Vatican spokesman said the Pope's resignation is not due to any specific illness, merely advancing age.
12:17
Vatican spokesman rules out "depression" or "uncertainty" as reason why Pope Benedict is to resign.
12:13

Vatican said the Pope took his decision "aware of the great problems the Church faces today" - his decision showed "great courage, determination".
12:09
Cardinal Joseph Ratzinger was elected Pope on 19 April 2005 when he was 78 years old, 20 years older than John Paul II when he was elected.
12:04
The German government said it was "moved and touched" by the Pope's surprise resignation.

"As a Christian and as a Catholic, one can't help but be moved and touched by this," government spokesman Steffen Seibert said at a regular government news conference.
12:03

Israeli's chief rabbi Yona Metzger has praised the Pope's inter-religious outreach and wished him good health.
12:02
A spokesman said the Pope is not resigning because of "difficulties in papacy" and that the decision left aides "incredulous".
12:02
The Pope will go to the papal summer residence at Castel Gandolfo near Rome after resigning. He will then move to cloistered residence in the Vatican.
12:00
A Vatican spokesman said the Pope will not take part in conclave to elect his successor.
11:59
Pope Benedict called his choice "a decision of great importance for the life of the church."
11:59
The last pope to resign was Pope Gregory XII, who stepped down in 1415 in a deal to end the Great Western Schism among competing papal claimants.


The last Pope to resign willingly was Celestine V in 1294 after reigning for only five months.
11:57
Benedict announced his decision in Latin during a meeting of Vatican cardinals this morning.
11:56

"For this reason, and well aware of the seriousness of this act, with full freedom I declare that I renounce the ministry of Bishop of Rome, Successor of Saint Peter" - Pope Benedict
11:55
"Both strength of mind and body are necessary, strength which in the last few months, has deteriorated in me to the extent that I have had to recognise my incapacity to adequately fulfil the ministry entrusted to me." - Pope Benedict
11:55
The 85-year-old German-born Pope said he had noticed that his strength had deteriorated over recent months.
11:52
Pope Benedict XVI has said he will resign on 28 February because he no longer has the strength to fulfil the duties of his office.
Tap here to refresh